By Pere Munar, on 20 October 2020
Google My Business is a Google tool that allows you to create and edit your company profile on the world's largest search engine.
If you have ever searched for a business on Google, and then saw all of the business' information on the right side of the search results, then you have encountered Google My Business (GMB). Company profiles appear on both Maps and search results and are a great opportunity to attract new customers.
Let's review what Google My Business is all about and how you can use it to improve your business results.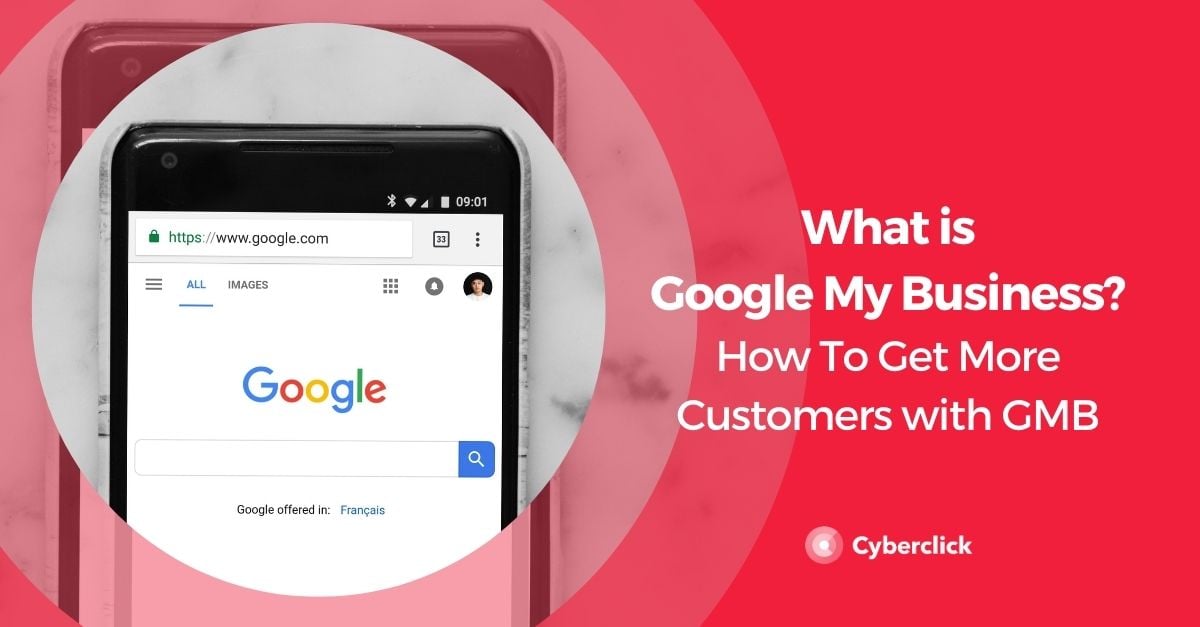 What Is Google My Business?
Google My Business is a free tool created by Google to help companies manage their online visibility and find local customers. Creating a GMB account allows you to identify yourself as the owner of a company and modify the information that appears in Google, for example, the description of the company, contact information, opening and closing hours, and a link to your website.
Google My Business is not a single tool, but a sort of control panel that allows you to manage various elements of your business' presence on Google.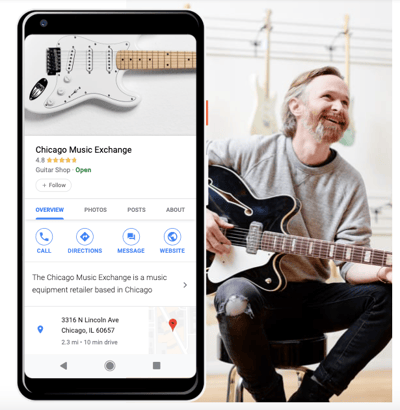 Although in principle Google My Business is intended for businesses with a physical store, you can also use it if you work from home or if your business is a local service company, even if you do not have a postal address.
The Google My Business company profile includes what was previously known as Google Places for businesses, Google Listings and Google+ For Enterprise business pages, for internal corporate social networks that are using G-Suite.
To start using Google My Business, you need to verify your company. You can do this by phone, SMS, or by requesting a card with a code from Google to receive at your postal address.
In addition to accessing Google My Business from the web interface, you can also download the Google My Business application, which allows you to access the same functionalities.
Company Profiles and Websites in Google My Business
Company profiles and websites are the two key elements to ensure your company is properly displayed on Google. Let's review what they consist of and what you can do with them.
GMB Company Profile
The company profile in Google My Business is a kind of information sheet that allows you to manage how you want your business to appear in Google's search engine results page and Google Maps. These are its main functionalities:
Keep your business information updated. You can include a lot of information, like photos of new products and the physical location, contact information, your website, hours, and product information or menu if applicable.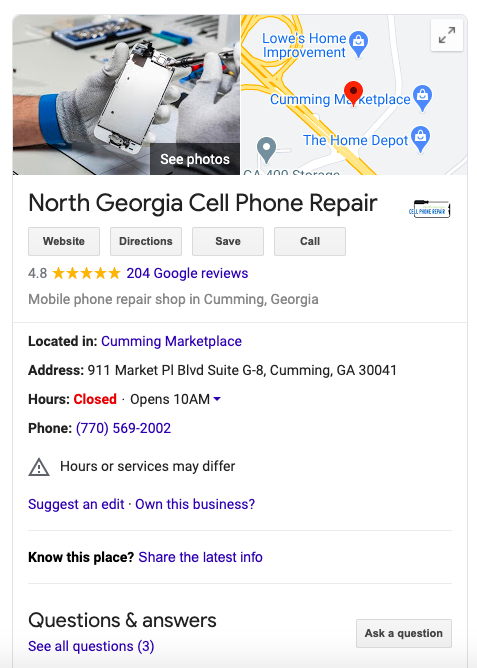 Respond to customer reviews. According to consumers, companies that respond to reviews are 1.7 times more reliable than those that do not.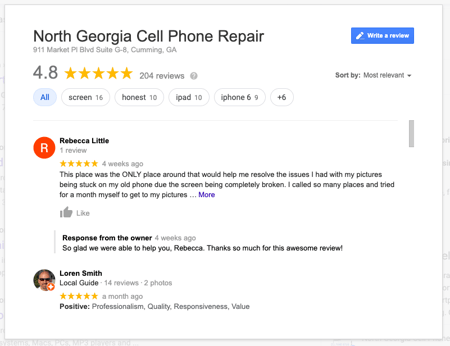 Allow customers to make reservations directly from your profile.
Share offers directly with customers.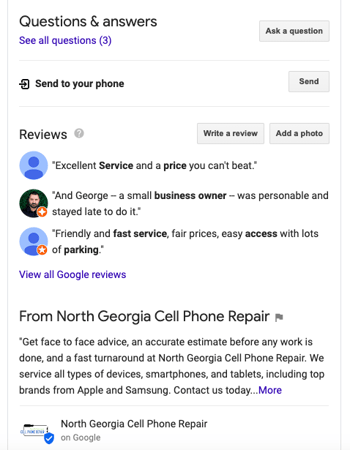 Websites in Google My Business
Google My Business helps you create an attractive website to establish your company's online presence and attract new customers.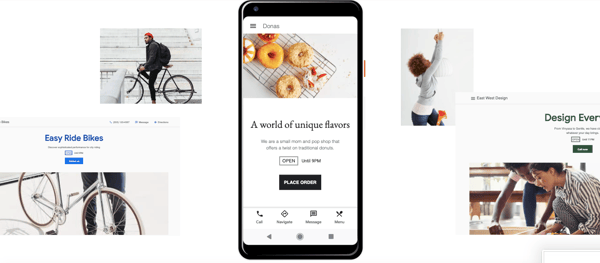 These are the main advantages of Google My Business websites:
They are very easy to create, so they are an ideal solution for small businesses that want to improve their visibility.
They are automatically optimized for phones and mobile search.
They are designed to improve customer acquisition. You can add buttons that allow customers to call the company directly, send messages, request a quote, book services, place orders, and much more.
They include a free domain name when you register, but you can also buy a personalized one if you wish.
If you already have your own website, don't worry! The websites and business listings in Google My Business are independent. This means if you already have your own website, you can link it to your business profile even if you didn't create it through Google My Business.
How Does Google My Business Help Me Reach More Customers?
Google My Business is a tool specially designed to help you reach more users and convert them into customers. These are some of the features you can take advantage of to multiply your leads:
The company profile allows you to gain more presence in the Google search engine and in Maps. This way, when users search for your company and your location, they are much more likely to find you.
Verifying your company allows you to control all the information that is displayed about it, for example, modifying the photos of your products, editing the information and adding special offers.
Google My Business websites allow you to showcase your business in a professional way, with complete and well-organized information and attractive photos.
Your site's statistics and your profile help you find out how you can optimize customer interactions to improve results.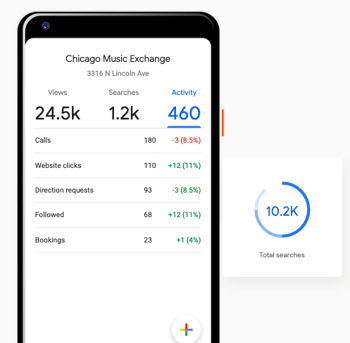 And finally, you can contact customers directly to encourage them to interact more with your business.
Google My Business is completely free, but if you want to make the most of its potential to attract new customers, you can strategically combine it with a Google Ads campaign.
Google My Business Optimization
In August 2020, Google launched some new features in Google My Business, especially oriented to small businesses. According to their data, approximately 90% of the profiles in this tool are local businesses with a single location.
These are the main new features:
A new section with information and statistics on user interactions and recommendations to improve the presence in Google, for example, add information to the profile or respond to customer reviews.
The question and answer section, in which business owners can consult the questions that customers have asked about their business, is now available directly from the main menu.
The Google My Business menu has been simplified and now has three new sections: Promote your business, Edit your profile and Connect with customers.
Facilities to edit your profile directly from Google Maps and search. By signing in with the account associated with Google My Business, companies will be able to update their information, create publications, respond to reviews and add photos directly from the user interface.