By Alex Souchoroukof, on 23 September 2020
As you may know, the marketing world is a competitive environment full of challenges and difficulties. Marketers are spending many resources to ensure that they are up to date with all the necessary information and strategies to get ahead of the game.
Although constructing an effective marketing plan is not easy, there are some tools in your arsenal that can help you create rewarding campaigns. The old traditional email is one of them, but to ensure that you get the full package of this marketing form, I accumulated some of the best tips regarding email marketing for 2020.
Here it is what you need to know to improve your game.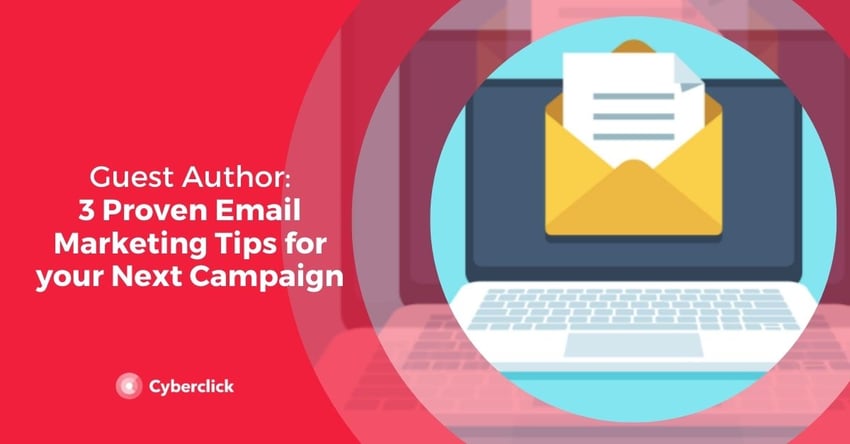 1. Create an Email Schedule and Experiment with Timing
Every marketing effort of your team needs to be well organized and have a precise schedule that helps achieve the goals that have been set.
The same rules apply to email marketing.
When you design your email marketing campaign, you need to gather as much information for your target audience from the beginning. This will help later when we talk about segmentation, but you have to figure out the best times and days to launch your campaigns in the beginning.
To better follow the process, you need to understand your site's analytics and your email automation software (if you have one). With the data collected, you can start scheduling the days and times to convert your audience best.
According to the internet, Tuesday at 10 am seems to be the best time to send your emails. Remember that when a piece of information is online is no more a secret. More and more people may use this schedule to send their campaigns, so it may not be ideal.
Use this information and check whether your analytics confirm this approach. Pivot when necessary to achieve the best results for your email campaigns.
Monthly calendars can help you have a clear vision of your email marketing campaign. Organize your content and add significant dates that require a unique approach. Christmas and Thanksgiving are such opportunities for your team to shine.
And if you have something well crafted on time, the conversion will go through the roof in no time. Always plan ahead and deliver the best content that your subscribers will love.
2. Use Interesting Subject Lines, Attractive Design, and a Strong CTA.
Every day hundreds of emails arrive in our inboxes. As marketers, we need to find a way to cut through all this traffic and get in front of our potential customers' eyes. The subject line is the only thing that can give us this opportunity.
We can have the best design and the best copy, but we will not get the biscuit if no one opens that email. When it comes to subject lines, you need to make it personal.
Using the first name is a common technique that improves the open rates. Another great tip is to include emojis. These little symbols can increase the open rate by 4.2%.
Not bad for just a small visual implementation. And now that we are talking about visuals...
Visuals play a significant role in the conversions of an email. As a result, a well-made design is the best asset you can invest your time in during the early stages.
A simple layout with strong images that convey emotions is the ideal starting point.
To complete the whole process of crafting the best email newsletter, you must have an excellent copy. A copy that creates emotions is your go-to plan in this kind of scenario. Storytelling is another superb way to increase engagement with your subscribers.
Share a story that can be personal, funny, and relatable with your potential customers.
Adding a call to action with a strong message is the last element every email should have. Experiment with your message and trust your analytics to see whether it converts or not. People need your guidance, and you must be there to show them what to do next.
3. Automation and Personalization Are Key
When it comes to email, marketing automation is the key to have longevity in your campaigns. Set them up and just analyze them from a bird-eye view to ensure that you are on the right track.
But which automation software is the best one?
You are the only one who can tell what's best for your company. Whichever email marketing service you choose, make sure to have automation to help you with your overall goals.
Start with a free plan, and as you list grows, upgrade in a premium package.
Automation services can help you connect better with your potential customers and improve engagement. Sending a quick email wishing them happy birthday once a year is a great example.
Using questionnaires, surveys, and asking for reviews can give you a lot of useful information. Having a deeper understanding of your audience can help you personalize their emails to have better conversion rates.
Knowing what movies they love, what's their favorite food, or pet can give you a lot of insights into pain points you could address in upcoming emails. Building a relationship with your subscribers is crucial so let them know that they can answer your emails to have more in-depth communication.
According to email automation statistics, it is quite interesting that 1.75% of email revenue comes from personalized email marketing campaigns!
So, what are you waiting for?
Set up your automation and add personalization fields, and watch your traffic grow!
The Takeaway
Email marketing is one of the best marketing strategies that exist in 2020. Use the automation platforms to give you all the necessary tools to put this on autopilot.
Having a well-designed landing page that converts will help you acquire all the data you need to personalize your campaigns and better engage with your potential customers.
Keep in mind that it's all about timing, and you must find the best times and days to launch your campaigns to increase their effectiveness. Having a schedule in mind for important dates or events so that you can't create content in advance.
Remember that these people subscribed to your list. Each one of them is important, and you shouldn't see them just like a number. Offer value and create the best customer experience so that you will be the first name on their list when they are in a mood of purchasing something.
Which of these tips will you try first?