What Is Direct Marketing?
Direct marketing is a type of advertising campaign that gets a result from a specific target audience. It could be something like ecommerce visits or simply filling out an info request form on a landing page.
Direct marketing can manifest in many different formats such as physical mail, telemarketing, POS or direct email marketing (one of the most well-known options).
This marketing method is highly effective and is one of the easiest methods to measure. For example, if you create a discount for your online store and send it out via physical mail, you can figure out who has used it by way of a cookie or a pixel.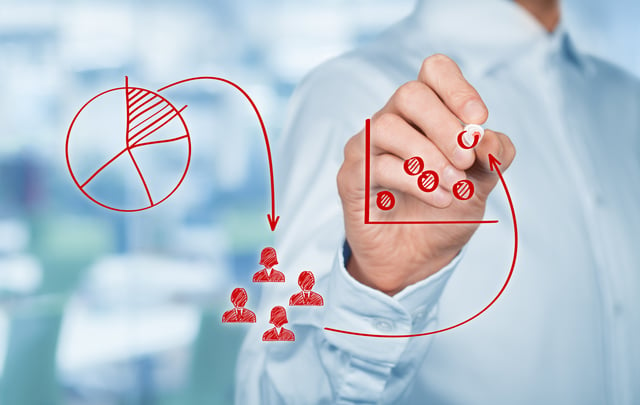 How Does Direct Marketing Work?
As its name suggests, direct marketing is a two-way street of direct communication. With these campaigns, advertisers can create a dialogue between clients (both current and potential) and companies and keep the relationship alive as long as possible or desired.
Businesses can also adapt to the needs of their clients by offering them individualized discounts, among other things.
How does direct marketing work? The foundation of direct marketing is in the use of databases that include detailed information about each client or lead. By using this information, marketing agencies can adapt promotions and direct marketing communications (according to the needs of a segment) or even adapt to individual clients.
Primary Mediums of Direct Marketing
The primary mediums of direct marketing within the digital environment are:
1. Email Marketing
Direct email marketing allows you to send offers, advertisements, reminders, and a plethora of other messages to a person who's data has already been saved in a database (either our databases or a third party's).
2. Catalogue Marketing
This method has been used for many years but with the rise of the internet, physical catalogues have migrated to the internet where they have become completely digitized. A good way of sending catalogues out is via email.
3. Digital Marketing
Marketing on the internet has been growing nonstop in recent years. According to eMarketer, investments in online advertising beat those on TV in 2017. Furthermore, one very popular direct marketing method is the use of Social Ads by way of Custom Audiences. This allows you to upload your database(s) to your social networks in order to create personalized campaigns.
4. Social Media
Social media has changed the face of direct marketing. On these social platforms, the dialogue between customers and a company is carried out publicly, which helps ensure the communication between both parties is monitored and promoted content/offers are truly interesting.
5. Banners
This type of online advertising is one of the oldest out there. It tries to spark the interest of users by promoting interaction. The majority of banners are clickable.
Benefits of Direct Marketing
Direct marketing offers multiple ways to achieve a user's goals. Marketers, such as Cyberclick, know the development of an online direct marketing strategy will also be accompanied by the following advantages for our clients:
Budget optimization. With direct marketing geared towards the digital environment, you can establish realistic goals and improve sales on a tight budget. If you have your audience identified, you will both optimize and properly manage the entirety of the campaign process. You will also get good results at a much lower cost when compared to traditional advertising. Remember, online direct marketing is a very quick and economical method for reaching consumers.
Potential clients. Because we address clients taken from a data base (pertaining to either the company or to a third party), we know we are going directly to our potential target market when we want to advertise a company's product or service. The efficiency of this process is much greater than that of other channels. Direct marketing also works great because each audience-specific segmentation will receive a personalized and adapted message.
Increase sales through new, current, and old clients alike. When the time comes to carry out a direct marketing campaign, you should divvy up your efforts into three different sections. Firstly, initiate communication with your old clients in an attempt to revive their interest through a new purchasing process. The objective is to bring them back to being repeat buyers. Secondly, we have our new clients. Those we have data on but who haven't yet purchased our product or service. With these clients, we should send out pointed campaigns such as, "if you register for the first time, you'll receive a discount!" Finally, we have our current clients, ones who are currently contributing to our profits. With these clients, we should generate some type of communication which rewards them for their loyalty. In doing so, we hope they become repeat customers in the long term.
Improved loyalty. If you combine your digital direct marketing plan with your loyalty program, you could see improved results. If you are in direct contact with your customers, you will be able to personalize emails, promotions and offers, thus creating an immediate bond between your business and your clientele.
New business opportunities. Online direct marketing allows you to continually adapt to the needs of the market, thus reacting in a much more effective manner.
Metrics and results analysis. You can directly measure the results of a direct marketing campaign. This allows companies and advertisers alike to fully take advantage of A/B testing and decision-making in real time.
How We Work with Direct Marketing
At Cyberclick, we understand that internet-based direct marketing has two primary objectives:
Generating clients. We can use either our own contact lists or access lists from third party databases. We do this because we know these databases contain potential clients who fit our buyer persona but we must convert these qualified leads into actual clients. A well-executed online direct marketing campaign (which contains the right message and is posted on the right channel) will yield high conversion rates with a relatively low budget. From here, we move on to the second stage: retaining new clients (loyalty) over time.
Promoting the loyalty of our current customers. Customer loyalty can be centered around the continued purchase of one specific product or service or simply returning to purchase something different each time.