By Laia Cardona, on 20 August 2021
The most powerful and innovative direct marketing strategies provoke a reaction from the target audience. Striking graphics or a funny advertisement can make a brand memorable and cause the public to share its content online and even make it go viral.
With that said, let's take a look at some examples of successful direct marketing campaigns.
3 Examples of Direct Marketing
1. Alcoholics Anonymous Brazil: Anonymous Chatbot Friend
Alcoholics Anonymous of Brazil collaborated with Facebook to create a tool that would help Brazilian teens who were struggling with alcohol consumption. They came up with the idea of a chatbot on Facebook called Anonymous Friend. It was able to have a smart conversation with young users concerned about drinking, who wanted to understand the harmful effects of drinking, or who needed help.
This is an example of direct marketing because, although people often think that marketing only serves to sell, its real purpose is to disseminate information that connects people with the products or services that they want or need.
To launch this direct marketing campaign, 34 members of AA were interviewed and then a chatbot's responses were created based on this information. In four months the project was ready to launch. 100,000 people spoke to Anonymous Friend in the first month and 60% were minors.
To promote the chatbot tool, a campaign was created on Facebook that was disseminated in the following formats:
Carousel Ads
Video Ads
Photo Ads
The objectives of the campaigns were:
Brand awareness
Local awareness
Increased Reach
Increased Website Traffic
Increased Engagement
Increased App Installations
Video Views
Lead Generation
In addition to advertising on Facebook, pieces were created for other social media platforms, making up a multi-channel strategy.
2. Dropbox
It can be hard to capture people's attention with an email but Dropbox managed to do this in an entertaining way. Their direct marketing campaign emphasized how Dropbox can make everyday life easier thanks to the cloud storage service it offers.
This simple, funny email with whimsical cartoons helped Dropbox capture their audience's attention. It was short, sweet and emphasized the fact that Dropbox doesn't want to meddle in anything you're doing, it just wants to remind you how useful it's service is.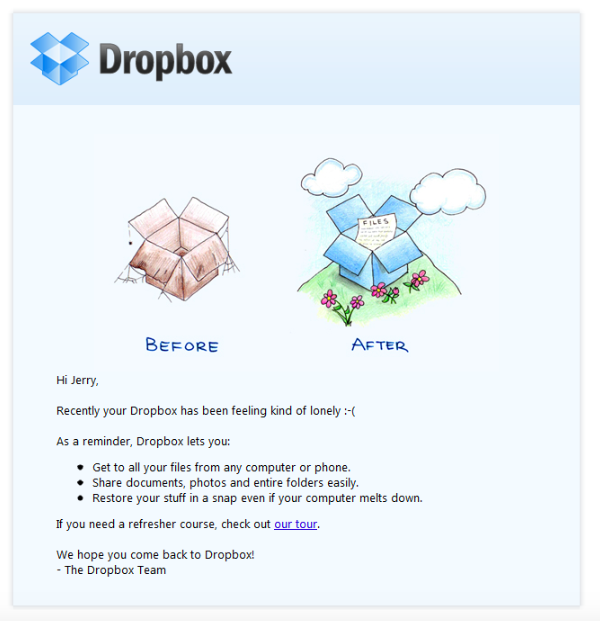 3. Burger King - Google Home of the Whopper
Burger King triumphed with its Google Home of the Whopper campaign. It even won 13 awards at the 2017 Cannes Lions including a Grand Prix, two golds, four silvers and six bronzes. It was ultimately the most award-winning advertisement of the year.
To promote the Whopper burger, Burger King launched a direct marketing campaign with ads on TV and on social media that utilized Google Home. The person in the Burger King ad who says "ok Google, what is the Whopper burger?" triggers Google home devices to activate and name the ingredients of the Whopper, thereby participating in the advertisement.
With this ad, Burger King created an innovative campaign that connected with customers and won several international awards.
We hope you've enjoyed these great examples of direct marketing and that you understand the concept and the many possibilities that direct marketing offers.