By Enric Llonch, on 23 March 2020
The exceptional international situation that is occurring as a result of COVID19 has caused many companies to begin working remotely.
At Cyberclick we've been working remotely for years, with many employees choosing to work a few days a week from home. In order to help everyone adjusting to their new working from home setups, we're going to share some of the tools that help keep our digital marketing team running.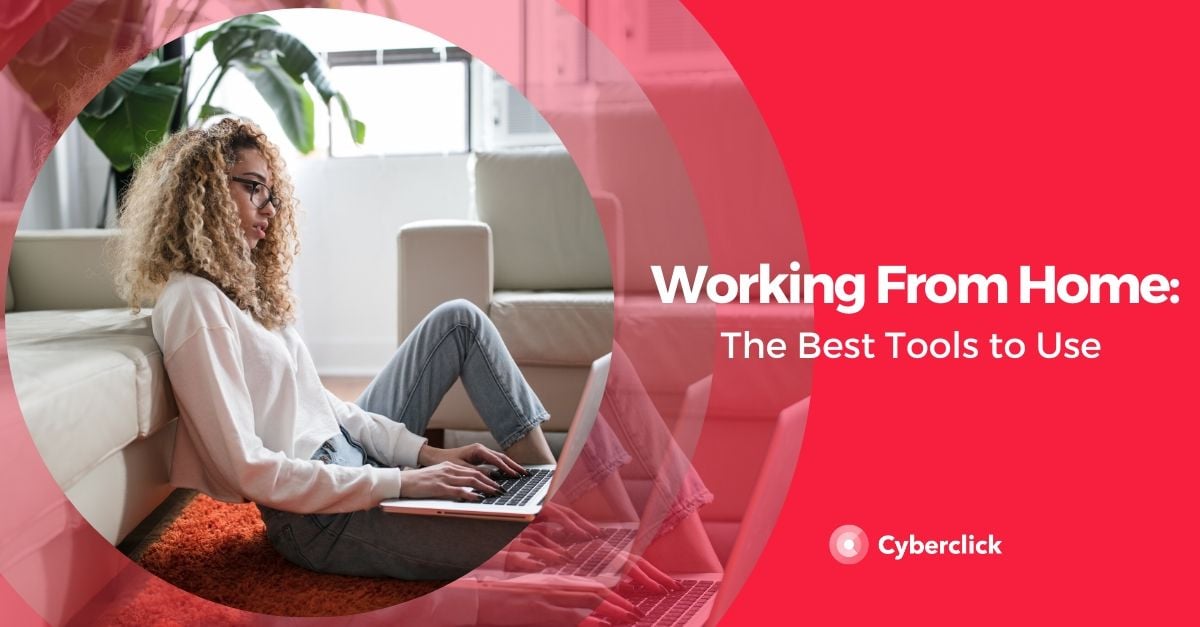 Tools to Communicate With Your Team
Slack
When working remotely, the key to success is communication. To be able to communicate effectively and quickly, our team uses Slack. This is one of the most powerful tools because it is reminiscent of instant messaging of apps like WhatsApp or iMessage, but oriented for the working world. It allows you to create infinite groups (called channels) to manage different teams or projects, without having to send a million emails or phone calls. Along with instant messaging, you can also conduct calls, video calls, surveys (with an external plugin), take and share notes, and share files easily.
Slack has different packages depending on your needs. They also offer a free version with access to the latest 10,000 messages, 10 integrations with internal applications, and calls or video calls. Our team would not be nearly as efficient without this tool.
Microsoft Teams
If your company already has an Office 365 subscription, Microsoft Teams can be a very good alternative, as it integrates seamlessly with the other apps in the professional suite: Outlook, Word, Excel, PowerPoint, OneDrive, and more. Like Slack, it has chat, video calls, and file sharing. In addition, it also offers a free version (calls not included).
Video Call Tools
Google Meet
You've probably tried more video calling tools in recent weeks than you can count. Currently, there are many different solutions, each with its pros and cons. The one that we use the most, and that we can recommend, is Google Meet (previously called Google Hangouts).
Google Meet comes bundled with a G Suite Basic subscription and allows you to make video conferences with 100, 150 or 250 people depending on the plan your company chooses (Currently until July 1 all companies can conduct calls with up to 250).
What we love most about Google Meet is how seamlessly it integrates with other Goolge tools. For example, when you create an event in Google Calendar, a link to the video call is automatically created in the description of the invite. This way, all meeting participants know exactly what time, where, and how to connect. No more asking for the link five minutes before the meeting!
Zoom
Other video calling tools we use regularly are Zoom and Whereby. Zoom offers free calls of up to 100 participants for up to 40 minutes, with payment options that include call recording.
Whereby
Whereby is another good video-calling solution, especially for its comfort and speed. Instead of creating new URLs each time you start a call, the host user has a fixed URL. With the free plan there can be up to 4 participants, which is a bit limited for large team meetings, but enough for quick calls with clients or colleagues and companions.
File-Sharing Tools
Google Drive
Sending attachments via email is not an efficient way to share files because they can easily get lost in long chains and there is usually a file size limit. We use Google Drive and Dropbox to get around this. With a good folder structure organized by team, file types, and projects, these two tools will become your must-have allies. We use Drive because it integrates with Gmail and Meet very easily, but Dropbox is a comparable option as well.
OneDrive
For businesses with Office 365 instead of Google's G Suite, OneDrive is the ideal tool. It has real-time collaboration features, as well as mobile and desktop applications.
WeTransfer
For very large files that only have to be shared once, we recommend WeTransfer, which is the tool we use internally in the video marketing team. This tool allows you to share files up to 2GB for free.
Project and Task Management Tools
Trello
At Cyberclick we're big fans of Trello. This task and project management tool is based on using cards and columns to track progress and organize. In the cards you can include to-dos and easily assign them to team members, view related attachments, and update the status of the task. At Cyberclick we use it for the design team and recommend it for its simplicity.
Airtable
Our inbound marketing and video marketing teams use Airtable. This tool combines table visualization (like Excel) with cards (like Trello), calendar cards and more. It is a very practical all-in-one tool to manage all kinds of content. It has so many different organization options that it can be a bit of a learning curve, but once you understand the platform you'll never want to use another one.
Jira
Our innovation and development team uses Jira, which is specialized for software development. Visually, it is reminiscent of Trello, but it has many functions specific to the needs of agile software and team management. It allows you to organize releases, create reports, integrate with tools like Confluence or Bitbucket, and provide encryption to protect your business data.
Customer Relationship Management Tool
HubSpot has a free CRM that allows you to organize, monitor and nurture relationships with your sales opportunities and customers. It's a good way for your Sales team to have contacts, businesses, and to-dos built into the same platform so they can be synced remotely. In addition, it is integrated with Marketing Hub, Sales Hub, and Service Hub solutions.