By Marina Sala, on 28 June 2023
Maintaining satisfied and well-attended customers is one of the foundations of any company and any inbound marketing strategy. It is crucial to have effective customer service software to support you in achieving this goal. Today, Zendesk and HubSpot are the two most well-known CRMs (customer relationship managers) in use. We'll discuss their similarities and differences and our recommendations depending on your needs.
Are you considering implementing HubSpot for your company's growth and success? Click here for more information about this if tool fits your objectives and how it can benefit you.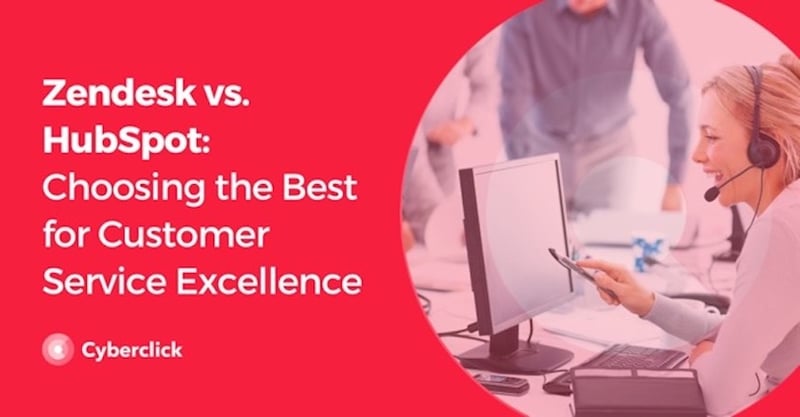 What Is Zendesk?
Despite the initial promotion as a call center-style tool that provided customer support services, Zendesk released its CRM in 2018 and offered a set of integrated functions that are extremely helpful for sales and customer service teams. However, there is also the Zendesk Service plan. The first is an open-source platform that helps improve customer experiences for your company, and the second is a complete solution for your team.
What Is HubSpot?
HubSpot is an inbound marketing tool that helps companies attract leads (potential customers), convert them, and build loyalty. It is cloud-based (like Zendesk) and has two essential benefits:
Updates happen instantly and automatically.
Data is synchronized between computers and devices.
Every product in HubSpot's CRM has a specific purpose. For instance, there is Marketing Hub, a software that optimizes the performance of your campaigns. There's also Service Hub, which has features that enhance customer experience and can help you expand your business is. It's specifically designed for customer support teams.
How Are They Similar?
Zendesk and HubSpot provide their customers with a CRM rather than individual tools. This means that pertinent data can be gathered by contextualizing data from other customers in order to obtain relevant information.
In general, the two customer service platforms have relatively similar prices. Additionally, they both provide a free package with minimal capabilities to anyone who requests it. This is ideal if you want to try out the tool and determine whether or not it will be helpful to you before getting a paid package. The good thing about HubSpot is that its free version is available indefinitely.
Both tools have simple interfaces, so teams can quickly become accustomed to them.
The two platforms offer great customer service to the businesses that purchase their tools. Zendesk supports its customers seven days a week, around the clock. HubSpot provides a very agile service to address any issues or questions quickly.
How Do They Differ?
Digital Marketing Tools
Zendesk and HubSpot differ significantly in that the former does not include digital marketing tools that enable you to track the performance results of your various channels or build blogs and landing pages. If you want your marketing team to collaborate with your other teams, this could be detrimental to your company. It might also be restrictive when initiating marketing activities to attract new customers.
HubSpot also features a Marketing Hub that is a part of their CRM and offers a full suite of marketing tools for your strategies.
Self-Service Tools
HubSpot and Zendesk offer companies self-service tools, i.e., functionalities that let customers solve their problems or concerns, relieving your company's customer service teams of a lot of labor. The latter includes all its tiers, while the former only offers it in the "Pro" and "Enterprise" packages.
Adaptability
Although neither tool is designed for a particular company size, Zendesk is better suited to large and medium-sized companies, while HubSpot is often better suited to smaller companies.
Customer Care Tools
While Zendesk concentrates more on real-time customer care, HubSpot stands out for its contact management features, CRM, and automation.
Conclusions
Since both tools are cloud-based, upgrades and data synchronization are ensured and handled automatically without your company's involvement. As a result, you won't need to worry about any of these issues.
Before choosing one or the other, we advise you to try out the free limited versions of the two CRMs.
Teams won't have any trouble adjusting to either because they are quite intuitive.
The digital marketing tools provided by HubSpot are far more comprehensive than those of its competitors, where the offerings are limited and can cause coordination errors between different teams and limit the launch of your campaigns.
We hope this comparison helps you select the best customer service tool for your company. If you are still unsure which is ideal for you, we encourage you to try both free versions to determine which suits you and your team'.