By Marina Sala, on 17 February 2020
Inbound Marketing is a marketing method based on providing the right content at the right time for your users. The end goal is to increase your sales and organically attract more people to your business. It's non-disruptive and doesn't interrupt the user experience.
In this article, we will explain how your business can benefit from incorporating inbound marketing into your strategy.
What Is Inbound Marketing?
Instead of flooding your consumer with paid ads that can be annoying and aggressive, inbound marketing attracts users to your brand with relevant content that moves them along the buyer's journey.
It can be summarized in 4 major stages: attract, convert, sell, and build loyalty.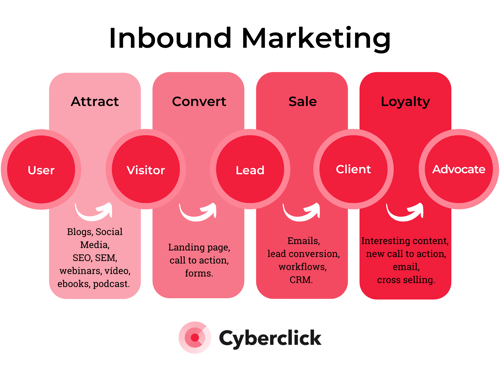 It is not one technique, but a combination of many different techniques that work together: SEO, content marketing, social media marketing, email marketing, and marketing automation are just a few of them.
The most basic principle is to create content that can solve problems and answer your potential customers' questions. By doing this, you'll make it as easy as possible for consumers to find your brand.
We'll review all of the essential components of inbound marketing in this post, but you can also check out our video tutorial below if you prefer!
How to Create an Inbound Marketing Strategy
As mentioned earlier, inbound marketing involves many different types of marketing techniques. Below are some essential aspects of an effective inbound strategy.
Inbound Marketing Funnel
Inbound marketing works in stages, with content that's tailored to the stage of the buyer journey your lead is in. There are three stages of the conversion funnel: TOFU (top of the funnel), MOFU (middle of the funnel), and BOFU (bottom of the funnel).
The content you create will be basic and general, or in-depth and specific, depending on where your lead is in the funnel. For example, long-form content like an ebook or whitepaper is more suitable for someone who is MOFU or BOFU. In contrast, a quick, explanatory blog post or video is better for someone who is TOFU.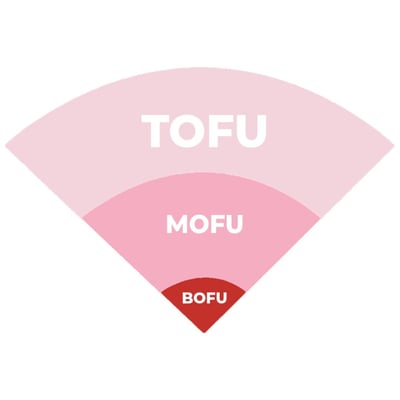 Inbound Marketing Fundamentals
Your inbound marketing content strategy will be based on your buyer persona, a semi-fictional representation of your ideal customer. Creating a buyer persona will guide you in your inbound content marketing because it will narrow your focus to thinking about what your customers need. You can then create relevant content to solve their issues.
Inbound marketing and content marketing are not the same; though content marketing is one of the biggest keys of inbound. Here are 4 major features that must be included in all inbound marketing campaigns:
CTAs: Call-to-actions attract users' attention and lead them to perform an action.

Landing Pages: A landing page can make or break whether or not a lead decides to download your content. It is also typically the place to include lead-gen forms to gather information about your users.

Forms: Typically, leads must fill out a form before they receive any long-form content.

Automation: By using automation, you can set up workflows that ensure you are properly nurturing all of your leads.

Here is a quick overview of the most popular forms of content for inbound marketing:
Blog Posts
Blogs are the cornerstone of most inbound marketing strategies. Publishing high-quality blog posts are the best way to attract potential customers (especially TOFU) because they answer questions. Implementing SEO best practices can also help your content be found easily.
Blogs can be written for any type of business in the B2B or B2C sector. Users search for information before purchasing products. By providing blog posts in the forms of lists,. articles, case studies, definitions, examples, and tutorials, you can help users easily build trust with your brand.
Videos
According to SocialMediaToday, 95% of users watch an explanation video to learn more about a product or service. It is a particularly valuable inbound marketing tool for younger audiences such as Millennials and Gen Z.
Downloadable Content
Downloadable content, like ebooks, checklists, and whitepapers, is a key part of inbound marketing. It allows you to get more information about your leads (especially MOFU and BOFU) by offering valuable content.
As consumers move along the buyer journey, they seek more in-depth content. In exchange for it, they leave information about themselves that turns them into a lead.
Downloadable content is a key aspect of lead nurturing. Once you know more about a lead, you can either send him or her more information or hand off the lead to your sales team.
Emails
You can obtain leads' emails through the forms that users fill out to receive downloadable content.
Inbound email marketing is all about sending relevant information to your leads through promotions, discounts, or demos that encourage them to make a purchase.
2 Inbound Marketing Examples
So now that you have a better idea of what inbound marketing is, let's look at a few examples of successful inbound marketing campaigns to get your creative juices flowing.
1. Hubspot
Known as the first "inbound marketing" company, it's no surprise that Hubspot is top of our list of companies that implement the inbound methodology well.
It is nearly impossible to look for marketing information online without running into one of their informative blog posts. They have a variety of blog content, infographics, videos, ebooks, whitepapers, and case studies to help users learn more about different marketing strategies. In turn, this educational content builds users' trust overtime.
If you download and read their content, they will use the information they've gathered about you to push you down the conversion funnel. Hubspot proves that inbound is subtle but highly effective over time.
2. Cyberclick
The fact that you are reading this post is a real-time example of effective inbound marketing.
You probably searched for something like: "what is inbound marketing" or "inbound marketing definition" and found this blog post, which has (hopefully) answered your questions!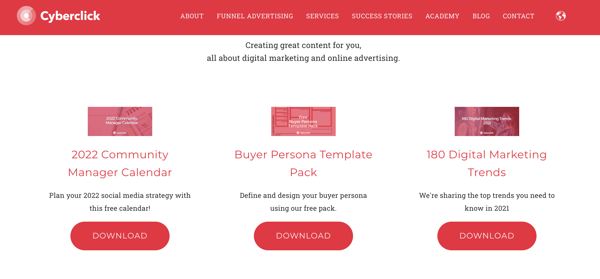 The more you look, the more you'll begin to notice inbound marketing all around you. We hope that this overview has helped you understand more about inbound marketing and equipped you to incorporate it into your marketing strategy!