By Marina Sala, on 17 February 2020
The way consumers shop has changed. According to Google, "53% of shoppers say they always do research before they make a purchase to ensure they are making the best possible choice."
Inbound marketing is how you can ensure those consumers end up choosing your product or service.
Inbound marketing is a method of marketing that is based around providing the right content at the right time, with the end goal of increasing your sales and organically attracting more people to your business. Inbound marketing is non-intrusive and appears casual from the customer's end.
In this article, I will explain what is inbound marketing, explain its fundamentals, provide examples, and explain how your business can begin to use inbound marketing.
What Is Inbound Marketing
Inbound marketing is a non-disruptive and discrete form of marketing. Instead of flooding your consumer with annoying or aggressive marketing tactics, inbound marketing seeks to attract users to your brand by using relevant content that moves them along the buyer journey until they ultimately make a purchase.
It can be summarized in 4 major stages: attract, convert, sell, and loyalty building: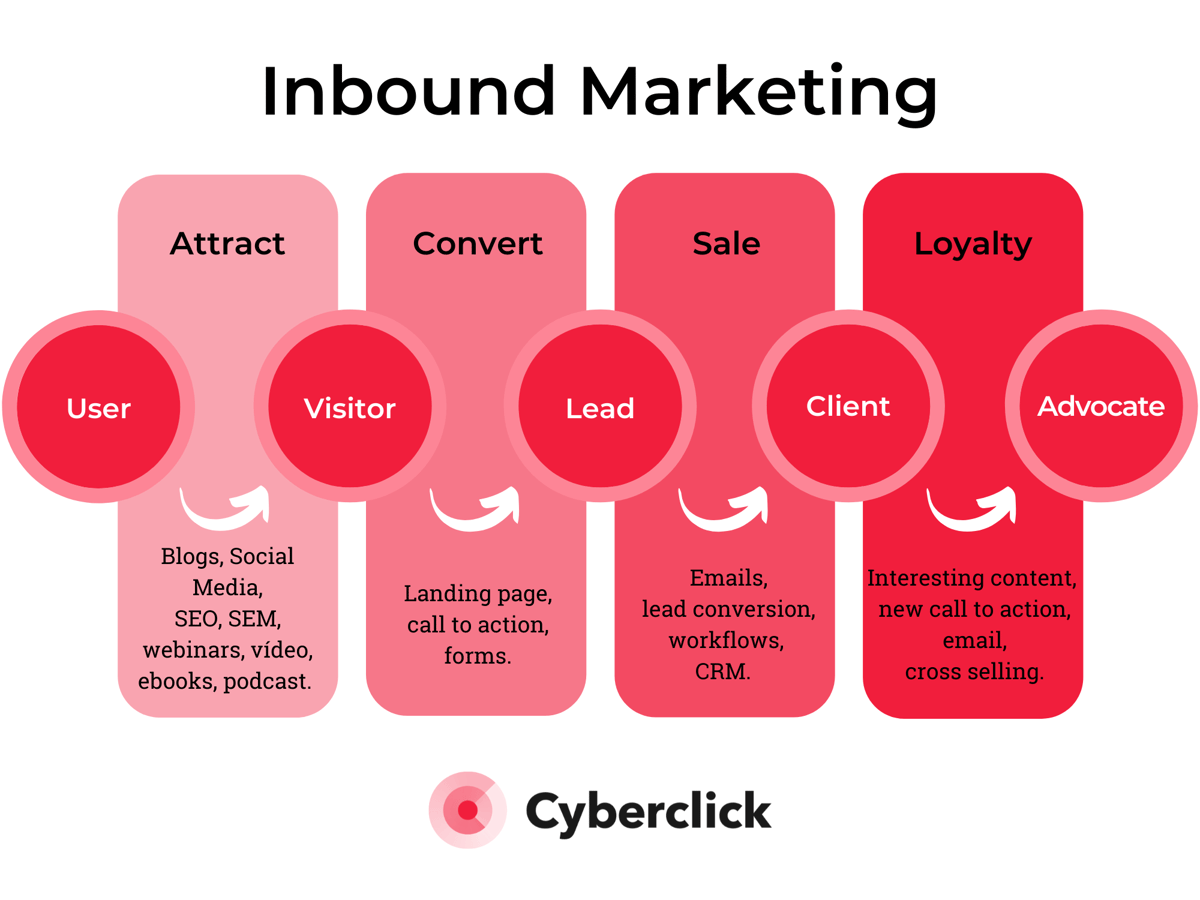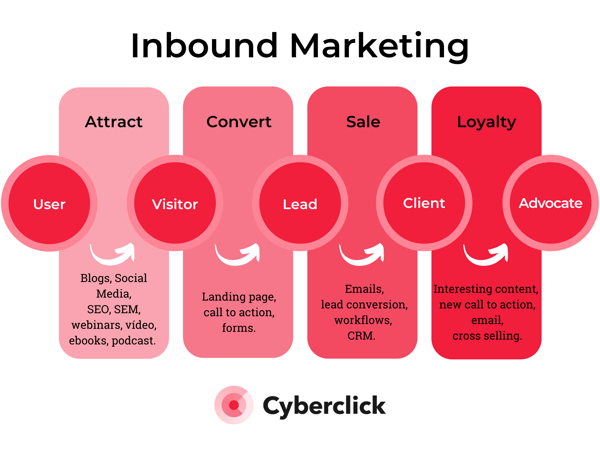 Inbound Marketing Definition
Inbound marketing is the strategy of attracting your target customers, using highly-relevant content, and accompanying them through the entire purchasing process.
Inbound marketing is not one technique, but instead a combination of many different techniques that work together. SEO, content marketing, social media marketing, email marketing, and marketing automation are just a few of the different methods employed by inbound marketing.
Don't let that overwhelm you though! While it may seem like inbound marketing has many rules and steps, in reality, it is actually quite simple. Think about it this way: "If you build it, they will come."
The most basic principle behind this method is to create content that can solve problems or answer questions for your future and current customers. Create content that people actually want to consume and that they will seek out. By doing this, you're making it as easy as possible for consumers to find your brand, instead of you disrupting and finding them.
Inbound Marketing Strategy
All inbound marketing strategies contain a few key fundamentals. As mentioned earlier, inbound marketing involves many different types of marketing techniques. The below systems are essential aspects of an effective inbound strategy.
Inbound Marketing Funnel
Inbound marketing works in stages. Its content is based on what stage of the buyer journey your lead is in. There are three stages of the conversion funnel: TOFU (top of the funnel), MOFU (middle of the funnel), and BOFU (bottom of the funnel).
The content you create will be basic and general, or in-depth and specific, depending on where the lead is at on the funnel. For example, long-form content like an ebook or whitepaper is more suitable for someone who is MOFU or BOFU. While a quick, explanatory blog post or video is better for someone who is TOFU.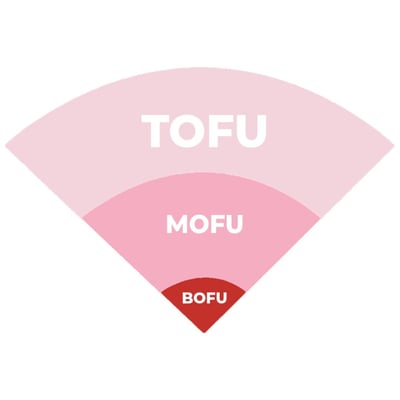 Inbound Marketing Content
You may sometimes see inbound marketing get confused with content marketing. While content marketing is one of the biggest keys of inbound, it is not the end all be all. There are 4 major features that must be included in all inbound marketing campaigns:
CTAs: Call to actions are text or images on your website that attract a user's attention and lead them to perform a desired action.
Landing Pages: A landing page is where you host your form, and can make or break whether or not a lead decides to download your content.
Forms: A form is what allows you to receive more information about your lead. Typically, a lead must fill out a form before they receive any long-form content.
Automation: Automation is the magic power behind most inbound strategies. Using automation you can set up workflows that ensure you are properly nurturing all of your leads.

We have created a blog post that dives even deeper into these tools, which you can read here. The content you create will be the vehicles in which you place your CTAs and forms.
Your inbound marketing content strategy will be based on your buyer persona. A buyer persona is a semi-fictional representation of your ideal customer. Creating a buyer persona will guide you in your inbound content marketing because it will narrow your focus to thinking about what your buyer persona's problems or questions are. You can then create content that can solve their issues.
Here is a quick overview of the most popular forms of content for inbound marketing:
Blog Posts
Blogs are the cornerstone of most inbound marketing strategies. Publishing high-quality blog posts are the best way to attract potential customers (especially TOFU) because it is the quickest way to answer their questions. Using SEO techniques will help your content to be found easier.
Blogs can be written for any type of business and work for both B2C and B2B. Users want to search for information about a product before they pull the trigger and make a purchase. By providing blog posts like lists articles, case studies, definitions and examples, or tutorials, you can help searches become more confident in their purchase and more trusting of your business to do the purchase with.
Videos
Videos are another valuable content option for inbound marketing. In fact, according to SocialMediaToday, 95% of users watch an explainer video to learn more about a product or service.
As attention spans continue to decrease, videos are proving to be effective because they are entertaining and involve very little work on the viewers part. Video is a particularly valuable inbound marketing tool for younger audiences, like Millennials and Gen Z.
Downloadable Content
Downloadable content, like ebooks, checklists, and whitepapers, is a key function of inbound marketing. This allows you to get more information about your leads (especially MOFU and BOFU) while also serving as an extra way to provide more information to them.
As consumers move along the buyer journey they will need more in-depth and higher-level content. In exchange for this information, they leave information about them that turns them into leads.
Downloadable content is a key aspect of lead nurturing. Once you know more about the lead, you can either send them more information through marketing automation or send the lead to your sales team to activate sales functions.
Emails
While some may claim that email marketing is dead, it is still an effective tool for inbound content marketing. You can obtain leads emails through the forms that users must fill out to receive their downloadable content.
Inbound email marketing allows you to send even more relevant information to your leads. You can also send them promotions, discounts, or demos that will help encourage them to make a purchase. For B2B businesses, emails allow you to contact the lead when they are deemed ready for sales communication, after lead scoring.
Inbound Marketing Examples
So now that you have a better idea of what inbound marketing is, let's look at a few examples of successful inbound marketing campaigns to get your creative juices flowing.
1. Hubspot
As the inventors of the term "inbound marketing", it's no surprise that Hubspot is the master of inbound marketing.
It is nearly impossible to look for marketing information online without running into one of their informative blog posts. They have a variety of blog content, infographics, videos, ebooks, whitepapers, and case studies to help users learn more about different marketing techniques and build their trust in Hubspot over time.
If you read their content and choose to download one of their ebooks or long-form content, they will use the information they've gathered to lead you down their conversion funnel. Hubspot proves that inbound is subtle, but effective over time.
2. Cyberclick
We hate to toot our own horns, but the fact that you are on this very website is a real-time example of inbound marketing doing its job.
Likely, you searched for something like "what is inbound marketing" or "inbound marketing definition" and found this blog post, which has (hopefully) answered your questions about this technique.
The more you look, the more you'll begin to notice inbound marketing all around you. Every time you conduct a search on Google, your question will likely be answered thanks to the work of inbound marketing.
Hopefully, this overview has helped you understand more about inbound marketing and now you're ready to start your own strategy!