By Chantal India, on 27 September 2021
The community manager is a common position in the world of digital marketing. Their role is essential for a good relationship between brand and its followers, but it has undergone a lot of evolution since this position was created.

Because of this, we are going to see what community managers are like today including what their functions are, what professional profile they should have and some tips for job performance.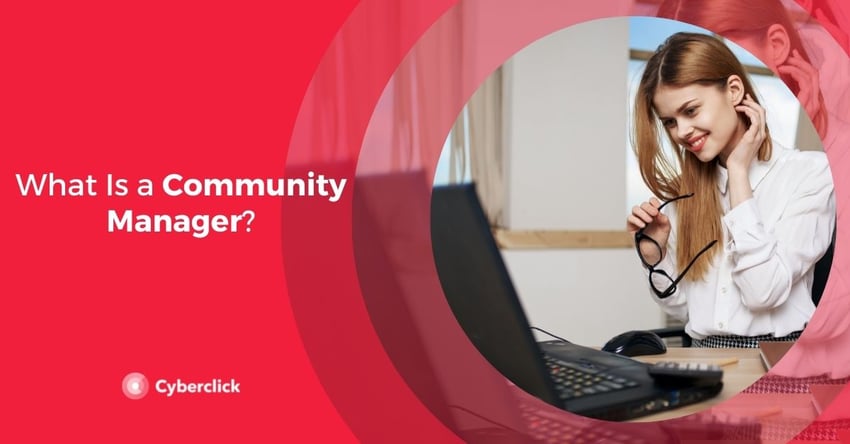 What Is a Community Manager and What Do They Do?
A community manager is an online marketing professional who is in charge of managing the online community around a company or brand in all its channels like social networks, blogs, forums, mobile applications, and others.

Among a community manager's main functions are, of course, communicating with the online community, content strategy management, analytics and action planning.
Let's take a closer look.
Communication
This is the typical role of the community manager, the one most people have in mind when they think of this position. It involves publishing posts on social networks, responding to followers' comments, questions, and concerns, etc.

Of course, the community manager's job goes far beyond automatic responses. Behind all of the published content, there must be careful research and preparation work which build connections with the community.

Rather than passively responding, a good community manager has to be proactive in establishing a two-way dialogue between the brand and its followers, all while echoing the tone and values of the brand.
Content Management and Publishing
Content strategy is one of the pillars of a brand's digital presence. Although sometimes there may be specialized positions, generally the community manager is the one who is responsible for coordinating the company's content.

This work is not limited to writing articles or creating visual content. It also includes things like planning the content, creating a calendar, disseminating everything on different social networks, curating content, and SEO positioning.
Analytics
Gone are the days when a community manager could simply report the number of "likes" and followers. Today, our knowledge of digital marketing analytics and the tools we have at our disposal are far more sophisticated.

In collaboration with a company's entire marketing team, the community manager must figure out what the key KPIs or metrics are that will track the brand's performance. Once established, he or she will be responsible for regularly monitoring, reporting, and communicating the results to the rest of the team.
Action Planning
In most companies, the community manager is not just an executor, but also a strategist. They know the pulse of a brand's community better than anyone else and can contribute this knowledge to the development of the social media strategy and digital marketing plan.

If it is necessary to coordinate several community managers with each other, it is recommended that you have defined best practices and brand style guides, which complement the action plan and help them represent the brand voice so that users do not perceive differences between any of your platforms.
What Characteristics Does a Good Community Manager Need?
The position of community manager carries great responsibility, since this professional represents the brand every day. These are the skills and characteristics that the ideal community manager should have.
Specialized training in online marketing, either through a master's degree or other training. There is a wide range of training on the market today and not all of it is of the same quality, so it is important to have good theoretical and practical knowledge.
Knowledge of the latest tools and developments in the sector. The training of a community does not end at the end of a master's degree or course, but must be continuous. The company must also be able to recognize this need and support this type of training.
Excellent communication skills (especially in writing). These are absolutely essential to achieve a fluid understanding with followers, subscribers, etc. and avoid possible reputation crises due to communication blunders.
Methodical because, in the world of social networks and online marketing, there are so many possibilities that it can be easy to end up being very busy but not very productive. Therefore, a good community manager must be able to establish clear priorities and be responsible for organizing his or her own work.
Patience is another useful skill. Numerous reputation crises have been caused by community managers losing their temper. Complaints, trolls, and negative comments are daily issues in this profession, so it's essential to keep a cool head and always respond with grace.
Empathy is important because the community manager connects users and brand. He or she has to be able to thoroughly understand the needs of different people and give an appropriate response, leaving aside his or her personal preferences to speak on behalf of the brand.
7 Top Tips for Community Managers
Think generally, not just in particulars. A common problem for community managers is that they can't see the forest for the trees. With all the daily hustle and bustle of managing social networks, making posts, responding to users, etc. it is easy to forget what the general objectives of the brand are and how you can help achieve them. Therefore, it is very important that the community manager participates in the development of strategies and can have a global vision of what is going on.

Be fast but accurate. Internet users are accustomed to wanting everything immediately and demand quick answers, but hasty answers can make problems worse instead. Before giving an answer, make sure you really understand what the problem is and that you have all the facts you need.

Think long term. The work of the community manager must always be integrated into the overall strategies of the brand. Creating a community of users from scratch is not an easy task and requires a considerable investment of time and effort. Trying to take shortcuts (such as the famous purchase of followers) can cause serious damage. Therefore, it is necessary that both the community manager and the brand managers focus on building a solid brand presence in the long term and not on obtaining immediate results that won't last.

Keep your cool. Another important quality of a community manager is the ability to keep a cool head in times of crisis. Not everyone presents their best face on social networks, and this can lead to a real reputation crises in a matter of minutes. It is not surprising that some community managers have been carried away by their emotions and respond hastily. Just make sure you don't become one of them.

Stay curious. Digital marketers have the privilege of working in an environment that is constantly evolving. The bad thing about it is that there are very few certainties, since what worked yesterday could be obsolete tomorrow. The good thing is that there is always something new to learn and to be surprised by. To be a good community manager, you will have to take an interest in your surroundings and adapt your day-to-day life to new tools, channels, and strategies.

Get organized. A community manager has to coordinate publications on a website, several posts a day on different social networks, social ad campaigns, responses, etc. Productivity tools are your best friends. You can use things like Trello to create to-do lists, Evernote to organize all your content information, Hootsuite to schedule posts and be able to see several social networks at the same time.

Separate your presence on the networks. A common blunder is confusing your personal account with that of the brand you manage. To prevent this from happening, create separate Chrome users and limit personal posts when you are working. But the need to separate goes beyond that. When you speak on behalf of the brand, you must represent the brand, not yourselves (just make sure not to sound like a robot either). You also can't take criticism of the brand on social media personally. In short, it is a delicate balance that the community manager must be able to handle.