By Michelle Bernachi, on 26 July 2022
If you use TikTok to promote your brand, knowing how to interpret the analytics offered by the platform is essential to improve your strategy and achieve your goals. The TikTok analytics tool provides metrics that allow you to improve your social media advertising strategy.
Social network analytics allow you to dig deeper into your content's results and your audience's trends. In this article, we'll tell you everything you need to know about TikTok analytics and recommend some external tools to help you interpret the data.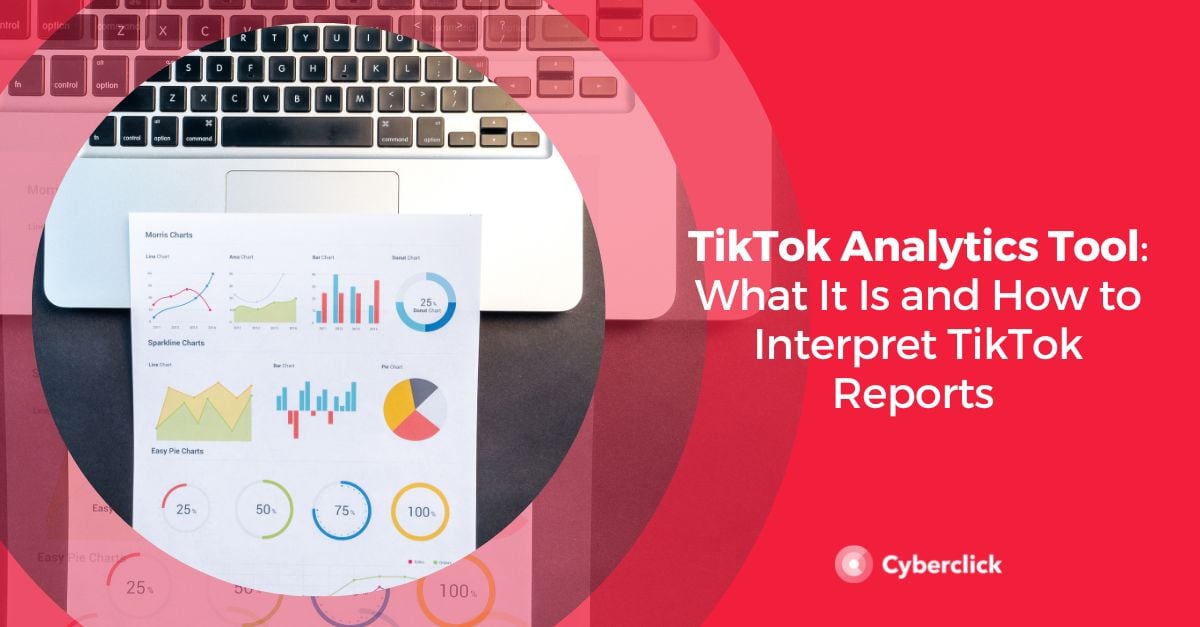 What Are TikTok's Main Analytics?
Profile Analytics
When you access TikTok analytics, this is the first category that appears. It shows you a general summary of the impact that your account has had in the last 7 or 28 days (depending on your choice).
You will be able to see the results of your videos and how your followers have grown, as well as how many users have visited your profile.
Content Analytics
In this tab, you can analyze your videos and metrics, as well as see if your posting frequency has changed. In addition, if you click on each video, you will be able to see individual analytics for each one and analyze its impact. These individual analytics can also be accessed by clicking on each video from your profile and then on "statistics".
These content statistics will provide information on the total views of each video, as well as the number of likes, comments, average viewing time, shares, and more.
Unlike profile analytics, content analytics only show results for the last 7 days.
Follower Analytics
In the last tab, you will find information about the demographics of your followers, such as their gender, where they live, and when they are most active on the platform. You will also be able to tell what videos your followers are most interested in. This will help you create new content.
If you have less than 100 followers, these analytics will not provide you with much information due to the lack of data. If you have more than 100 followers, however, you can learn a lot from these statistics.
Other Analytics TikTok Shows
In addition to these analytics, TikTok also tells you information about other aspects of your account and the platform in general:
Live analysis: Here you will be able to analyze the number of views the livestream video has had, the new users who have followed you, the total duration of your video, and even the diamonds you have earned (gifts sent by followers that can be converted into real money).
Hashtag visualization: This is not related to your account results, but it can be useful. Every time you search for a hashtag, you can see the number of views of the videos in which they have been used. This can be very useful when selecting which ones to include in your videos.
The number of likes: In your account profile, you will be able to see the total number of likes that all your posts have accumulated.
How to View TikTok Analytics
To be able to see TikTok analytics, you need to have a TikTok Business account. But don't worry, it is very easy (and free) to switch from a normal account to a Business account.
All you have to do is go to your settings, click on "Manage Account" and then on "Upgrade to Pro account". After that, TikTok will ask you to choose the category that best describes your account. With this Pro account, you will also be able to add a business website and an email address to your profile.

Once this is done, you will have access to TikTok analytics. All you need to do is simply click the three dots in the top-right and then on "Statistics".
Tools to Manage TikTok Analytics
Metricool is one of the most popular analytics management tools. It not only allows you to analyze your performance on TikTok, but also on many other social platforms like Instagram, YouTube, Twitter, and LinkedIn. Metricool can give you an overview of how your videos are performing (or performed in a specific period).
It also provides analytics on the interactions that users have had with your content, as well as provides a complete table with information about your posts so that you can compare them with each other.
TikTok Analytics
With TikTok Analytics, digital marketers can thoroughly analyze the results of their TikTok strategies. TikTok Analytics has several KPIs (Key Performance Indicators) and has a very affordable monthly price.
With Pentos, analyzing your TikTok data (both your own and that of other accounts) is very easy. It lets you learn about social network trends and track different accounts. The latter option is available in the free version, where you can follow up to 3 different accounts. It is also very affordable.
Brand24 is specifically designed to analyze social media hashtags. It is helpful for staying on top of trends as well as understanding the impact that your brand has on social networks. You can also create alerts in Brand24 so that the platform notifies you about changes to hashtags; for example, when they go viral.
Iconosquare is a complementary analysis tool to TikTok Analytics.
Unlike other tools, Iconosquare offers users three types of accounts: a Pro account (recommended for small businesses and marketing professionals), an Advanced account (for marketing teams), and an Enterprise account (ideal for large companies and marketing teams).
It is a higher price than others, but it is also affordable at the enterprise level.
Iconosquare offers a very detailed analysis of TikTok videos, as well as insights about the best time to post on the platform.
TrendTok
This is a perfect tool for content creators because it allows you to track, identify and forecast trends on TikTok by location and category. TrendTok is very useful during brainstorms to ideate content that will go viral. As a result of its developed artificial intelligence capabilities, TrendTok shows you personalized trend suggestions according to your niche and your account style.
To top it off, TrendTok not only suggests emerging trends but also ones that are declining.