By Héctor Borrás, on 5 July 2022
Chatbots allow users to get answers quickly and immediately and to resolve concerns through having a human-like conversation that is simulated and processed by software equipped with artificial intelligence. They are used widely in digital marketing, and although they are primarily used to process customer service requests, they have other applications as well, such as obtaining customer data and information. But, how do you create a chatbot?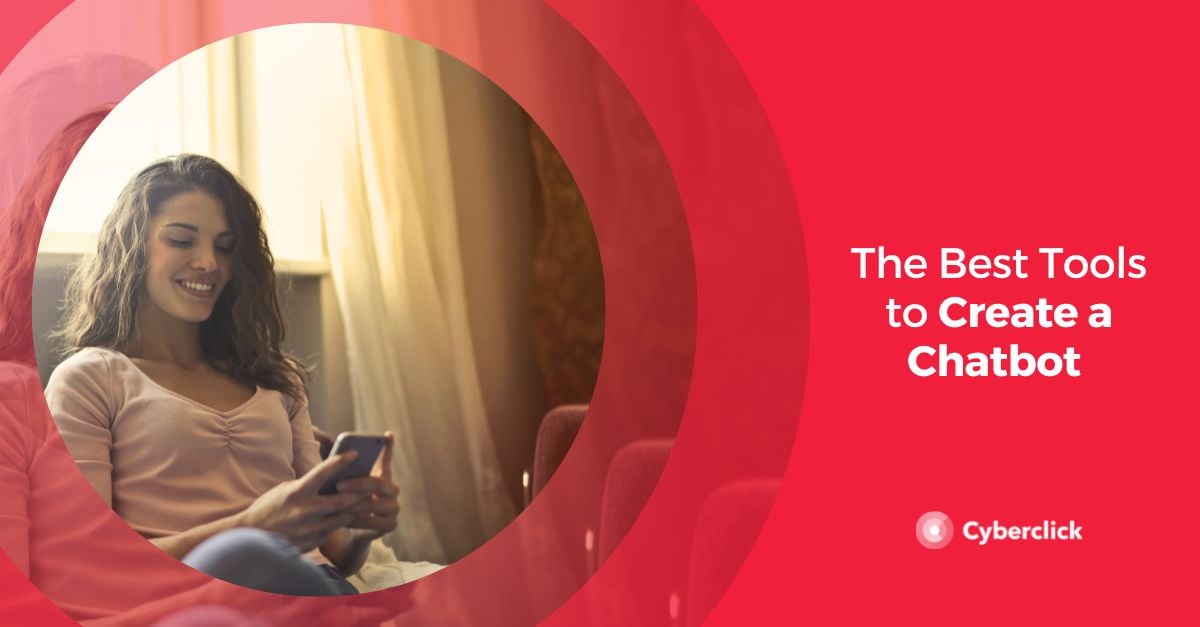 10 Tools to Create a Chatbot
There are numerous tools that allow you to create a chatbot. Here are the best options:
1. HubSpot
HubSpot is a very intuitive tool that allows you to easily create a chatbot. In fact, no technical knowledge is required in order to create one, as it offers customizable templates that can be adapted to the tone and voice of your brand. Although, for those looking for something much more specific, they can also be created from scratch.
One of the main advantages of HubSpot is that it integrates seamlessly with HubSpot CRM, so you can make the conversation with the user much more personal and less robotic.


2. WhatsApp Business
WhatsApp Business also allows you to create chatbots, which is great since most users use this messaging app in their daily lives.
One of the main advantages of the WhatsApp chatbot is that it can also be used to provide customers with information about new products or services, attract customers by automatically sending messages as after-sales support, resolve concerns and answer questions, among other things.
3. Telegram
Telegram is another popular messaging application that allows chatbots to be created. The Telegram bot can be put to various uses, ranging from resolving concerns to sending informative messages through groups or channels. In fact, it's quite similar to what WhatsApp offers. In addition, it can be created quickly and easily, in just a few clicks, which is quite convenient.
4. Messenger
Another tool that allows you to create chatbots is Facebook. In this case, it's integrated within Messenger and allows the programming of different types of features such as ordering a product, booking a service, providing recommendations, answering a series of questions, or offering news that's filtered according to the user's interests.
Best of all, the chatbot is able to detect when human intervention is necessary and alert a customer service agent to provide better service.
5. Mobile Monkey
Mobile Monkey is also very popular. It allows you to create chatbots in Facebook Messenger, web chat, or SMS text messages.
This is a very useful tool, especially for giving the user the ability to schedule an appointment, get answers to frequently asked questions, or track their order. It offers a free plan with the most basic features and some paid ones that include more advanced features.
6. Chatfuel
Chatfuel allows you to quickly and easily create a chatbot on Facebook Messenger, without any programming knowledge. It has a free plan with basic features and other paid ones with more advanced features and some advantages such as priority support or removing the branding.
7. Tidio
Tidio is also a very good tool for creating chatbots. One of its main advantages is that it's compatible with virtually any website, as well as Facebook Messenger.
It has several templates, but it also allows you to create a chatbot from scratch quickly and easily. It's very useful for automated answers to frequently asked questions without too many complications. It is a paid tool; with its free plan you cannot create chatbots.
8. Drift
Drift is designed for large companies and its price reflects this, as it's one of the most expensive options. It also has a free plan but, unfortunately, it doesn't allow the creation of chatbots.
Some of its main advantages are that it allows you to start conversations and create optimal scenarios to increase sales. It also integrates with CRM, email marketing services, and other tools such as Zendesk and Help Scout.
9. Freshchat
Freshchat is another great option that allows you to create chatbots for WhatsApp, Facebook Messenger, websites, and more.
This tool has automated learning technology, allowing you to interact with the customer and generate a list of questions that need better answers. Because of these features, Freshchat is one of the best tools to create your own chatbot, but, like others, it's also a paid one.
10. Zendesk Chat
Finally, Zendesk Chat is another one of the best customer service tools for businesses that allow you to create chatbots. It allows you to create and optimize automatic messages, as well as manage support tickets and have live conversations with customers. It can also be integrated with other chatbot tools to achieve much more advanced functionalities and provide better customer service.
This tool is paid for but offers a 14-day free trial. It also has a free version, but it only allows you to have one agent and one chat at a time, which can be a drawback.
Now you know the best tools to quickly and easily create a chatbot so that you can choose the one that best suits your needs and budget!