By Pere Munar, on 21 April 2022
Digital advertising has experienced a boom in recent years with the rise of ecommerce. Many companies have launched or expanded their online store, and this means that they have to manage their catalog on different sites such as the company page, Amazon, and social shopping platforms.
A product feed is an essential tool because it allows you to centralize all the information about your inventory and publish it on different channels easily. Read on to find out what a product feed is in marketing, the advantages it has, and how you can create your own.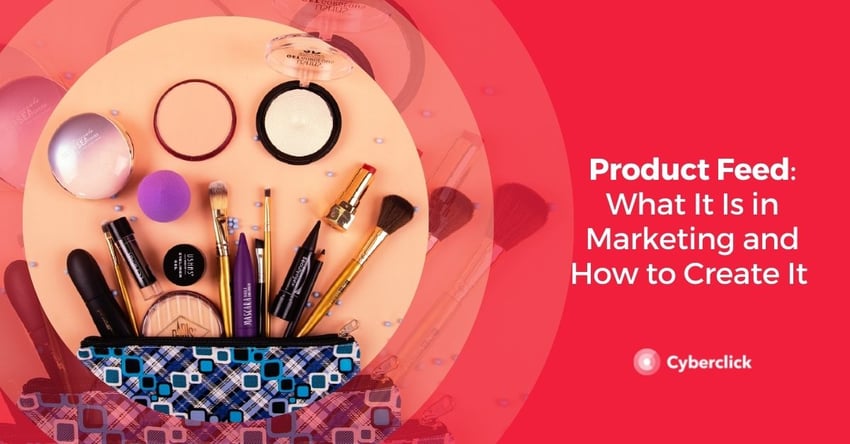 What Is a Product Feed?
A product feed is a database that contains all the information about the different products in your online store: product descriptions, inventory, stock, main features, etc. The product feed file can be in different formats such as XML, CSV, or TXT.
The information included in the feed will be different depending on the industry the company is in. For example, size is very important in a clothing ecommerce, while a technology ecommerce will have sections for screen size or the amount of memory on a device.
The main function of a product feed is to be able to send product information to different websites, such as marketplaces, price comparisons, or online advertising tools. By having all the information centralized and automating the sending process, you can save a lot of time and avoid possible errors.
3 Advantages of Using a Product Feed in Your Ecommerce
1. Automate Your Marketing
Having one product feed makes managing your ecommerce much easier. Instead of having to constantly update different catalogs, you just import your product information into the tool and create different feeds for each channel. From then on, the tool will update the different feeds automatically whenever there are changes.
2. Manage Large Catalogs With Ease
As an ecommerce starts to grow, it becomes more and more complicated to manage. Catalogs with hundreds or thousands of products, multiple marketing and advertising channels, websites in different languages... trying to manage all this by hand consumes a lot of time and company resources. With a product feed, on the other hand, you can save a lot of resources to spend on other, more profitable aspects of your business.
3. Better Manage Product Information
A product feed is still a database, which means that it offers many functions to filter your products as you prefer. For example, you can select only products from a specific category or those with a certain feature.
In addition, product feeds also make it easy to optimize your data, for example by adding information, enriching texts, or modifying titles.
How to Create Your Product Feed
How to Create a Product Feed On Facebook
Facebook catalogs can be used to advertise and sell products on Facebook, Instagram, and WhatsApp Business in an integrated way.
To create a product catalog on Facebook, you must first be an administrator of a Facebook for Business page and have set up Business Manager. Then, follow these steps:
Log in to Business Manager and go to the catalog manager.

Click on "Create catalog"

Choose the type of catalog you want to create: e-commerce (for products sold online), travel (hotels and vacation properties, flights or destinations), real estate (rental properties and real estate listings), or cars.

Choose how you want to upload your products. There are two different options: add them manually (the option is called "Upload product information") or connect the e-commerce platform you usually use. If your platform is integrated with Facebook, you will be able to import the products automatically.

Choose the account from which you want to manage the catalog and name it.

Click on the "Create" button and you're done! You can now view the catalog you have just created.
Let's take a closer look at the options available for adding products to your Facebook catalog:
Add products manually: With this option, products are uploaded one by one via a form, so it is only suitable for stores with a small inventory.
Data feed or bulk upload: Upload products from a spreadsheet file in CSV, TSV, or XML format. You can upload a file once or set up scheduled uploads.
Connect through the Facebook pixel: With this option, your catalog is managed automatically, as the pixel adds new items to the catalog and updates inventory details directly from your website. However, you can only use the data for the ads function.
How to Create a Product Feed in Google
In order to advertise and sell your products on Google, you must create a product feed in Google Merchant Center. Let's see how to create the two main types of Merchant Center feeds.
Create the Main Feed
The main product feeds are the main data source Merchant Center uses to access product data and display it in your channels. You can use them to add or remove products, set up segmentation by language and country, and set feed rules for your product data.
To create the main product feed, follow these steps:
Go to the "Feeds" section of the Merchant Center's "Products" page. Click on the button with the + icon and follow the prompts.
Add the country of sale or main country where the products in the feed are sold. The products included in the feed must meet the requirements of the selected country.
Add the language in which your product data is available.
Choose one or more destinations to determine which features from Google the products in the feed can use.
Choose the feed name.
Choose the input method: google spreadsheets, scheduled retrieval, file upload, or website crawling.
Add the file name.
Click Continue. You can now view and manage the feed you just created.
Create a Supplementary Feed
Supplemental feeds are used to provide additional information to one or more primary feeds. They cannot be used to add or remove products, nor can they be used independently. Rather, they are a secondary data source used to provide additional product attributes separate from the main feed.
To use a complementary feed, you must have previously created a main feed and link both with the ID attribute. Complementary feeds can only update product data if they have an ID that already exists in the main feed.
Within the complementary feeds, there are regional product inventory feeds, which can be used to override product data from the main feed to show different prices or availability in a certain area. You can use them to create marketing offers segmented by location.
How to Use a Feed Manager
Different marketplaces have different specifications for product feeds. For example, in Merchant Center, you have to include whether the product is new or secondhand as part of the feed attributes, while in other platforms this field is not important.
If you sell on different platforms, you have to adapt your feed to each of them. Doing this process by hand is very inefficient – the reason to have a feed is to automate and simplify. How can we automate and simplify this process? With a feed management tool.
Feed management tools allow you to optimize all your product information, for example, exclude out-of-stock products, add or extract information in the title and description, create or edit text, and so on. The tool itself will tell you what data you need in each channel, so you can be confident that you are always sending useful and complete information.
To choose the best feed manager for your particular case, keep these details in mind:
Available channels: It is essential for the feed manager to be compatible with the export channels you want to use.
Price: Logically, you need to find a tool that fits your budget. You should also take into account the payment method and whether it includes unlimited free support (the best way to avoid surprises).
Update frequency: Depending on your store's needs and demand peaks, you may need to update your tool several times a day. Be sure to check what update rate the feed manager supports.
Additional functions: Order management with marketplaces, tools for designing text ads, or syncing with an analytics platform.