By Chantal India, on 10 October 2019
Promoting the products in your online store is an essential task for your brand strategy. Promotion helps to introduce your business to new audiences, and to re-engage your most loyal customers. One way to boost your ecommerce business is by integrating it with the Product Catalog on Facebook Ads, along with promoting your products on Facebook, Instagram, and the rest of the platform's channels.
In this article, I will showcase one of our case studies focused on ecommerce and compare the Collection and Carousel formats.
Why the Facebook Ads Product Catalog Is Important for Your eCommerce
Essentially, you can now integrate your catalog into Facebook's advertising platform in order to promote your inventory or brand on Facebook, Instagram, Audience Network, and Messenger.
There are different Product Catalog options, which adapt to different types of products, including electronics, travel (flights, destinations, and hotels), real estate, and vehicles.
According to Facebook, you can use the catalogs to:
Show Dynamic Ads to people who have already seen or searched for your items on the internet. This type of advertising combines images and inventory information from your catalog with signals from a pixel to track the activity that takes place on your website or application.
Tag your products on Instagram. If your online store has an Instagram profile, connect it to an ecommerce catalog to set up purchases on Instagram. This will allow you to tag products from your catalog in Instagram in posts and stories. People will have the option to touch the labels to see prices and descriptions, or to buy the products that interest them directly from their newsfeed.
Add products to your Facebook page's store. If you are an administrator on your business's page, you can use your catalog to add products to a store on your page. You can also use information from your catalog to tag products in Facebook posts with photos or videos.
Create collection ads. Collection Ads allow users to discover products and services through an immersive experience for mobile devices on Facebook and Instagram. These types of ads use videos and images from your catalog, and when users touch them they are brought to a full screen that displays more details about the products and shows similar items.
Advantages of Using the Product Catalog Tool
The Product Catalog tool makes your job easier, since it automates and connects Facebook's advertising platform with your product inventory, helping you to be more on top of both your inventory and advertising. Some of the features of the Product Catalog include:
Automatic inventory updates
Automatic inclusion or exclusion of products from your inventory
Optimization of the algorithm between products
Dynamic remarketing (cross selling, up selling, etc.) to people who have seen your products or added them to their cart
Customization, allowing you to create segments, product classifications, etc.
Displaying the sale price of a product when there is a discount, and showing it as a comparison to the original price
Case Study of an eCommerce
An ecommerce or electronic commerce is an internet platform where you can buy and sell products or services. It is a place of exchange, which can be owned by a brand (such as an online store like Zara or Target) or an ecommerce for sellers, where any merchant can set up their own store within the platform (such as Amazon or eBay).
At Cyberclick, we were able to promote one of our client's online store by connecting the brand's inventory with Facebook Ads, using the Product Catalog. We then launched two separate campaigns with the same budget, with the goal of obtaining sales. One campaign used the Carousel ad format and one used the Collection ad format. These are the best ads to use to promote an ecommerce on Facebook.
Carousel or Ad by Sequence: The sequence format allows you to display up to ten images or videos in the same ad, each with its own link. With more creative space in the ad, you can highlight different products, highlight information about a specific product, service, or promotion, or tell a story about your brand that develops in each stage of the images in the sequence.
Collection: The collection ad is a format where people can move from discovery to purchase, in a fluid and dynamic way. Each collection ad includes a main video or image with four smaller images that are shown just below, in a grid layout. Customers who touch your ad will be directed to a new page (this is, a post-click experience with visual and fast loading content) without leaving Facebook or Instagram.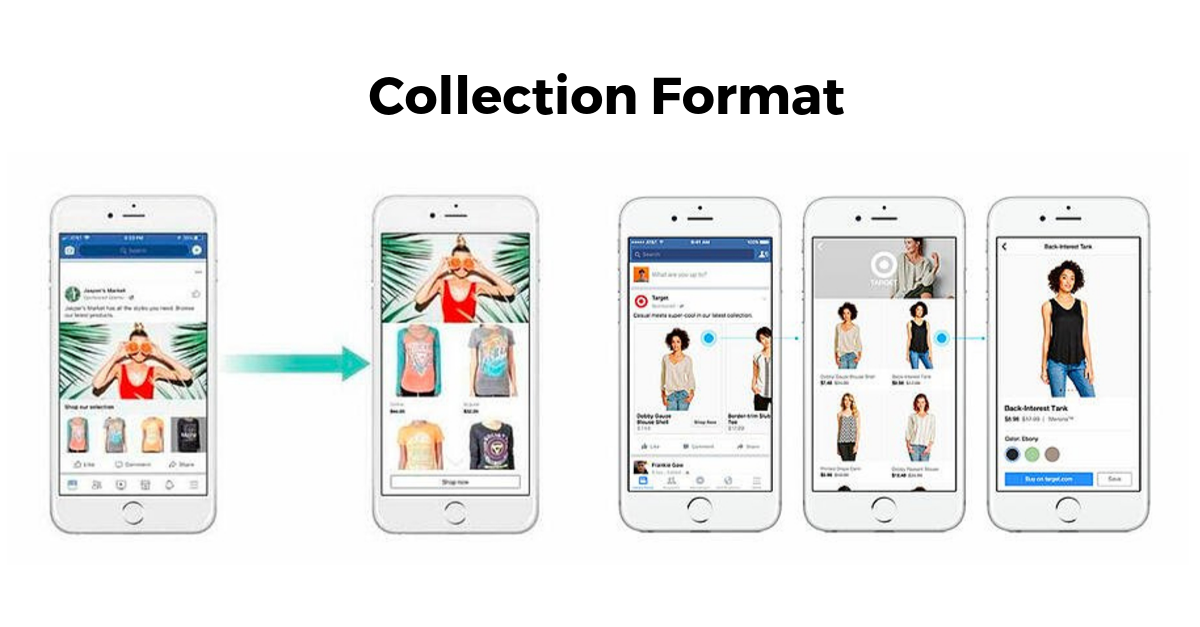 After launching the campaigns and leaving them active for a certain period of time, we were able to gather the results and analyze which campaign worked best.
The ads of the Collection campaign managed to improve the CTR by 88% compared to the Carousel format. Similarly, the cost per ATC of the Collection ad was 46% lower (later used in the remarketing strategy), the cost per purchase (the investment you need to make at the advertising level to get a conversion) was 65% lower, and the average cart was 34% higher from the Collection ad. Users who clicked on ads in the Collection format consumed more than those who did in the Carousel.
Clearly, it is important to test several formats in the Facebook Product Catalog, and see which one works best for your products or services, since each brand has a unique way of communicating with their potential and current audiences.
Recommendations and Best Practices
Here are some final ideas on what you should do whenever you use the Product Catalog for your ecommerce business on Facebook:
Implement the pixel and check that it is installed correctly. It's easy to check, especially with tools like Facebook Pixel Helper.
Test everything. Do not leave anything to chance because if you do, you could lose money.
Use product sets to create more cohesive product ads
Leave the campaigns active for enough time so that they can optimize and so that you can overcome the learning phase.