By Chantal India, on 10 October 2019
Promoting your products through your online store is the key to any great marketing strategy because it helps get your business in front of new audiences and re-engage customers.
One way to do this is by integrating your ecommerce with Facebook Product Catalog in Facebook Business Manager.
In this article, we'll walk you through the advantages of the Facebook Product Catalog and how it helps ecommerce businesses.
Benefits of Integrating Facebook Ads With Your Product Catalog
You can now integrate your catalog into Facebook's advertising platform to promote your product inventory on Facebook and Instagram.
There are different Product Catalog options that you can choose from according to the type of inventory you are selling; for example, electronics, travel (flights, destinations, and hotels), real estate, or vehicles.
You can use Product Catalogs to:
Show Dynamic Ads:

Get your ads in front of

people who have already seen or searched for items on your website. Dynamic ads combine images and inventory information from your catalog with events from a pixel that tracks user activity on your site.
Tag your products on Instagram: If your online store has an Instagram profile, connect it to your ecommerce catalog so that users can purchase products directly from Instagram. This will allow you to tag products from your catalog in your Instagram posts and stories. Consumers will be able to see prices and descriptions and buy the products they want directly from the post.

Add products to your Facebook shop: Shops are synchronized digital storefronts on Instagram and Facebook that allow you to feature collections of your products. If you are an administrator on your business page, you can use your catalog to add products to your Facebook shop. You can also use information from your catalog to tag products in your Facebook posts.

Create Collection Ads: Collection Ads allow users to discover products and services in an engaging format on Facebook and Instagram. These types of ads use videos and images from your catalog, that, when clicked on by users, appear full-screen and display details and recommendations about your products.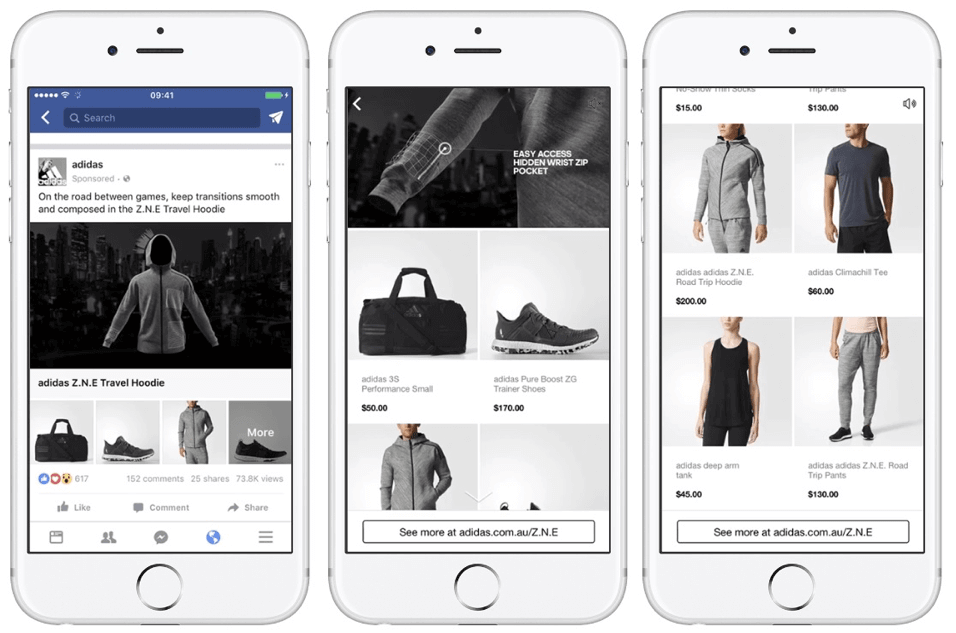 4 Advantages of Using Product Catalogs
The Product Catalog tool makes your job easier since it automates and connects Facebook's advertising platform with your product inventory. Some benefits include:
Automatic inventory updates.

Dynamic remarketing, including cross-selling and upselling, to people who have seen your products or added them to their carts.

Complete customization, including the ability to create different segments, product classifications, and more.

Displaying the sale price of a product when there is a discount, and showing it in comparison to the original price.
10 Best Practices for Creating a High-Quality Product Catalog
Your product catalog represents what you want to sell on Instagram and Facebook. To boost product discoverability and allow your consumers to make informed purchasing decisions, Facebook recommends the following:
Use one catalog for ads and commerce: This makes it easier to manage your inventory and helps build your audience for ads.

Keep your catalog updated in terms of prices and availability: Customers will have a better experience if the products they see are actually in-stock and match the information on your website

Use accurate titles and descriptions: Together, titles and descriptions create the first impression of your product. They should be different from one other. It is always wise to include important details, avoid keyword stuffing, proofread, and avoid including links.

High-quality imagery matters: To display your products, use high-resolution images that are at least 500 x 500 pixels and accurately portray your items in terms of quality, color, size, and more.

Make sure product links are correct: Ensure that your links aren't broken and that they direct customers to the correct product page.

Include product category information: When selling with Facebook Shops, provide a product category for each item in your catalog to help customers discover your items.

Set up variants: If you sell different sizes and colors of the same item, make sure that they display correctly when setting them up.

Create sets of items in your catalog: Sets can be used to control which items appear in your ads or feature collections in your Facebook or Instagram shop.

Check if any items are rejected: Items that don't comply with Facebook's Advertising Policies or Commerce Policies appear as rejected in your catalog and won't display in your ads or shop. Make sure to monitor if any of your products have this issue and modify them if needed.

Make sure you have the correct permissions: To add or create sets in a catalog, you'll need to make sure you have the correct permission in Facebook Business Manager. The two levels are: Manage catalog and Create ads.