By Chantal India, on 9 June 2021
Online advertising is predicted to generate $460 billion in revenue by 2024. Digital advertising has become the go-to marketing method for many businesses as people are spending more and more time online. Social media, various apps, podcasts, and software all contribute to people spending more time connected. New technologies and engaging apps are constantly being created, which gives marketers countless opportunities to connect with their audiences and promote their products.
Let's explore online advertising examples and the various ways you can connect with your audiences.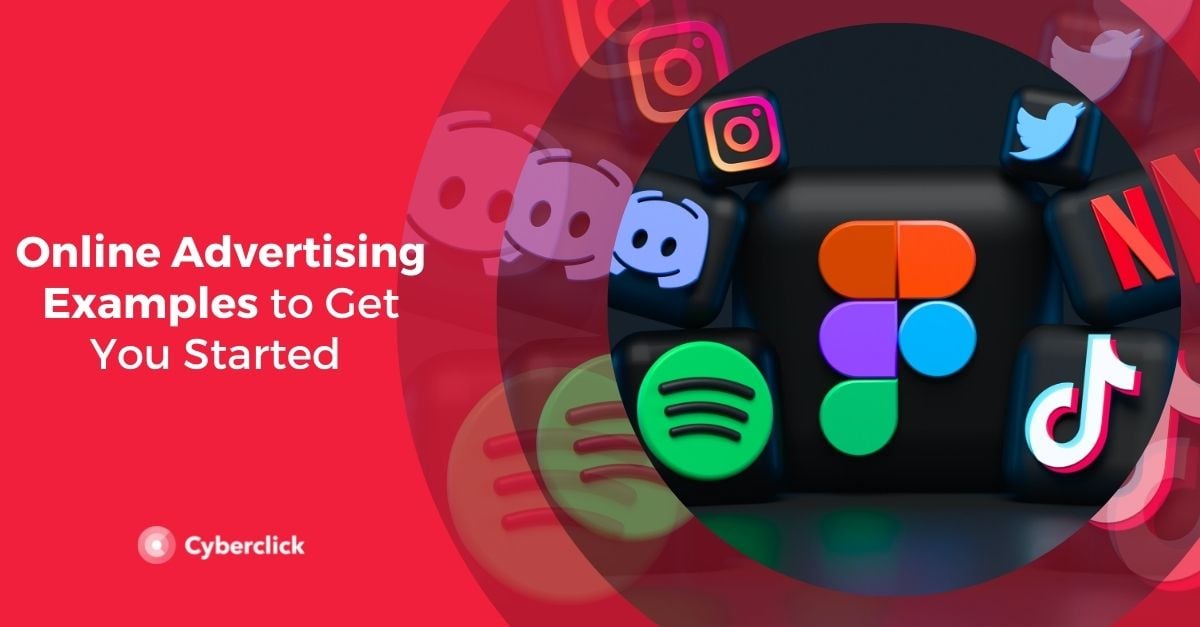 How Online Advertising Benefits Your Brand
Online advertising presents a massive opportunity for brands in today's marketplace. Over 4.5 billion people are actively connected to the internet and 3.18 billion use social media. So if you want to reach people, online advertising cannot be ignored. There are numerous ways to target specific audiences based on certain demographics and the platforms they use. Data allows us to not only segment customers but also to track and analyze results to a very fine degree.
What makes online advertising so beneficial is the focused targeting and analysis of results that digital marketing provides. In the past, there was a lot of guesswork in the advertising world, and collecting data was much more laborious. Now, online advertising allows us to research, plan, execute, and analyze based on near real-time customer data. Marketers have a much clearer idea of what customers want, what type of content creates engagement, and the specific channels that their target audience uses the most.
Furthermore, there is a whole industry dedicated to creating tools to help you improve your marketing online. Countless resources are available to assist marketers in creating more efficient and effective campaigns.
Overall, online advertising increases brand awareness and gives brands more control in creating strategies and tracking results, all of which generate more sales.
Examples of Online Advertising in Social Media
Social media platforms are some of the most effective channels for advertisers to reach customers. On average, people spend nearly an hour per day on social media and there are 2.5 billion active users on Facebook and 1 billion on Instagram.
Social networks have a very high engagement rate as people interact with friends and accounts that they follow. Because social media content is usually delivered based on people's interests, it presents an excellent opportunity for advertisers to reach their preferred audiences. Advertisers also have many formatting options like text, image, or video ads.
There are many social channels to choose from but here are three of the most common examples of advertising on social media.
Facebook Advertising
Facebook is an advertiser's dream. With nearly a third of the world's population on Facebook, it's highly likely that your target audience uses the platform. One of the best things about advertising on Facebook is how precise you can be with your targeting. You can create three different types of target audiences.
Core audiences - Based on demographics like age, location, interests, etc.

Custom audiences - Remarket to users who have already engaged with your content or brand.

Lookalike audiences - Market to people who share interests or other similarities with your existing customers.
You can reach these audiences with relevant content through lead ads, image ads, video ads, story ads, and even through Facebook messenger. All in all, Facebook is one of the best advertising channels available online.
Instagram Advertising
As mentioned, Instagram has over 1 billion active users and is most popular with people aged 18 to 34. While Facebook has a broader reach, Instagram is ideal for reaching the millennial and Gen Z crowd. It is a highly visual platform making it the perfect place to highlight products and lifestyles. Here are some ways you can advertise on Instagram.
Sponsored Post: Promote one of your posts to gain more followers or showcase a product.

Facebook Ads Manager: Use Facebook Ads Manager to create an ad for both Facebook and Instagram, or use the manager for just Instagram and make use of Facebook's great targeting tools.
Instagram ad types include photos, videos, stories, reels, explore, and shopping. Shopping ads allow you to tag content with product prices and descriptions that link directly to checkout all within the Instagram app. Explore ads are especially effective for reaching new audiences and increasing brand awareness.
Instagram reels ad from Dunkin Donuts
LinkedIn Advertising
LinkedIn is the place for B2B online advertising. More than 650 million people use LinkedIn, and new features like stories have made it even more attractive for advertisers. What sets LinkedIn apart is the option to advertise to people based on job title and industry, making it an excellent channel for reaching decision-makers directly.
LinkedIn ads also come with lead gen forms, meaning you can gather information from potential customers all within the platform. LinkedIn message ads are also highly effective as you can introduce yourself and include a strong CTA. These message ads have been shown to result in more engagement than email communications.
Remember, however, that LinkedIn is a professional network and is based much more on building relationships, so stay away from spammy messaging.
LinkedIn advertising on desktop and mobile
Examples of Paid Search Advertising Online
Paid search advertising or search engine marketing (SEM) continues to be an important method of reaching new customers. The reason why search advertising works so well is that people who see your ads are already looking for products or services like yours, so they're essentially pre-qualified leads.
While SEO is extremely important for organic search results, advertisements will put your brand at the very top of search results. Not convinced? On average, advertisers earn $8 for every $1 spent on Google Ads.
Google accounts for 70% of online searches, with Bing and Yahoo as the next most popular. Look into the sources of your organic traffic to see whether you should focus only on Google or expand into paid ads on other search engines. Ads on Bing and Yahoo work much in the same way that Google Ads do.
Some examples of paid search advertising online.
Google Ads
By far the most popular form of search advertising. Google Ads allows you to advertise to people searching on both Google and YouTube and create ads based on your goals, like to drive more visits to your site.
There are three main types of Google Ads to choose from:
Search campaigns - These are usually text only and are shown on Google search results when a search is made that matches your keywords for your product or service

Display campaigns - Typically images that appear on apps or websites that customers visit

Video campaigns - Short video ads from 6 to 15 seconds that are shown before or during YouTube content.
You're charged for Google Ads in three ways:
Pay Per Click - You pay only if someone clicks your ad

Cost Per Impression - You pay when your ad is shown

Cost Per Engagement - You pay when someone completes an action
Google Ads work based on the keywords you set for your campaigns and you're given four keyword options for advertising.
Exact match - Only displays your ad if searches match your keywords exactly (or very similarly)
Broad match - Displays your ad when searches include your keywords or phrases in any order
Phrase match - Displays your ad if searches match the order of your keywords or phrases
Negative keywords - Excludes your ad from being shown based on selected negative keywords
Google Dynamic Search Ads use your website content to automatically create ads for you.
Examples of Native Advertising Online
Native advertising, also known as sponsored content, is yet another form of online marketing that matches the advertising to the style and template of the platform it is featured on.
Native ads appear less like ads and more like the content that they are integrated into. Native advertising can be a great way to fight ad fatigue as they are less intrusive and annoying for users. Let's explore some examples of native advertising online.
The New York Times and Airbnb
Airbnb teamed up with the New York Times to create an intriguing look into the history of Ellis Island and make a new home in New York. They masterfully created the feature to portray the city as a welcoming place for travelers which of course includes hospitality like Airbnb properties.
Patrón Tequila and Twitter
For International Margarita Day, Patrón Tequila used the sponsored hashtag #MargaritaoftheYear and tweeted to encourage people to vote for the best margarita recipe. The campaign was a hit as it was casual and fun, and helped the brand reach new audiences.
Online advertising has become the primary method for most brands to reach new customers. The flexibility, options, and level of control that online ads offer are hard to deny. With so many ways to reach new audiences and promote your brand, it's just a matter of finding the right channels and making online advertising work for you.