By Enric Llonch, on 16 July 2020
If your brand has an online presence, video marketing will help you boost it. With the addition of new tools and techniques, video content is becoming easier to produce and is loved by users.
Videos excite, impact, entertain, add value and above all, connect you with your audience, so they are a great resource to enhance your digital marketing. To get the most out of your video marketing plan step by step, keep reading!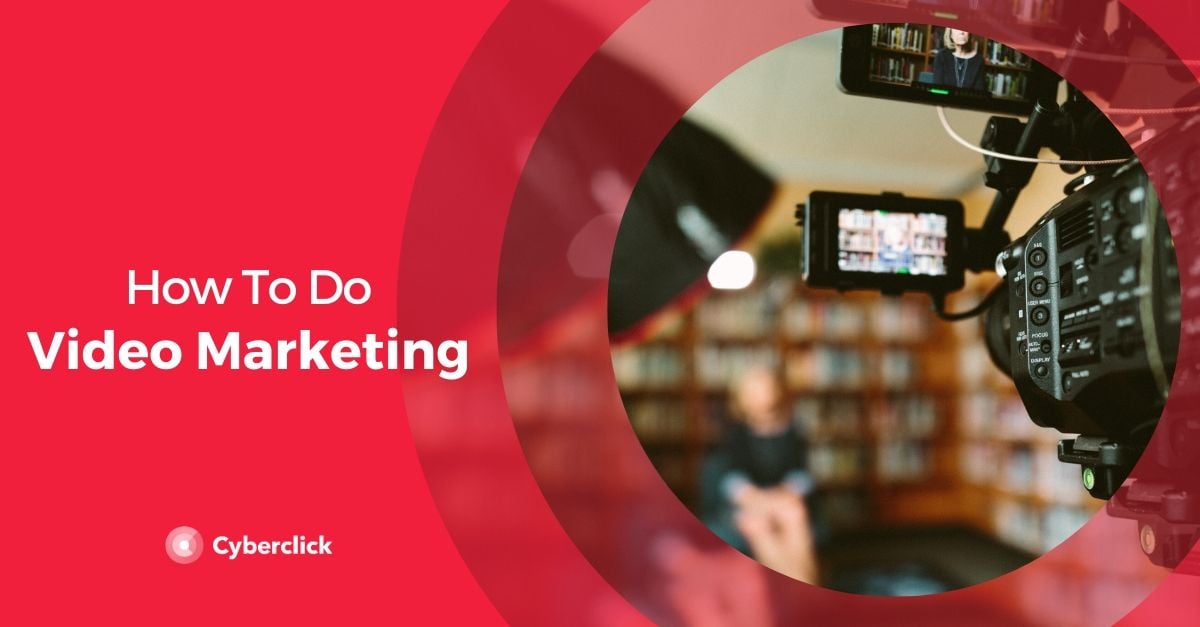 What Is Video Marketing And Why Should You Use It?
Video marketing is a marketing strategy that utilizes videos to publicize, position, promote and sell a brand, product or service. Within the world of content marketing, video is one more piece within a brand's digital content strategy.
For brands, video marketing is a very powerful tool when it comes to achieving their business objectives, and the statistics proves it:
78%

of the content consumed on the web today is audiovisual.

57%

of consumers are more likely to buy a product after watching a video demonstration.

After watching a branded video,

26%

of users look for more information about the brand,

20%

visit the corporate website and more than

15%

go to physical or online outlets to buy.

80%

of users remember a brand or product better if they have seen its videos.

According to Amazon and Dell, after watching a product video, the probability of purchasing that product increases by approximately

35%

.
The video format supports many variations depending on the characteristics and goals of the brand. These are just a few examples of the types of videos you can incorporate into your video marketing plan:
Company presentation videos:

a summary of the company's values and the products or services it offers to the market.

Live videos

:

to share events or special moments of the brand.

Testimonial and case study videos:

videos where you give the floor to the brand's customers to explain how it has helped them.

How-to videos:

to show the audience the ins and outs of a product launch, for example. Here is an example below.
Day-to-day videos of the company and its employees:

to show their side of the story.

Tutorial videos:

step-by-step demonstrations of how to use a product. One of the most useful for users. Check out one of Cyberclick's own examples.
Videos based on storytelling:

to tell a story to connect emotionally with the user through the brand values.
And of course, we can and should always include new formats and technologies in our video marketing plan, such as interactive videos or 360 degree videos.
How To Launch A Successful Video Marketing Strategy Step By Step
You've decided to go into video marketing, but don't know where to start? We'll walk you through the process, step by step.
1) Research your audience
Videos can help to create a powerful emotional connection with your target audience. But to really connect with someone, you need to get to know them first.
That's why the first step in your video marketing plan should be to research your audience and find out what they need, their likes, pain points and concerns. The tools of social listening (to get insights about the audience through their comments on social networks) and the buyer persona (to organize these insights into a coherent picture) will be your allies.
2) Define your goals and objectives
Video marketing can help you achieve multiple goals: attract more traffic to your website, get more views, generate conversions, improve brand awareness among your target audience... Depending on these objectives, you will have to decide what kind of videos you are going to create and how you are going to spread them.
3) Develop your video marketing plan
Now you know who you're targeting and what you want to achieve, but you lack the how. The next step is to define a well planned production strategy. Consider the following points into your plan:
Create a

calendar

with the videos to be made and their recording and publication dates.

Schedule the

recordings

, and develop the script, resources needed and execution schedule before pressing play on the camera.

Plan the

editing

and post-production: In some types of video marketing, such as live videos, this step will not be necessary. But in others you will have to organize the time and resources to edit the video, add sound effects and voice overs, retouch the color and lights, etc.
4) Choose the right tools
If you are going to incorporate video marketing into your strategy, the tools can make your life much easier. Today there are a lot of options on the market, both paid and free. In the next section we will see some of them.
5) Optimize your videos for SEO
Many times we only think about SEO when preparing written texts, but this is a mistake. Taking care of your video's SEO helps to improve the global positioning of the brand and to get more visits.
The first step is to conduct keyword research and locate possible search terms for your video. Once you have them, make sure you include them in the meta description, the URL and the visible link. A good place to start is by looking at the videos that already exist on YouTube about the topic you'll be filming, and see the keywords those titles have.
6) Spread the word about your videos
If you want your video marketing campaign to accumulate visits, you can't just upload the videos to YouTube. The dissemination strategy is as important as the creation strategy. Here are some ideas to get you started:
Upload the video to your ecommerce or website. If you make product presentation videos or tutorials, don't forget to put them on the associated product sheet

Insert the video in any of your related blog articles

Use the video in your landing pages

Incorporate the video into your offline campaigns through QR codes or links.

Use the video in other digital marketing campaigns: remarketing, Facebook Ads, social networks, email marketing...
7) Measure the results
Last but not least, no video marketing strategy would be complete without taking measurement into account. You need to know what is happening with your videos and use this information to improve your campaigns in the future.
The specific metrics to follow depend on your objectives and KPIs, but generally speaking we can classify them into these three categories:
Recognition:

branding related metrics such as campaign reach, total views, impressions...

Attitude:

metrics related to the valuation of the brand or products by the users, before and after watching the video.

Behavior:

metrics related to user actions, such as web conversions, number of sales or revenue per channel



10 Video Marketing Tools
Final Cut Pro: This is designed for professional publishers, who will be able to take full advantage of its advanced features.

Wistia: This tool has lead generation and call to action applications, which makes it especially interesting for video marketing. The free plan allows you to create and edit up to 25 videos and host up to 50.

Wevideo: Another tool to create and edit videos with which you can use logos, colors and images. It also has a collaborative working option, so it's ideal for teams.

Viewbix: A tool to create your own interactive videos in just 3 steps. It also features analytics, logos and call to action buttons.

Wideo.co: The great advantage of this tool is its templates, which make it possible to create advertisements, tutorials, presentations or demos easily by adding images, logos and background music.

Camtasia: This application is specially designed to create tutorial videos through the computer. Its basic function is to record your screen while you are giving explanations, so you can demonstrate step by step how to perform tasks related to digital products. It also has a package of editing tools.

Goanimate: A good resource to launch yourself into the world of animated videos. It has a large gallery of scenes and characters, to which you can add music and photos.

Powtoon: A creation and editing tool that stands out for its extensive list of graphic resources, such as animations, frames, backgrounds and animated characters. It has customisable templates and allows you to "voice over".

Animoto: A very simple tool to get started in video marketing, as it creates unique videos automatically. The video is generated from photographs and sound and has a maximum duration of 30 seconds.

Videotoolbox: Online video editor with which you can cut, convert, extract audio, fragment and other functions. The tutorials are very interesting to learn how to use it and improve your editing skills.