By Pep Canals, on 31 October 2019
One of the most important things to do before you start a SEM or Google Ads campaign is to conduct keyword research to understands what keywords your target audience is using when they search for your products or services in Google. By understanding the keywords, you can then properly structure the account, create the ads, and adjust the content for your landing page.
In this blog post I'll walk you through each step of a SEM or Google Ads advanced keyword research.


Keyword Research for a SEM Campaign of Search Ads


#1. Analyze your Landing Page
The very first step of your advanced keyword research actually begins with your own website. Specifically, you want to study the landing page where your audience will arrive after clicking on your ad. This is a good place to start in your keyword study because you need to understand what the user will see when they first arrive to your website. It can also be beneficial to browse your competitors' websites to get ideas and understand what they're doing.
Next, you should make a list of the top two to ten main topics found on your landing page. These should be related to the services or products offered. For the purpose of this article, I'll show you an example from a Cyberclick campaign we conducted to promote our SEM services. You may notice that we are using the content from our Spanish side of the company, but the techniques are the same regardless of language.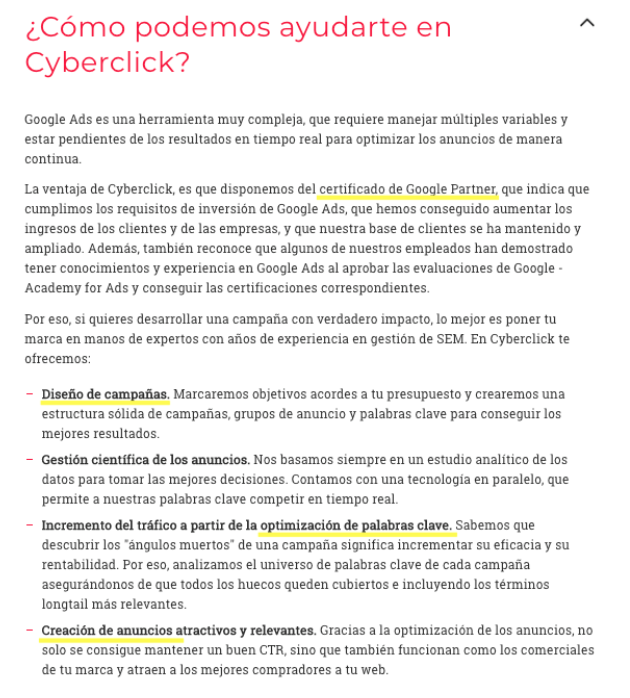 The above image is a screenshot of our SEM services landing page. From reading this landing page, we can gather 4 main topics related to our services:
Google Partner Certificate

Campaign Design

Keyword Optimization

Ad Creation
#2. Use Keyword Planning Platforms
Once you've determined what topics your campaign will be focusing on, the next step is to use existing keyword planning platforms to analyze those keywords.
In our example we're going to use Google keyword planner and SEMrush.
Starting with Google keyword planner, we entered the 4 main topics that we found on our landing page and Google displayed all the keywords related to those topics.
You can segment by location (country, region, province, or city) and by language. The good thing about this planner is that often identifies some keywords you hadn't even contemplated. However, it's important to conduct an exhaustive filtering process to ensure that you don't miss any of the keywords.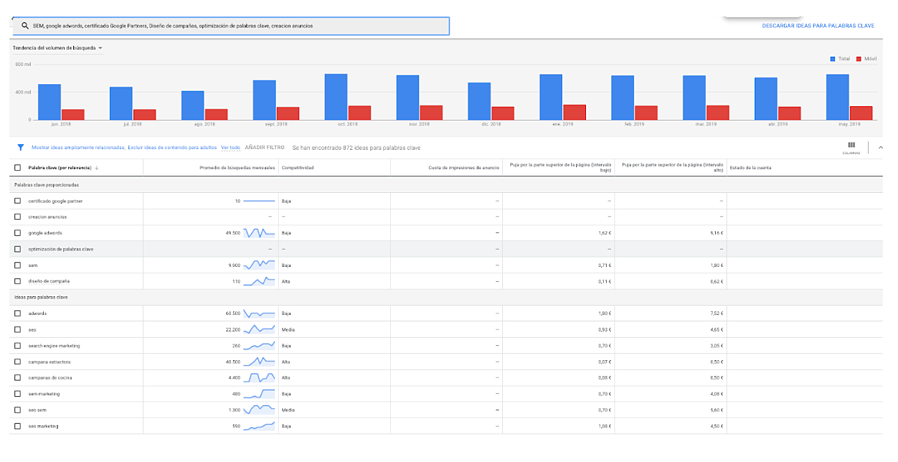 The first words are the topics that you suggested yourself, but as you go down you'll see begin to see keywords that, while still related to your original topics, consumers use when searching for your product.
With the Google Planner, you can also enter a web URL and Google will select the most searched keywords related to that page.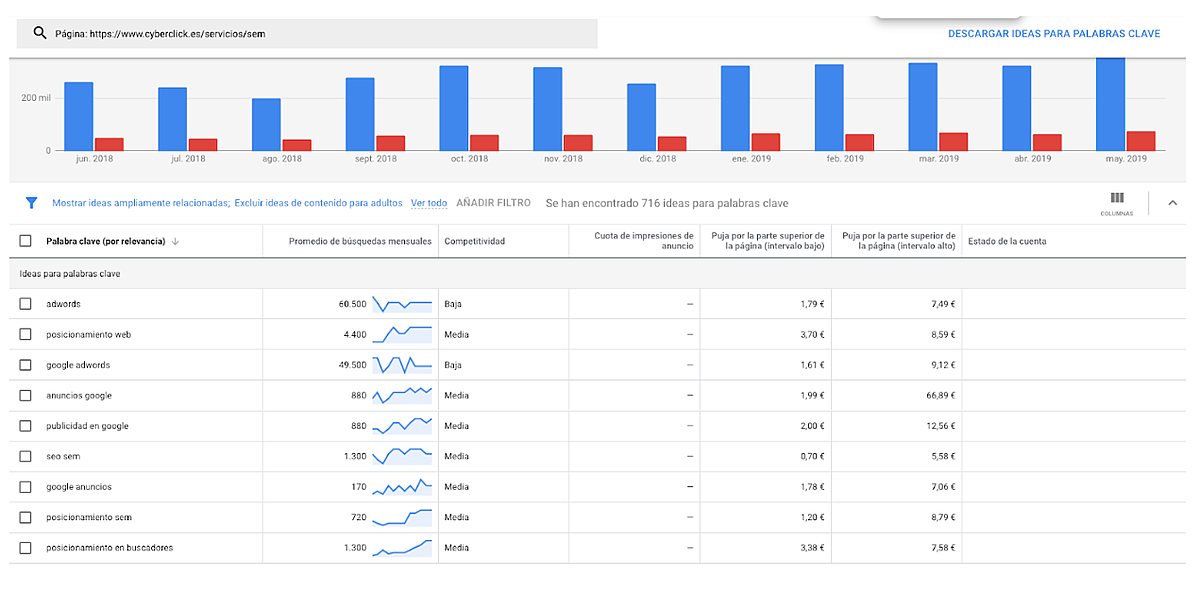 Another keyword planner that works well is SEMrush. This tool is more selective when filtering and more closely adheres to the initial ideas that you introduced. Keep in mind that SEMrush is a paid platform, but you can try a free trial before purchasing.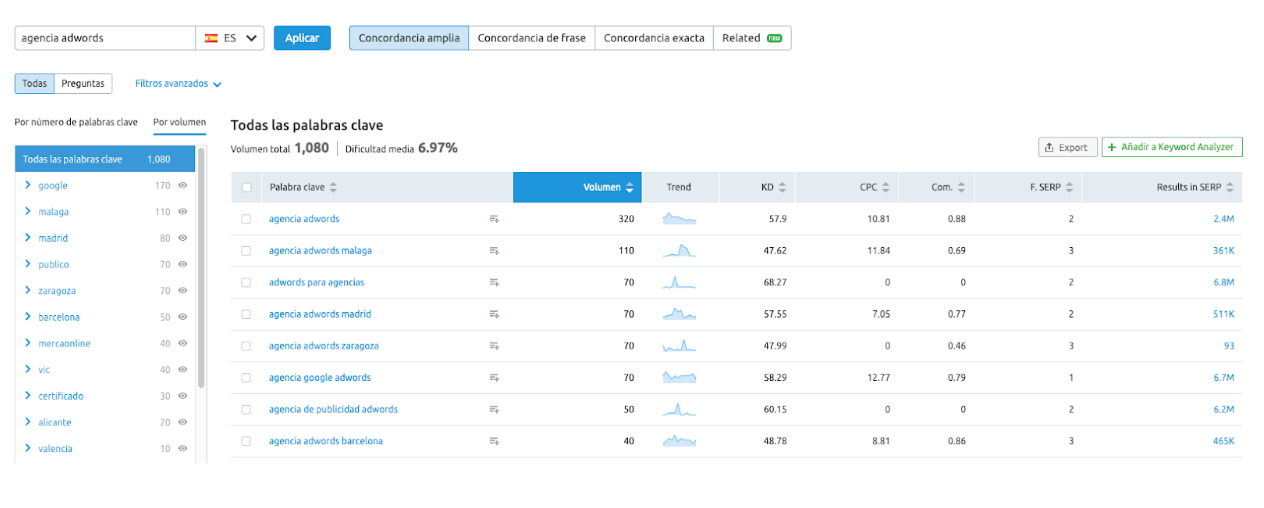 With SEMrush keyword research you can segment the keywords into groups according to the volume of searches or by the number of different keywords. In the image above we're filtering by country (Spain), and SEMrush grouped the keywords with the most searches. In our case thats Google, Malaga, Madrid, Public, etc.
Once we select all of the relevant keywords, and we have filtered out the ones we don't want, we must group them so that all the keywords in each group are related. These groups will help you identify the ad groups that you will create later in the campaign.
It is important to identify the ideas or concepts that have more searches, and then identify the keywords that consumers are using when searching. In this step, it is also important to identify the relationship between what you offer to the client and the content of each group.
In our example, we will select the words: advertising, advertisements, positioning, and city.
You have to remember to include words with many searches, such as "Adwords Agency" or "Google Adwords Agency" in the campaign, since we want to focus on the searches that are looking for SEM agencies, and not searches from someone who is simply searching for information about what adwords are.
You can also combine the two planning platforms to identify the best keywords. For example, you can first look at the groups that SEMrush makes, and then filter the keyword on Google.
#3. Competitor Analysis
To complement your advanced keyword research, you can also analyze your competition's ads. SEMrush makes this easy since it allows you to see other companies that are bidding on keywords that you want to use, as well as lets you know what keywords they're using and how much they're paying.
Researching keywords is a crucial aspect of planning a search campaign, and the success of the campaign will largely depend on this analysis. Not only will it help with the Ads campaign, but it can later serve to enhance the SEO of your website, online store, or blog.