By Berta Ventura, on 24 October 2022
In addition to being one of the most popular social networks, Instagram is also a social shopping tool. It provides a way for companies to connect with their audiences, interact with them, and expand their social media marketing strategy.
Instagram shopping allows brands to create a kind of showcase, where users can quickly and easily learn about the products and services they offer. But how do you create a shop on Instagram?
What an Instagram Shop?
An Instagram shop allows you to show and promote products directly through posts made on this social network. In other words, it allows you to turn Instagram into a kind of catalog in order to reach new customers.
These posts can be in the feed, in stories, in reels, etc. so users can reach them from the profile or from the Explore section. They are also accessible from the Buy or View Shop tab in profiles that have activated these options. Products can also be tagged in posts just as you would tag a friend, although in this case there is a limit of five items.
Some of the advantages of using shops on Instagram is that people can see all the products without leaving the app, see the price by clicking on them, and find out how and where to buy them. Additionally, brands that are based in the United States and have access to Instagram Checkout will be able to sell their products directly from Instagram, without the need for the user to leave the application.
How to Set Up Your Instagram Shop Step by Step
It is quite simple to set up an Instagram store. Here are the steps to follow to do it smoothly.
1. Have a Business Profile
In order to set up your Instagram shop, it is necessary to have a business profile. In addition, it has to be located in one of the countries where this function is available.
The business must also comply with Instagram's agreements and policies. It is also necessary to have a website where all these products can be purchased.
2. Convert to a Business or Professional Account
If you need to change to a business account, click on "edit profile'' and select the option "change to professional account". Then you should add all the information you consider relevant, such as the sector your brand belongs to, opening hours, address, telephone number, a link to your website, a brief description, and so on. All of this will help users find you and know who you are.
Source: Social Pilot
3. Connect to a Facebook Page
Your Instagram profile can be connected to a Facebook account. To do this, simply go to the Instagram profile, click on "edit profile'' and, in the company public information section, select "page". At this point, all you have to do is indicate the page to which the Instagram profile will be connected.
If you do not have a Facebook page, you can create one by selecting "create a new Facebook page".
This step is not essential and is only useful for companies that also want to use Facebook in their business strategies.
4. Load Your Product Catalog
In an Instagram shop it is essential to have a product catalog. This can be uploaded in two different ways.
One of them is through Facebook Business Manager, where products must be manually uploaded one by one.

The other is through an ecommerce platform, such as Shopify, which will automatically upload them.
In either case, it is important that the product catalog consists of a list of products with prices and descriptions.
5. Submit the Account for Review
Once all of the above has been done, the account must be sent for review. To do this, simply go to the Instagram profile and click on the "menu" icon and then select "settings". Then it is necessary to register in "purchases", where the option to send the account for review will appear.
This process may take several days, but you can check the status in "purchasing" under "settings". In some cases, Instagram may ask for more information about the company, and need to verify the domain of the website.
6. Activate Shopping
Once Instagram has reviewed the request and approved it, the purchase functions can be activated. To do this, click on "menu" and go to "settings". Then click on "business and shopping", where you can select the catalog of products linked to your account. The last step is to click on "done" and the Instagram shop will appear automatically.
How to Sell on Instagram Through Your Online Shop
If your Instagram shop has been created correctly, it will appear in the profile, under the "view store" or "shopping" tab.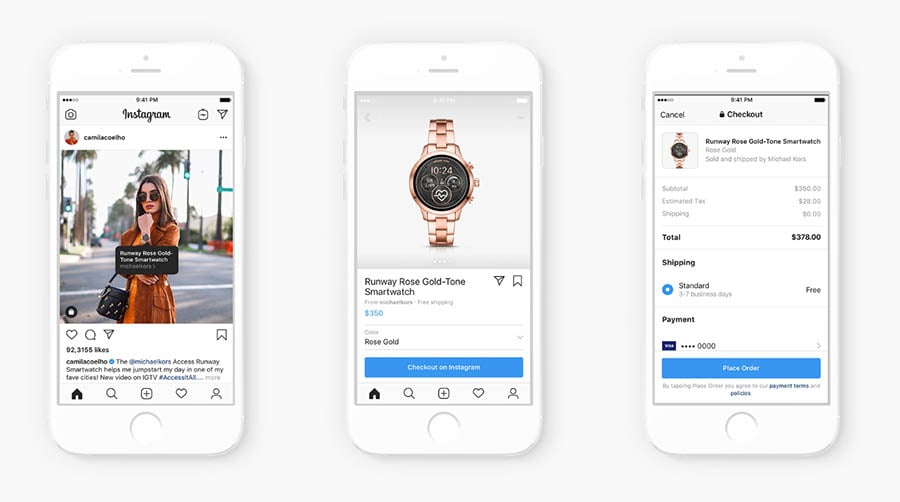 From those tabs, people will be able to see the products in a catalog format. They can click on them to get more information and buy them.
In order for these products to reach more people, they can be tagged in any posts they appear in, such as news, stories, reels, and live. Of course, the more attractive the post, the more it will get the user's attention and consequently sell the product. This means that a good content strategy must be implemented.