By David Tomas, on 1 August 2023
Keeping up with consumer needs is critical for any company that wants to be successful and create an impactful marketing strategy that increases sales in today's competitive marketplace.
By doing this, you can offer consumers a product or service that is uniquely tailored to them and create effective marketing campaigns that have a higher chance of resonating.
What Are Consumer Needs?
Consumer needs are the driving force behind every purchase decision. When a person has a need, they are looking for a product or service that will satisfy that need. The more effective a brand is at detecting these needs and offering products or services that meet them, the more sales it will have.
According to the American psychologist Abraham Maslow, our general needs are organized hierarchically into 5 levels:
Physiological needs: These are needs directly related to human survival such as eating, drinking, and maintaining a good state of health. This means that food products, beverages, and medicines would be at this level (the base of the pyramid).

Security needs: This level is about a human being's need to be protected. This includes everything from access to housing to alarms and life insurance.

Belonging needs: All people feel the need to be part of a group and to connect, in some way, with the world around them. This level includes all those products and services that promote social activities or signify that the buyer is part of a certain group.

Esteem needs: These needs are related to self-esteem and are manifested through acquiring products that represent your status in society like cars or jewelry.

Self-realization needs: This is the top of the pyramid and where needs related to individual happiness are included. These are much more specific. For one person, it may be to travel; for another, it could be getting a university degree.
According to Maslow, all individuals need to fulfill their needs according to this hierarchy. For example, the person will need to meet physiological needs before meeting security needs.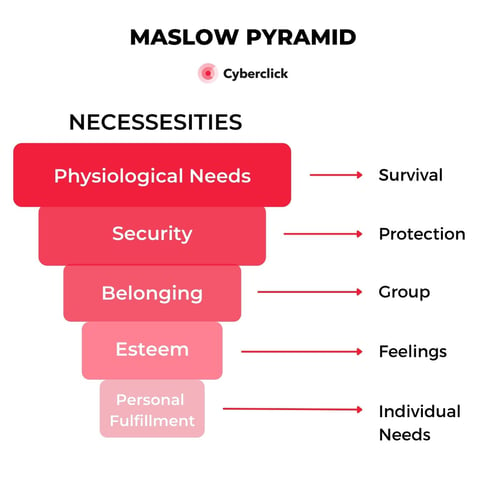 12 Types of Consumer Needs
1. Functionality
Customers expect products or services to solve their problems or meet their needs effectively.
2. Price
Most customers have a budget when it comes to products or services that meet a specific need. This means that the price of the product or service should be tailored to your target audience.
3. User Experience
Customers prefer products and services that are easy to use, have intuitive designs, and provide a pleasant overall experience.
4. Reliability
It is important that the product is reliable and that consumers are able to use it for a long enough time.
5. Efficiency
The product should be simple to use so that people don't have to spend a lot of time getting familiar with it.
6. Compatibility
As far as possible, you should try to offer a product or service compatible with other products the customer is already using.
7. Empathy
Ensure that your customer service is well-trained and friendly since the user is looking for answers and for the brand to be understanding. It is important that the customer service is quick and reliable as well.
8. Transparency
Customers value transparency. They appreciate clear and open communication about pricing, service terms, company updates as this fosters trust. The more transparency and sincerity, the more customers trust a brand.
9. Control
Consumers desire the ability to make their own decisions during the buying process.
10. Options
Customers like to have different options before making a purchase. Providing a variety of choices allows customers to select the best-suited products or services for their preferences.
11. Information
Customers seek relevant information about products or services before and after purchase, often through blogs or social media. That's why it is important to have a blog with articles related to the products or services offered, a profile on social networks, or any medium that serves as a platform to keep consumers informed.
12. Accessibility
Offering multiple communication channels, such as email, phone number, WhatsApp Business, or live chat, ensures easy access to a brand's support and assistance.
13. Fairness
All customers want to feel like they are getting a fair deal from the brands that they purchase products or services from. This applies not only to pricing but also to the customer service, return policy, warranty, and so on.
How to Identify and Respond to Consumer Needs
There are several ways to identify consumer needs. Customer data analysis is one of the most important ways to do this. This can identify common patterns and problems that can arise before, during, or after a purchase.
It's also be worth checking interactions to find out what the public thinks of your brand and whether the products or services offered have met their needs as they expected. The type of questions they ask or the content that generates the most engagement are clues to what consumers are looking for.
You can even directly ask people for their opinions through surveys or by inviting them to leave a comment on any of your platforms.
Competitors are another source of information since the problems that customers mention about the product or service of another company are data that can be used to favor your brand.
Lastly, conduct keyword research and track trends to understand what customers are searching for. This can provide valuable information about their interest and needs.
Responding to Consumers Needs
Once you have identified your customer's needs, responding to them effectively is important. Here are a few tips to help you do that.
Adaptability and Continuous Analysis: Consumer needs evolve over time, so regular analysis is necessary to stay current. Stay flexible and be ready to adjust your strategies to meet changing needs.
Excellent Customer Service: Offer top-notch customer support to address inquiries or concerns promptly. A strong support system can provide valuable insights into what customers care about most.
Seamless Buying Experience: Make the purchasing process as smooth and user-friendly as possible. Eliminate any obstacles that might deter customers from completing their purchases.
Proactive Problem-Solving: Address any issues or problems that arise swiftly and efficiently. This demonstrates your commitment to customer satisfaction.
Actively Listen to Customers: Encourage open communication with your customers and actively listen to their feedback. This will help you better understand their needs and preferences, enabling you to provide tailored solutions.
Remember, understanding your customer's needs and responding to them effectively is the key to building strong and lasting relationships, fostering customer loyalty, and driving the success of your business.