By Laia Cardona, on 3 June 2021
WhatsApp is one of the most widely used instant messaging applications, which is why the company has launch WhatsApp Business. This application can be downloaded completely free of charge and is designed as a method of communication between companies and their customers. Additionally, this app has become a very useful marketing tool.
What Is WhatsApp Business?
WhatsApp Business is a free app, separate from the original WhatsApp application you can use to communicate with family, friends, etc. It is designed for businesses to communicate with customers.
One of the advantages of this application is that it can be used on the same device as your other, regular WhatsApp account, even if each app has a different associated phone number. In addition, both a landline number and a cell phone number can be used, so WhatsApp Business can be linked to the number that already serves as your contact.
Another thing that is good to know is that WhatsApp Business is compatible with WhatsApp Web and it's available for Android and iOS.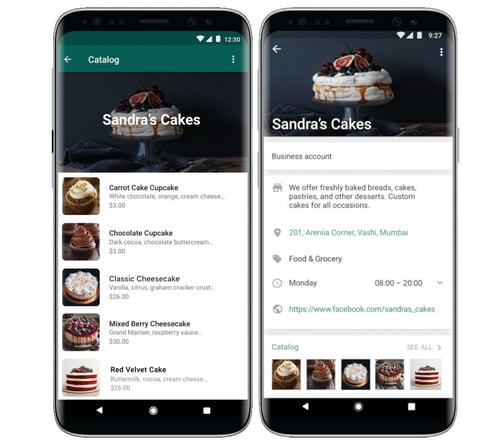 Why You Should Use WhatsApp Business
There are many reasons why a company should have WhatsApp Business account.
It allows you to share business information with customers. Through this app, you can share data that you customers find useful such as your location, email address, business hours, etc.

You can optimize customer service. Customers can get a quick response, since it's possible to create and send one with a single click. It is also possible to automate an absent reply or a greeting message. These types of messages are very useful when a customer contacts your business outside of office hours. This way, the customer is aware that they will get an answer in a few hours or on the next business day.

You can provide highly effective and quick customer service. Customers increasingly value getting a response from a company in a fast, personalized way, which is something that WhatsApp Business enables. If a customer contacts a company during business hours, the response will most likely arrive within minutes.

You can easily send files. WhatsApp Business allows you to upload a list of products so that customers can consult it anytime. It is also possible to send files through the app.
In short, WhatsApp Business brings customers closer to your company and allows them to ask questions and resolve issues, something that is increasingly valued. The company, for its part, can handle customer service in a much more efficient way.
How to Set Up WhatsApp Business Step by Step
Setting up WhatsApp Business is very simple if you follow the steps below.
Download and open the WhatsApp Business app. It can be downloaded completely free of charge from the Google Play Store or the Apple App Store.

Review the Terms of Service. You'll need to read the WhatsApp Business Terms of Service in order to install the app correctly. Then tap "accept and continue," which indicates that you are accepting all the conditions and proceed with the installation and registration.




Register. To proceed with the registration you must select the country where your company is located. You'll also need to enter your telephone number to receive a 6-digit code via SMS or phone call. You'll need to enter this code to complete the registration.




Authorize access to your contacts and photos. You can add contacts to the WhatsApp Business app from the same address book on your mobile device. To do this, the application needs your permission to access that information. The same goes for photos, videos or other files.




Create an account. You'll need to enter the name of your company and the category it belongs in. You should also choose a profile picture, which could be your logo or something else that will instantly let people know which business the account belongs to.




Create a company profile. The last step is to go to 'Explore' and then 'Company Profile' and add all the information that may be relevant to your customers, such as your address and hours.
Once all this is done, you can start a conversation or answer a query. Simply select a contact and send a text message.
It is recommended to associate your WhatsApp Business account with a professional phone number, which can be a cell phone or landline since customers can use it to call text. Another reason that this is a good idea is so customers can send messages at any time on any day of the week, even outside working hours.
It is also very important to give information about the company, like your hours of operation, location, website, and perhaps a brief description of your business. Basically answering the most frequently asked questions in order to reduce the number of queries you receive. We also recommend making use of automatic greetings, absence, and quick response messages.
Considering the popularity of WhatsApp, WhatsApp Business can be one of the best communication channels between a company and its clients. In addition, it is free, compatible with Android and iOS, and you can even use the desktop version.