By David Tomas, on 27 December 2021
For marketers, values are essential. Misleading strategies only erode customer trust and damage long-term relationships.
Today's consumers have more information than ever before and are not fooled by marketing gimmicks. To live up to their expectations, brands need to step up to the plate and embrace transparency and authenticity. Let's discover why transparency is an important part of customer relationship marketing.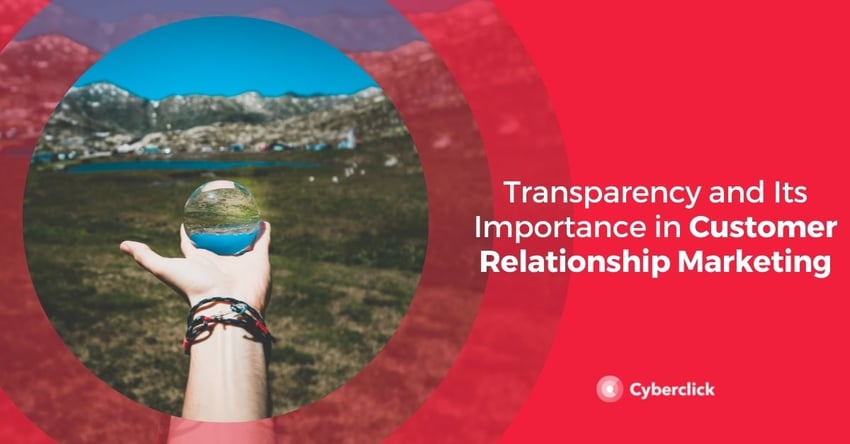 What Is Transparency Marketing?
Corporate transparency is the practice of companies sharing information about their management, values, culture, strategy, business processes, and performance with their employees and the public. In contrast, non-transparent companies are ones that operate in secrecy and control the information that they share.
In today's digital environment, users have an influence on brands' reputations, especially with the rise of social media. Consumers demand social responsibility. Therefore, transparency has become a non-negotiable requirement for companies.
Transparency marketing can take different forms, like sharing personal stories of managers and staff or explaining how the final price of a product is calculated. It is especially important when brands make missteps or experience issues with their reputation.
Companies that adopt transparency marketing are able to show a more human side of their business and display their authenticity. Consumers feel more confident knowing who they are buying from, which in turn improves sales.
Another benefit is increased trust. By being transparent, there is less room for miscommunication. This strengthens the relationship with the consumer, both in the short-term (gaining customers) and long-term (fostering loyalty).
The 5 Pillars of Transparency Marketing
1. Authenticity
Transparency marketing starts with knowing who you are and understanding that you can't please everyone.
One of the first things you should do is define your values. Only then will you be able to find customers who are aligned with them and give them exactly what they are looking for.
At Cyberclick, for example, we have three fundamental values that speak to who we are as a company.
Admire People

Always Find a Better Way

Customer Experience Freaks

2. Transparency
To carry out your work honestly, you have to inform your customers of what you do. If you have to raise the price of a product or service, for example, you should explain why. If you offer a discount, make it a point to be totally transparent about the original price and the conditions of the offer.
3. Value
Whether you work in the B2B or B2C sector, your marketing should always provide value to your customers. You have to start by thoroughly researching your audience using market research tools and developing buyer personas. This is the only way you will know what your users need and be able to adapt your products and services to that.
4. People
The only way to have an ethical, transparent, and value-based company is to put your employees' and consumers' well-being ahead of profits. For employees, an example of this could be establishing policies that guarantee a good work-life balance.
This paradigm shift is called "human-centric marketing" and it can be summarized in 3 questions.
What can the people who are part of the company achieve?
How do your business decisions affect people?
How can you create value for the people who work in your company?
5. User Experience
The term "user experience" goes beyond digital and encompasses all aspects of a relationship between a brand and its potential customers. Offering a quality experience for your customers is absolutely essential.
7 Questions to Improve Transparency
Do your ads and marketing accurately reflect your customers' experience with your brand?


What can you do to make the experience of interacting with your brand exceed your customers' expectations?


If your employees were asked about their experience working for your company, what would they say?


What is your company doing to improve the lives of employees?


Do your company's executives and managers set a good example of people who live by their values? Are they passionate about what they do to help your customers?


What is your company doing to conserve natural resources and be more environmentally friendly?


Does your company always act in a socially responsible way? Depending on the size of your company, this may affect your immediate community, region, or the entire world.
Once you have answered these questions, we recommend doing the following:
Sit down with your team to review the answers to the questions, identify possible weaknesses, and ways to improve them.

Monitor the conversation around your company on social media and the internet with a social listening tool. When you identify a weak spot, stop and think about what's right and how you can fix it.

Create an internal feedback system so that your employees can easily communicate their needs. For this system to work, it is important that you actively listen to their requests and respond to them.
3 Transparency Success Stories
1. McDonald's
The world's most famous fast food brand launched a transparency marketing campaign to combat rumors about its products.
McDonald's offered customers the opportunity to ask them anything publicly and pledged to provide answers.
Since the launch of the campaign in late 2014, more than 42,000 consumer questions have been collected. To answer them, McDonald's has shared information about its products openly, including providing a video tour of one of its meat processing facilities in Canada.
2. Patagonia
Patagonia has been on a mission to protect the environment and inspire social change. They are constantly making changes to become more sustainable and help consumers do the same.
In its fair trade campaign, Patagonia encouraged consumers to ask themselves how their clothing was made in order to generate more demand for fair trade products produced in factories that pay higher wages and have better working conditions.
3. Panera Bread
Panera has committed to eliminating artificial ingredients from its food by the end of 2026. Additionally, it also indicates the calories, ingredients, and nutritional information of all its products and publicly publishes reports detailing its company policies and commitment to animal welfare, sustainability, and diversity.