By Sol Gonzalez, on 7 December 2022
Good marketers know that their branding and design must adapt to the trends and evolutions of the market, just like all other marketing functions. As marketing trends change and business evolves, design must also grow.
Similarly, UX (user experience) depends on the development of new technologies and the possibilities they present. Therefore, in this article we want to take a look at the branding, design and UX trends of 2023 that we think are going to have the biggest impact so that you can stay at the forefront of your industry.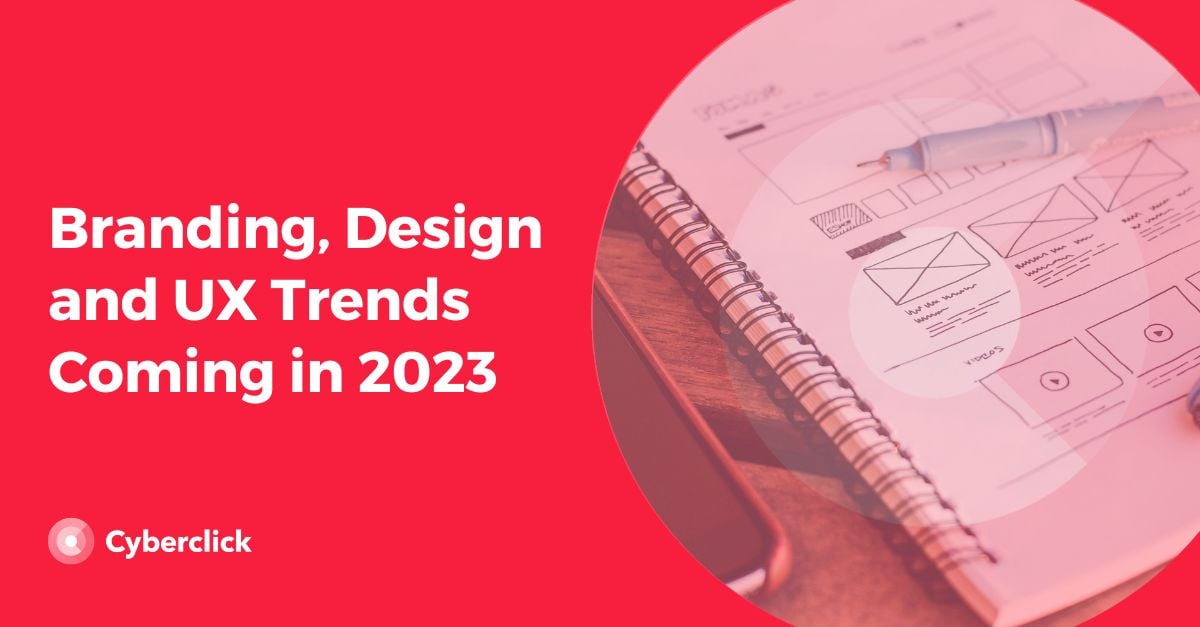 Dark Mode
At the top of this list of digital marketing trends for 2023 is one of the most discussed trends in the world of UX: dark mode. Surely you've heard of dark mode, an option that appears in most user interfaces and is also present in a large number of mobile applications. Dark mode makes the platform appear with a dark background, causing the text and other elements to stand out more.
Dark mode is not new in digital marketing design, but it will undoubtedly become one of the most interesting trends for 2023 as more websites and apps adapt to it.
On a user level, dark mode gives users more options, and on a visual level, it gives your platform a more elegant look, but these aren't the only benefits of this trend. Dark mode allows better visibility and readability of the website, reduces the power consumption of devices and even displays images and videos in more detail.
Throughout 2023 we are going to see a large number of companies include this option on their platforms, especially since it seems like more users prefer it over the standard mode.
Adaptive Logos
Likely there is some variation in your logo across social media, your website, ecommerce sites since each one has different requirements. Your logo may appear in the profile picture, in a banner, in a video, in a rectangular image, in a square image, etc. There are many possibilities and as time goes by they will increase.
If your brand also has a physical presence in stores, this becomes even more significant. This is why having an adaptive logo is crucial in today's digital environment. Your branding strategy must have logos of different sizes and variations with varying levels of simplicity.
To be truly adaptive, the different versions you create should keep the same aesthetics and essence, otherwise the brand may lose coherence in its digital marketing strategy, ceasing to be recognizable.
Interactive Branding
Brands are no longer just mere providers of products or services, they are now also providers of experiences, which is why interactive branding is going to be one of the most popular marketing trends of 2023. What do we mean by interactive branding? Essentially it is all marketing actions that allow users to become part of the brand and its journey. It is no longer enough to upload an article to your blog, or just announce new products. The public wants you to answer their questions directly, to make their buying process interesting and to make them feel cared about and like an active figure during their journey.
Questionnaires, surveys, infographics, interactive maps, personalized emails, websites with attractive animations and user interaction on social media are some of the options you have as a brand to create interactive branding which puts the customer at the center of your strategy.
Inclusivity and Diversity
Did you know that ads that are perceived by the audience as more inclusive and diverse have a high interaction rate? While diversity and inclusivity are not trends, they are two topics that are being highlighted more now. The public is increasingly committed to this social cause and demands the same from brands. Corporate indifference is a thing of the past. Organizations are now being asked to do their bit to make the world a better place.
Brands that dare to destroy stereotypes and show the diversity of people will be the ones that manage to connect with the public and come out on top.
One way to capture inclusivity and diversity in your branding is by telling stories of real people who have tried your products and services, without filters and without a script. However, there are many other ways to get more and more people to identify with your brand and 2023 is the best time to try.
Metaverse in Design and UX
You've likely heard of the Metaverse, however, do you really know what it is? The Metaverse is a virtual world in which users (through digital devices) can perform activities of their daily lives while in contact with other users. Working, studying, playing or holding meetings are some of the activities that can be done in this new reality. As a brand, the Metaverse offers you a new universe in which to expand and communicate.
Many companies have already experimented with the metaverse, such as Coca-Cola, which has already developed the first flavor of a soft drink in this virtual world, or Nike, which has opted for an NFT to put digital sneakers on sale with an exclusive design so that the avatars of the metaverse can wear them.
But the creation of products is not the only option for brands in this world; you can also develop promotional strategies in this world so that users can consume them in real life.
Simplifying Information Architecture and User Journeys
Simplicity is the key to success when it comes to UX. When users enter the platforms where your brand has a presence, they want to enjoy the journey. Therefore, the user experience you offer to your audience cannot be too complex. Although this has been imperative for some time, in 2023 it will be even more of a trend.
Don't wait any longer to implement improvements and changes in your platforms in order to make them more accessible and intuitive. There are two concepts you should think about when planning your websites: design and functionality. Plain and simple. Avoid overloaded designs that confuse the user and go for minimalist and intuitive designs. Don't forget: in UX, less is more.
This doesn't mean that you can't add more functionality to your website, but it is important that you know how to implement these changes in the best possible way.
The Rise of Voice User Interfaces
While not traditionally design related, voice search is an option that is gaining more and more popularity. So much so that it has been catching the attention of major brands.
Thanks to voice user interfaces like Alexa, Google or Siri, it is much easier to make queries on search engines. This market is expected to grow to reach 25 billion dollars by 2025.
The rise of voice user interfaces is mainly due to the fact that the public has less and less patience and is looking for the greatest possible convenience when using their devices.
3D Design
In 2023, it is predicted that 3D animation will be a popular UX trend, as it has been proven that the public is receptive to it.
It is true that creating 3D animations is not an easy task, as it requires a large investment and platforms often take a long time to load it. However, this will become less and less of a problem as processing speed continues to improve and evolve.
In short, investing in 3D animation may be one of the best ideas at this time to reach the widest possible audience.
More Mobile-Friendly Design and UX
Today, mobile traffic has far surpassed that of desktop computers, making it the most common way to access the Internet. Specifically, the share of mobile traffic reaches 54%. This is why having a website with a responsive design is a consistent trend and shouldn't be missed by any brand.
Responsive websites have the ability to adapt to different screen sizes on different devices, as they are able to reorganize their content and images, and simplify some elements if necessary.
Having detail oriented, expert programmers is essential to successfully carry out responsive web design. Do not be afraid to invest in a website that adapts to each of the devices on the market, if there is a trend that is essential to follow today, it is undoubtedly this one.
In short, trends in branding, design, and UX for 2023 are oriented around the relationship between brand and consumer. Users are increasingly at the center of digital marketing and branding strategies, so the priority for companies is to create experiences that satisfy them and design a human, interactive, and purposeful customer journey.
We advise you to gradually put these marketing trends into practice and see what effect they are having on your business results. They may not all be for you but, many of them can help you enhance your brand image and your relationship with the public. Not all of them will offer you immediate effects; in many cases you will see the results in the long term after improving your strategies and learning more about each of the trends.