By Diana Palau, on 26 August 2021
When Facebook rolled out its Ads Manager App back in 2015, the advertising world changed for the better. With roughly 2.9 billion active Facebook users worldwide, this platform offers a quick, effective, one-stop shop for creating ads and managing them on the go.
Let's take a look at what Facebook Ads Manager app is, how to set it up, and how to use it effectively.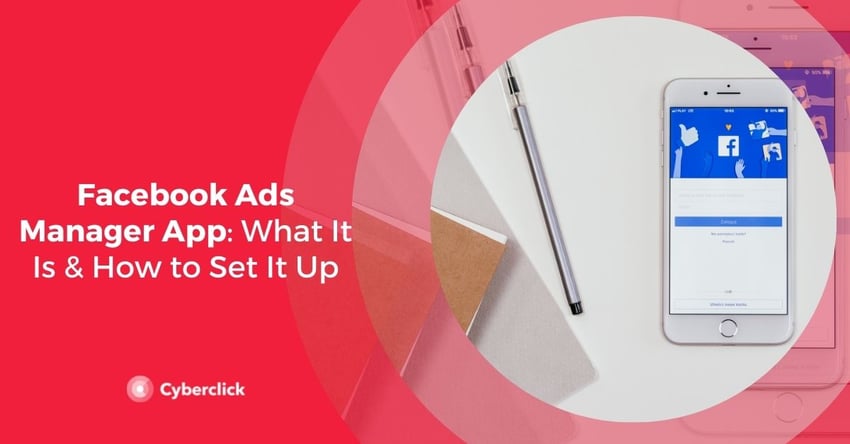 What Is Facebook Ads Manager App?
The Facebook Ads Manager App is an amazing tool designed for businesses that helps facilitate mobile ad campaign management under the Facebook umbrella, which includes Instagram, Facebook Messenger, and WhatsApp. In addition to being able to create, edit, and manage ads, you'll also be able to:
Get real-time insights
Track ad performance
Track boosted posts
Track page ads
Receive push notifications
Manage budgets and schedules
Add and manage an app if your company has created one
Turn campaigns on/off
Facebook Ads Manager App also allows you to provide full or partial access to authorized employees depending on their role and manage multiple Facebook Pages. It also makes it easier to run various ad campaigns on Facebook and Instagram simultaneously.
Moreover, Facebook Ads Manager App's easy-to-navigate dashboard makes it painless to access important data sources such as your Facebook pixel, shared audiences, inventory catalogs, events, conversations with customers, and much more.
How to Use Facebook Ads Manager App
Download the app by clicking either of the links below.

Apple Store - for iphones and ipads

Google Play Store - for Androids

Set up Facebook Business Manager Account. Once you've downloaded the app, sign into your Business Manager account, fill in the required information, and verify your account.

If you need help setting up your Business Manager account click here.

Link Facebook Pages. Next, you'll need to link your Facebook Business Page, existing pages you manage across Facebook and Instagram, and/or create a new page.

You can do this by selecting Add Page and following the provided instructions.

Facebook Pixel. Now you'll want to install your Facebook pixel. A Facebook pixel is an incredibly powerful analytics tool that helps you measure customer actions, build custom audiences, and collects important data that lets you know how effective your advertising is.

You can add your Facebook pixel to the app by selecting the menu button, then Measure and Report, then pixels.

Connect Ads Account. You can either link an existing ad account if you are the owner of the account, request access to the ad account if you're not an owner, or simply create a new account. Keep in mind that once this action is performed, it cannot be undone and will be attached to the Business Manager account as long as it exists.

Create Custom Audiences. Just as you would on the desktop version, you'll want to create custom audiences that you'll be targeting with your ads. Custom audiences should include, but are not limited to, people that have searched for the service or product you provide, people that have interacted with your brand, and people that have liked or saved similar ads, to name a few. The Facebook Audience Insights tool can help tremendously when it comes to choosing the right audience.

Create Facebook Ads Campaign. Once you've completed these steps, you can finally create an ad campaign. Creating an ad on the app is fairly straightforward. Look for the campaigns tab, then click the green create icon. You'll then be asked to choose from a list of objectives. The option you choose simply depends on your campaign goals.

Next, you'll need to create an ad set. This is where you can plug in an audience that the Facebook Audience Insights tool helped you create or you can follow some steps to create a custom audience. At this stage, you will also select the placement of your ad.

Lastly, you'll choose which Facebook Page or Instagram account you want your ad displayed on. You'll be able to customize the ad to your liking. Once you've designed and reviewed the ad, you'll place the order to activate the ad campaign. That's it!
Now that you have a clearer understanding of what the Facebook Ads Manager app is and how it works you'll be able to effectively create, manage, and target your ad campaigns from anywhere at any time. This app is a game-changer for scaling your business.
Are you using the Facebook Ads Manager app for your business? If not, do you think you'll start using it now that you know how it works? Share your thoughts in the comments.