By David Tomas, on 17 August 2022
Interacting with and knowing how to address an audience is an important part of a marketing strategy, as is listening to what it has to say. Although there are different ways to obtain this information, crowdsourcing has become one of the best options.
What is crowdsourcing? In this article, we'll explain exactly what is and how it can be applied to a digital marketing strategy.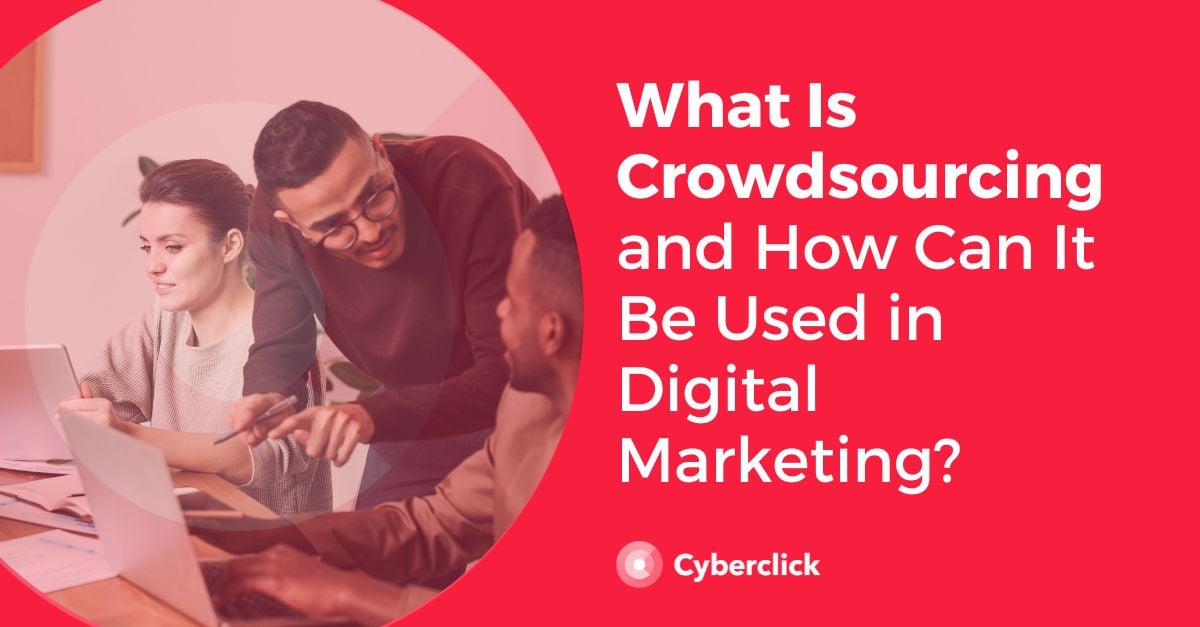 What Does Crowdsourcing Mean?
Crowdsourcing is a term that was invented in 2006 by Jeff Howe, a journalist and the editor of the magazine Wired. It refers to the public contributing ideas and actively participating in the development of a product or service in order to find the solution to a problem or meet a need.
The objective of this type of marketing strategy is to gather information from a wide variety of consumers that can be used to develop or improve a brand's products and services or to obtain financial funding. In turn, the public feels like a part of the company, which creates a stronger relationship and greater trust.
Crowdsourcing can also be used as an advertising campaign since all the people who participated in developing or improving a product or service will continue to talk about the brand afterward.
Types of Crowdsourcing
Crowdfunding: A type of crowdsourcing in which a large group of people joins together to fund a project. Usually, all participants get something in return, such as a gift, a discount, or access to an exclusive event.

Wisdom of crowds: Seeking suggestions from a large group of people to develop or improve a product or service.

Crowd-generated microtasks: In this type of crowdsourcing, different tasks of a project are distributed between a large group of people.
Although perhaps the best known is crowdfunding, there are many brands that have successfully applied the wisdom of crowds and microtasks.
Benefits of Applying Crowdsourcing to Marketing
Crowdsourcing has several benefits for brands, especially for those that have a very tight budget and cannot move forward in a project without help.
One of the main benefits is that because trust is generated among the public towards brands, it is easier to achieve customer loyalty.
It should also be noted that it is much easier to innovate since many different opinions and suggestions are taken into account.
It also attracts brand ambassadors, which leads to increased publicity, as well as saves time and money for brands that have small budgets.
How to Apply Crowdsourcing in Marketing
In order to move a project forward with a crowdsourcing strategy, it must be done correctly and with planning. Here are some aspects that should be taken into account:
Clearly specify what the participants have to do. It is very important to make a presentation or a document specifying, in detail, what is expected of each participant.
The concept should be as simple as possible. The best crowdsourcing campaign is one that aims to create a simple product or service that directly relates to consumers' needs.
Results should be measured. All results, both good and bad, should be recorded to understand what is and isn't going well. These results should also be shared with everyone who is a part of the project.
Be organized. Having someone responsible for each task would be ideal.
Value the effort of all the people involved. In crowdsourcing, every person who participates is important, so the brand should thank them in some way, either with discounts, exclusive offers, gifts, or access to events.
Success Stories: Examples of Crowdsourcing in Marketing
Lego
Lego asked its consumers to propose new products for the brand. If ideas reached 10,000 votes, they would be brought to life and sold in stores. Fans also got a share of the proceeds from Lego's sales.
P&G
P&G launched numerous crowdsourcing campaigns to get ideas on product packaging, design, marketing research methods, and more. They have all proved to be a success, as they have always involved a large group of people.
Starbucks
In 2014, Starbucks asked its customers to create cup designs and drawings for its stores and vote for their favorites. While it was one of the most popular campaigns, the brand has also made use of crowdsourcing in other ways to get product ideas, customer feedback, and more.
Doritos
In 2016, Doritos asked its customers to design an ad for its product. The winner would get a ticket to the Superbowl.
Lay's
Lay's launched a crowdsourcing marketing strategy asking consumers to suggest new flavors for their product. In just 3 months, the brand received 3.8 million suggestions, making it a much more successful campaign than they expected.
McDonald's
When McDonald's celebrated its 40th anniversary, it asked its U.S. customers to submit their own versions of the popular Big Mac. A jury was in charge of choosing the finalists, but it was the public who chose the winner.
Marc Jacobs
Marc Jacobs models wore designs that were chosen through Twitter and Instagram by their followers. Considering that Marc Jacobs has a lot of followers on social networks, it was a huge success.