By Chantal India, on 28 July 2021
With so many platforms and communication channels available these days, it can be difficult to organize and manage all your marketing activities in a way that gives you the best possible return on your investment. You need to manage what happens, when it happens, why it happens, and what the goals and objectives behind each action are.
For this to go smoothly, you need a reliable system that your marketing team can depend on. One they can use for managing emails, online content, public relations, advertising campaigns, and any other communications with current and potential clients. This is where a good workflow comes in.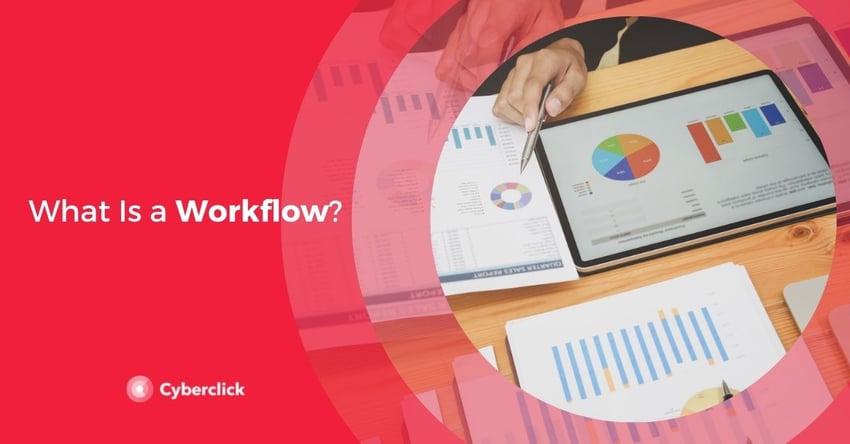 A workflow is a handy tool that helps you manage your marketing projects and campaigns so that each step is clearly defined and assigned to the right person. That way, each member of your team knows what they are responsible for, and when they need to complete their tasks to ensure a successful marketing campaign.
So let's take a look at what a workflow is and why creating one can benefit your marketing strategy. We will also share some examples of how workflows can be used in the different areas of your marketing department.
What Is a Workflow?
A workflow is an organizational tool used to manage projects of any type. This includes a goal and all the steps that need to be taken in order for that goal to be achieved.
Workflows can be as simple as a checklist or they can include visuals, such as charts and diagrams. The aim is to detail and organize each task so that team members are clear about who needs to do what, and by when. This way, each step is accounted for, and there is no risk of something slipping through the net and being forgotten.
What steps will a marketing activity require? Who will be responsible? When is the deadline? What resources will be needed?
Above all, a workflow should be fluid and clear. Keep it simple and get everyone involved.
Why Creating a Workflow Benefits Your Marketing Strategy
Now that we've answered the question "What is a workflow," let's take a look at how using one (or many) can benefit your overall marketing strategy:
Improved planning and visibility. Each step of the process is clearly defined so it's easier for your team to stay on track. You also get a clear overview of how a project or campaign is progressing, without worrying about the little details.
Better time management. Deadlines are clear so everyone knows what they need to do, and by when.
It keeps everyone on the same page and makes it easy to check the status of a project or campaign.
As a campaign manager, you will receive far fewer emails from team members asking about things like deadlines, publication dates, and task updates, as all information is centralized and clearly mapped out. This means fewer interruptions and more time to chase new leads.
When a campaign is not successful, it's easier to see where something went wrong if you use a workflow. Then, you can tweak your campaign accordingly and succeed next time around.
A well-planned and organized campaign is far more likely to succeed than one that is rushed and disorganized. This makes it more likely for your campaign to be successful and profitable. Plus, since you will be working more efficiently, you will have more time to focus on the next campaign and work toward increasing your profits.



Examples of Marketing Workflows
It is one thing to understand the theory behind a workflow, but the best way to get a true understanding of what a workflow is and how it can benefit your business is to take a look at a few examples of how you could apply it to your marketing strategy.
Marketing Communications Workflow
A workflow can be used to manage and streamline your marketing communications. This might include advertising, public relations, product launches, promotions, and events. You could also use a marketing communications workflow to improve the way you engage with customers and handle customer service and UX.
The steps you include in your marketing communications workflow will depend on the activity in question, as well as your product/service type and industry. Generally speaking, it should outline the sequence of steps your team will take as they're completing a particular marketing task.
Your workflow should also be:
Logical and easy to understand, so that your marketing team can work efficiently.

Visible, so that every team member is aware of the workflow and their own responsibilities. The best way to ensure this is to provide suitable training in advance and share regular updates.
Content Marketing Workflow
You can also use a workflow to manage your content marketing projects and campaigns. This will help you organize and streamline your strategy so that you can focus on producing unique content that distinguishes your brand from the rest.
Your content marketing workflow should include steps that take into account the following:
A competitor analysis
A content gap analysis
Content writing (when content is actually written and what the end goals are)
Content editing (does content align with strategy and objectives?)
Meta optimization and SEO improvements
Steps for publishing content and reviewing campaigns.
Social Media Workflow
Finally, a well-designed social media workflow can help you adapt your online strategy in a way that boosts engagement and conversion rates. Instead of posting random content at random times, you can use a workflow to consistently post relevant content that attracts the attention of your target audience. You can use it to develop campaign ideas, create schedules, assign tasks, set deadlines, write content, schedule posts, and monitor results and interactions. That way, everyone on your marketing team knows what they are doing, and when.
Your social media workflow should take into account:
The planning and development of content strategies and ideas
The creation of posts, including reviews and stakeholder input
The design of images, brand assets, and other resources to be shared in campaigns
Platforms and scheduling
Analytics and performance reviews for future campaigns.