By Pere Munar, on 15 February 2022
The arrival of social media and the unstoppable growth of technology have changed the way we work, shop, study and interact. We have gotten used to having everything right here, right now—the fact that we can buy a product on the Internet and get it the following day is ultimately the result of digital transformation strategies. This process affects business-to-customer marketing practices and makes it essential for businesses to keep up and to rethink the way they work.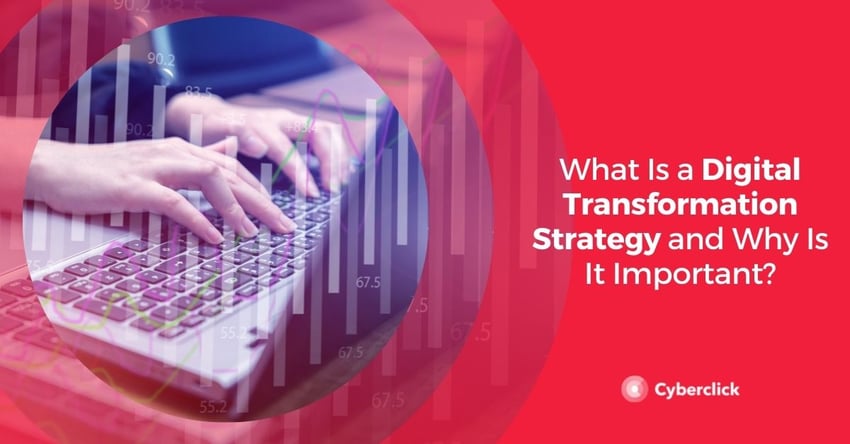 What Is Digital Transformation?
Digital transformation strategies involve using technology to improve the organization and efficiency of a business in order to deliver better value to customers, i.e., changing the way a business operates, how it interacts with customers and internally. This change can be achieved by creating new business processes or modifying existing ones. Likewise, the integration of digital technology strategies into businesses should aim to improve marketing and communications and increase conversion and growth. In the end, the client is (or should be) at the center of these changes.
Digital transformation strategies will vary depending on the needs of every company. Normally, they focus on technological change, but this is not the only aspect. A digital transformation strategy aims to improve the business overall, and may also imply cultural changes. Digital transformation affects digital devices, platforms, media, data, and technology, all of which will need to be adapted.
How to Structure a Digital Transformation Strategy
So, you want to update your business with a digital transformation. Where should you start? Do you hire new people? How should you address and communicate with clients? Should you invest in new software? There are so many things to take into consideration that it may be daunting.
Before getting started, think about your current business strategy and your relationship with your clients. Ask yourself what your strengths and weaknesses are and what you want to achieve. Once you determine this, it will be time to create a digital transformation and marketing strategy that fits with your company's goals and moves you in a direction that makes sense for your brand.
It is best to start with the customer experience and value proposition. Look at how these correspond to the business objectives for customer retention and acquisition.
Achieving digital transformation requires new technology, staff, and good leadership. When it comes to the technological side of digital transformation strategies, it is mandatory to understand not only the nuts and bolts, but also the specific needs of the company. For that, there should be a team of skilled professionals that are working closely with the company to analyze what can and should be improved and how the digital transformation should be implemented. In short, IT teams have an essential role so communication with them is key to advance and innovate.
With their help, you can also improve data quality and analytics, clean enormous quantities of information, remove what is not needed, and redirect efforts towards good data management. Good data management also means helping your workers improve their tasks and processes to generate data correctly.
Your employees should also be aware of their responsibilities and should make efforts to keep up with the changes. They are part of the transformation and have to be involved in order for the digital transformation to be successful.
Again, good internal communication (and communication with customers) is crucial. This is part of what made your company great, and it must always come down to bringing value to customers. Lastly, it is necessary to rethink not only what the customer needs are now, but also what they might be in the future, and then proceed accordingly.
Digital Transformation Strategy Examples
Digital transformation strategies do not only come down to new technology. That's part of it, but meeting customer expectations goes way beyond this. Let's examine some examples of major companies who succeeded in their digital transformations.
Nike
Nike, the world-famous sportswear company, has been innovating ever since its creation back in 1964. A few years ago, they began a digital transformation process that focused on enhancing customer experience and their brand image. To do this, they set three goals: improving innovation, doubling their speed to the market, and having direct connection points with their clients.
In this process, Nike focused on digital consumer data and moved towards a more efficient use of analytics. As a sports equipment vendor, most of their efforts went into ecommerce. They improved the user experience, adjusted their membership options and made overall improvements to the experience for shoppers who visited not only their digital stores, but also the good old physical ones.
Uber
Uber, founded in 2009 as Ubercab, is a great example of how to carry out a digital transformation strategy. It started as a ride share service that became global. Then, with the rise of food delivery services, they created Uber Eats in 2014 and they have been striving to improve their customer service ever since, namely by making the payment processes quicker and safer.
Uber acknowledges that many of their driver's trips to airports and train stations have to do with business, so in 2014 they collaborated with Concur and came up with Uber for Business, a service exclusively for company trips.
Part of what makes Uber successful is that they receive feedback and are open to talking with their employees. This has led to the creation of apps like Uber Driver and Uber Eats Manager.
These are two major examples of digital transformation strategies, but that does not mean that this is only accessible to the big companies. Any company with a good amount of commitment, good planning and, most importantly, a will to dialogue with their clients and evolve will be able to take on a digital transformation!