By Berta Ventura, on 3 November 2023
Communication is the basis of all marketing. Think about it for a moment: in every campaign, we are looking to reach the ideal audience to tell them about our brand, our products or our services.
For your marketing to be successful, the first thing you need to be clear about is what you want to say and how you want to say it. This where communication strategies come into play. To understand them better, we are going to tell you what they are, what the 7 steps to developing an effective marketing communication strategy are, and 5 tips that you can apply.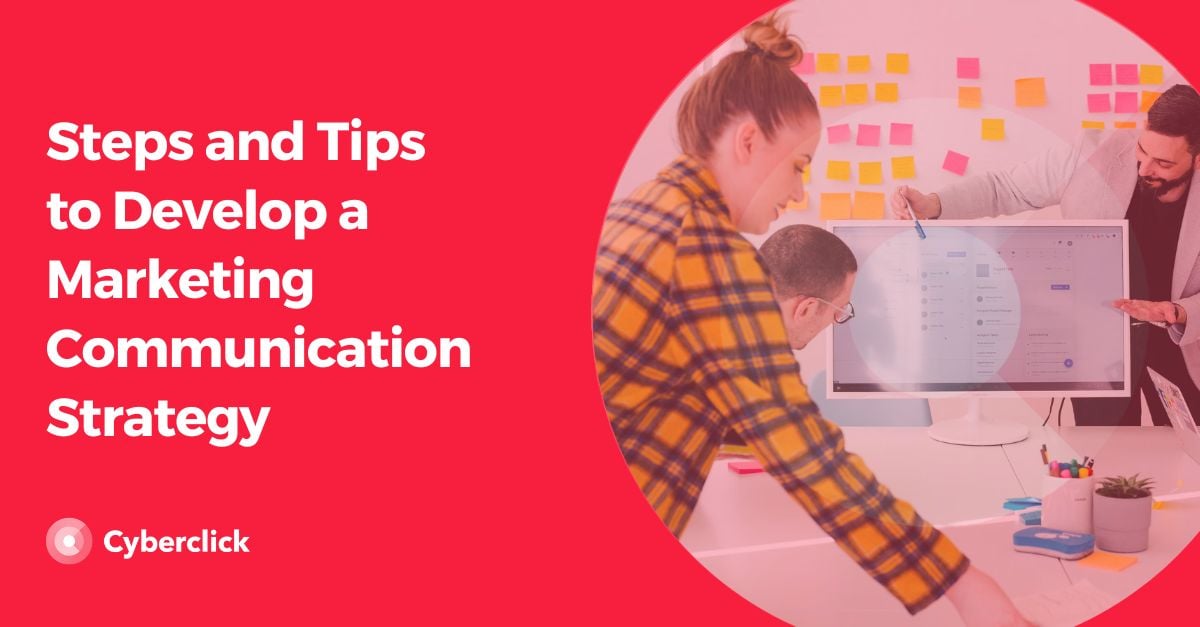 What Are Communication Strategies?
Communication strategies are business tools that help companies define, elaborate, and launch their messages in an effective way, through any channel, and to various types of recipients.
For a communication strategy to be effective, it must be aligned with the company's objectives and values, be honest and be based on a good knowledge of the company's target audience.
7 Steps to Developing a Communication Strategy
1. Analyze the Initial Situation
As is always the case in marketing, to know where you want to go you have to begin by assessing where you are.
The first step is to analyze things like brand reputation and identity, customer experience, market trends and the state of your competition.
2. Define Your Objectives
Your objectives will define the type of communication strategy you choose, so it is essential that you are clear about them from the beginning. If this topic raises any doubts in your mind, try answering these three questions.
What do I want to achieve?

Why do I want to achieve it?

Why is it important?
3. Define Your Target Audience
People use different language and different communication channels so to get your communication strategies right, you need to know who you are targeting and what the most effective way to reach them is.
Start by creating a buyer persona that captures the characteristics, objectives, and challenges of your ideal clients.
4. Define Your Messages
Here you have to answer a fundamental question: what do you want to say? And above all, how are you going to say it?
Your message should connect with your target audience, capture their interest, and lead them to take a specific action.
5. Define Your Communication Channels
The same message can take very different forms depending on which communication channel you use. Choosing channels can make or break your communication strategy. To get it right, you need to consider which channels your target audience is already using and how you can adapt your message to fit them.
6. Strategic Planning
The time has come to think about how you are going to make your plan a reality. The strategic planning phase includes elements such as:
Both general strategies and specific tactics to achieve each objective.

The budget for your campaign.

The resources and people who will be assigned to the different tasks.

The deadlines.
7. Measure and Evaluate the Results
Last but not least, no communication strategy is complete without measuring results. Your plan should include a series of periodic check-ins during which you will review whether your objectives are being achieved and correct the course if necessary.
8. Stay Agile
In the ever-changing world of marketing, adaptability is crucial. An effective communication strategy requires agility to navigate evolving consumer preferences, market trends, and technological advancements. Remaining responsive to these shifts will allow your marketing communication strategy to stay relevant and impactful. Regularly reassess your objectives and embrace new communication channels. Additionally, adjust your messaging as needed to align with current cultural conversations.
Additional Tips for Your Communication Strategy
1. Launch Strategy
First impressions are very important, which is why every launch must be accompanied by a communication strategy that allows you to get the most out of it.
There are two key moments. One is when the brand itself enters the market for the first time and the other is when new products or services are launched. In both cases, it is essential to plan the actions and channels in advance to achieve maximum impact at the key moments.
2. Visibility
Visibility is one of the main objectives of companies, as they seek to make their brand known among the target audience and thereby drive sales.
Companies often make the mistake of focusing mostly on impressions when in reality what you want is to create and nurture long-term relationships. Therefore, in a visibility-oriented communication strategy it is essential to include elements such as collaboration with influencers.
3. Building Confidence and Trust
Trust has always been the basis of sales and this remains true in the online world. It's not enough to make yourself known, you also have to get customers to trust you.
This is usually based on testimonials that show that what you offer has already worked well for other people. To do this, you can use things like reviews or logos of brands that have used your services and that you have a good professional relationship with.
4. Positioning
All brands are built around a series of characteristics and values. In order for these qualities to be understood by your target audience, you need a communication strategy aimed at brand positioning.
Like with visibility, it is essential to know who the target audience is and what their preferred channels are in order to be successful. For example, if you want to reach Gen Z, a campaign with influencers on social networks may be the most appropriate.
5. Expansion
Once you have a visible, well-positioned brand that has earned the public's trust, the next step is to grow it to reach new markets and new customers, or to develop new products and services. To make all this progress, you will need a multi-channel communication strategy.