By Sol Gonzalez, on 28 July 2022
As a brand, your customer value proposition is one of your most important assets. It is a statement aimed at convincing potential customers that they should make a purchase from you. It's the "elevator pitch" that tells them who you are and why they should do business with you. For this reason, it should be an integral part of your digital marketing strategy.
To be truly effective, your value proposition needs to speak to your audience, and this means avoiding buzzwords and meaningless slogans. A good value proposition should clearly identify all the benefits your product or services offer and differentiate your brand as the best provider.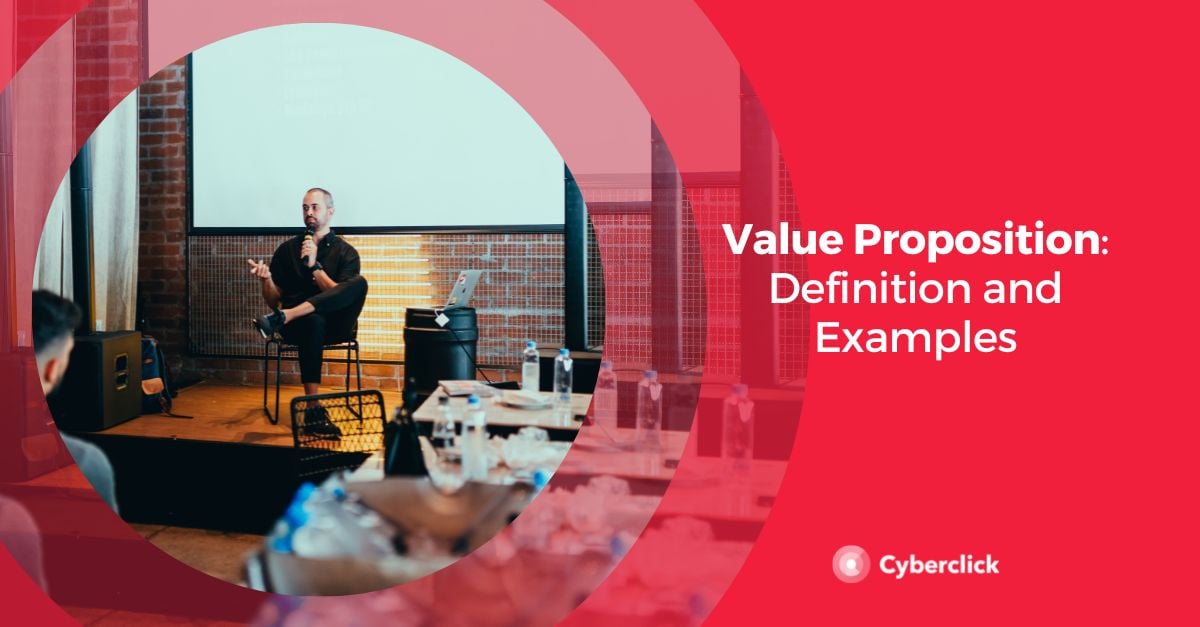 In this post, we will take a look at what a value proposition is and how the right messaging strategy can benefit your business. We will also go over a few examples of value proposition statements from big brands over the years to show you how powerful the right message can be, especially if it is communicated in the right way.
What Is a Value Proposition?
Think of a value proposition as an elevator pitch. Put simply, a customer value proposition is a statement that explains who you are as a company, what you stand for, what benefits you can offer, and what makes you unique. It's all about why someone should become your customer. The aim of a value proposition is to convince potential customers that you can offer them more value than your competitors; you have a solution that addresses their pain points, and you deserve their business.
A value proposition should be clear and concise and set your brand apart. You only have a few seconds to capture a potential customer's attention, so ideally your message should be no longer than a single sentence or phrase.
A value proposition should also clearly identify what problem you are able to solve, and how your product or service can benefit customers. For this to be possible, you need to understand your target audience and identify their wants and needs.
Consider the following:
Who is your audience?

What pain point can you solve for them?

What do you do to solve it?

What can you offer that your competitors can't?



Examples of Great Value Propositions
A value proposition definition is all good and well, but the best way to truly understand the power of a creative and strategic proposition is by taking a look at a few well-known examples. You can use these as inspiration for your own customer value proposition.
Zoom Video and Web Conferencing
In the blink of an eye, a small tech company was thrown into the limelight, acquired thousands of new users almost overnight, and went on to be crowned the #1 video and web conferencing service by Gartner.
This company knew exactly what message it needed to communicate with its value proposition: "In an increasingly remote age, Zoom helps you keep your life moving." In fact, the first thing you see when you visit the Zoom website is a clear message about why you should use Zoom and what benefits it can offer you. It does this by highlighting the pain points that its competitors have failed to address such as inconsistent experiences, difficult platforms, and hidden pricing.
Uber
Uber has raised controversy a few times over the years. As one of the most well-known players in the gig economy, the ride-sharing giant has taken its fair share of backlash from the public. Issues have included claims of unfair working practices, misuse of zero-hour contracts, and refusing to provide drivers with basic protections.
One thing Uber has got right, though, is its customer value proposition. It understands that its target market consists of people who need low-cost, on-demand transportation, and it clearly explains the solution it can offer: stress-free travel at the tap of a button. Without being too explicit, Uber also manages to highlight where its competitors (traditional taxis) are failing. It does this by highlighting why its service is superior:
"One tap and a car comes directly to you"
"Your driver knows exactly where to go"
"Payment is completely cashless"
In the words of Uber, they make it easier for you because "Your day belongs to you."
Lyft
Lyft, one of Uber's direct competitors, has also done a great job with its value proposition statement. Instead of stating the obvious and repeating the value propositions of its competitors, it decided to get creative. It talks about the experience you will have if you use Lyft to hail a ride: hopping in a car, opening a window, and, after the Covid-19 pandemic, getting out into the world. This cleverly ties in with the sense of hope that much of the world is feeling as we cautiously step out into the "new normal", and it creates a sense of unity.
Lyft's value proposition is clever in another way too because it speaks to both riders and drivers. It has a clear call to action (let's get out there safely) that appeals both to people who need to get somewhere, and drivers considering venturing back out into the world of work:
"Get a ride or become a driver"
"Hop in. Crack a window. Let's get back out there."
Apple
Another company that has focused on the experience rather than the product is Apple. For Apple, the experience is the product. This is a very clever strategy when you think about it. Instead of fighting to compete in a saturated market, it chose to focus on another form of value that is offered through its customer value proposition: status and user experience.
Obviously, its sleek, well-designed products play their part, but this just feeds into the overall customer experience. Apple promotes the iPhone as simple, intuitive, and user-friendly. It is stylish and desirable and will make you look good. Yes, you will also be buying powerful features, but what you will really get is a brand experience that people aspire to have. It's not about what Apple gives you; it's about who you will become when you purchase an Apple product.
Value Proposition Template
Need inspiration getting started creating your value proposition? In his model, Peter K Thomson creates a framework through which the human experience of customers can be examined. His canvas contains relevant questions and sections that encourage those who fill it out to think through the end-customer experience.
The first image below contains a blank canvas with starter questions. Directly following that one, you can find an example of a complete value proposition canvas from Evernote.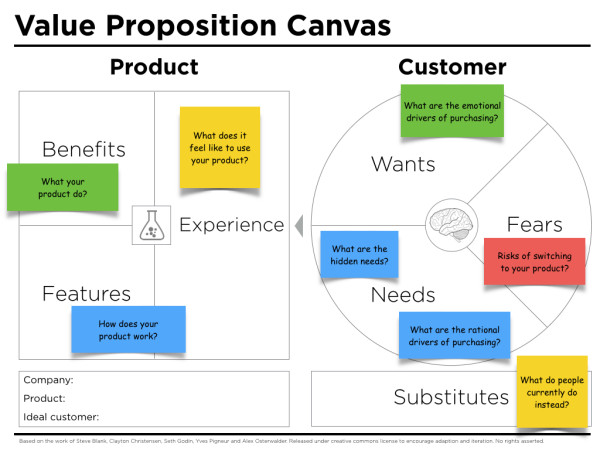 Source: peterjthomson.com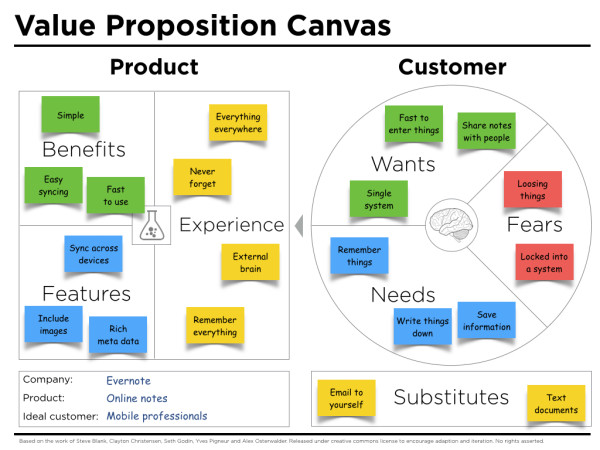 Source: peterjthomson.com