By Berta Ventura, on 10 October 2022
TikTok is one of the trendiest social networks with more than 1 billion active monthly users, so many brands, especially those that want to reach a young audience, have incorporated it into their marketing plans. They have launched campaigns with TikTok Ads and used something called TikTok In Feed Ads.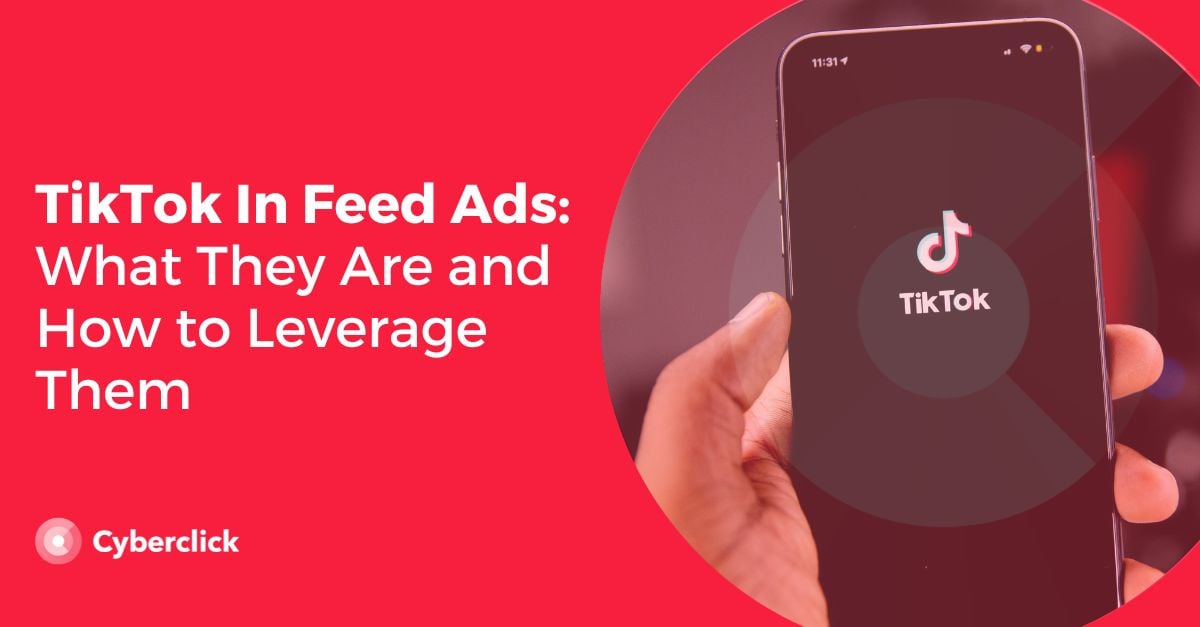 What Are TikTok In Feed Ads?
TikTok In Feed Ads are a type of advertising on TikTok with a format similar to Instagram Stories. They can last up to 60 seconds and users can react to the ad, comment on it, and share it as if it were just another post.
This type of ad allows advertisers to include things like music and effects to make the video more engaging and CTAs to prompt the user to perform a certain action.

Benefits of In Feed Ads on TikTok
Using TikTok's In Feed Ads has a number of advantages. The most notable and attractive for brands is that this type of advertising is perfectly camouflaged among organic content, so the user will not feel that their browsing is being interrupted by an ad. This makes the ad more popular and more attractive, which leads to a higher consideration of the brand.
In addition, TikTok In Feed Ads are a type of social media advertising that has the potential to go viral. This would lead to increased brand visibility and to reaching a much larger audience.
Another benefit is that it works very well within a brand awareness campaign, since the more original the ad is, the more users will remember the brand and the more they will recognize it as such.
Tips to Optimize Your In Feed Ads on TikTok
There are many ways to launch a good In Feed Ads campaign on TikTok, but by following these tips you can optimize it to the maximum.
Choose the Audio That Will Accompany Your Video
On TikTok, sound is a fundamental part because, unlike Facebook or Instagram where videos can be seen without sound, on this platform it is one of the elements that most attracts the attention of users. In fact, almost 90% of TikTok users stated that it is precisely the sound that makes the platform attractive and makes the experience more enjoyable.
A myriad of audio resources can be used, from simple music to audio effects or more complex melodies. In addition, the social network offers a library of music that can be used.
Record Vertically
Although it is possible to publish videos on TikTok that have been recorded horizontally, ideally they should be recorded vertically so that they occupy the entire screen. In addition to being much more eye-catching, the user will not have to rotate the screen to view the video correctly.
Know the Trends
Although trends and fads come and go, keeping up with viral music, audios or sound effects, as well as challenges, memes and other popular content, can give you clues about what your audience expects or wants to see. In addition, referencing something that is trending is a way to get closer to users and for them to relate to your brand.
Branding
Creating stickers, filters, or effects that people can use in their videos can be a way to give more visibility to your brand. These creations are usually accompanied by a hashtag or visual branding that is directly associated with your company.
To optimize your ads, you have to try different things to find those that work, because depending on the audience you want to reach, some strategies will be much more effective than others.
TikTok In Feed Ads Success Stories
Samsung
There are several companies that have bet on TikTok's In Feed Ads, such as Samsung. In this case it was Samsung Israel that dared to use social ads to advertise its new Galaxy Note 20 model using TikTok's Top-View ad format.
Purelei
Another example is Purelei, which used TikTok's In Feed Ads during International Women's Day to advertise its products while raising awareness of where women are and should be today.
Maybelline
The popular makeup and beauty brand Maybelline also used this resource to achieve increased brand recognition in Poland.
Social networks offer numerous opportunities and tools to help you reach your target audience and TikTok's In Feed Ads are becoming one of the best when it comes to capturing the attention of young audiences.