By Pep Canals, on 22 October 2021
SEO is an essential element in any online marketing plan, since good web positioning will benefit your brand in many ways.
Implementing and maintaining an SEO strategy can be a long, cumbersome, and resource-consuming process, but don't despair! SEO automation is here to help you. More and more efficient solutions are becoming available to take care of various SEO tasks and lighten the workload of your team. Read on to learn everything you need to know about SEO automation.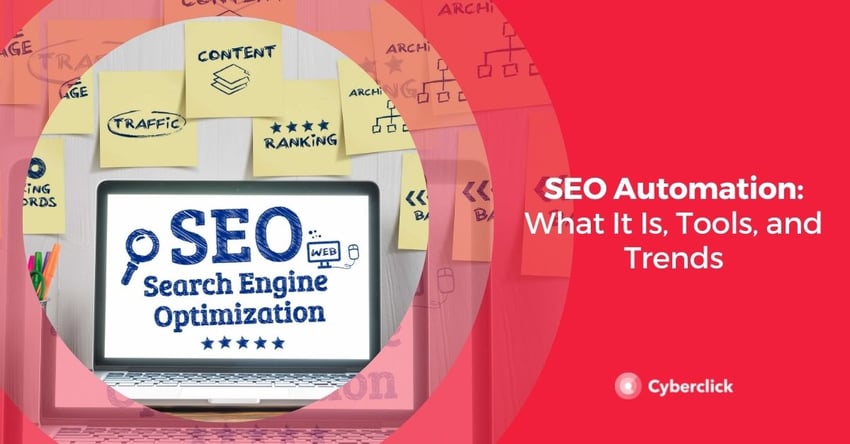 What Is SEO Automation?
SEO automation consists of using tools to automate tasks that would normally be performed manually (at least in part). Thanks to SEO automation tools, you can save time on cumbersome and repetitive tasks and devote more resources to creativity and strategy. So, at the end of the day, SEO automation improves your team's productivity.

SEO automation can encompass different aspects of a strategy, such as:
On page SEO. If you've ever had to optimize titles, meta descriptions, and headers of all the pages of a website, you know how cumbersome it is. This task can be largely automated with tools based on artificial intelligence and deep learning, which help create optimized meta descriptions and headlines with natural language processing.
Off page SEO. The main task of off page SEO is to create quality inbound links. To facilitate this, you can resort to link checking tools such as Ahrefs or Custom Scripts.
Technical SEO. This is one of the fields where SEO automation is more developed. SEO tools such as MoZ, SemRush and WooRank offer multiple solutions related to technical SEO. You can also use automatic crawling sites like ScreamingFrog. If you want to go deeper, there are many SEO professionals who use programming languages like Python or JavaScript to delve into the more technical aspects.
SEO strategy. Within this, you can automate tasks such as traffic pattern analysis, A/B tests and future forecasts. Machine learning models help to detect patterns and identify trends to improve the positioning of your website.


What Tasks Can Be Optimized Through SEO Automation?
Reports and audits. With tools such as Screaming Frog or Google Search Console, you just have to enter a URL to obtain the most complete information about your website from an SEO point of view. This way, it is very easy to identify possible problems to solve in order to improve your positioning.
Monitoring. You can use SEO automation tools to get alerts, for example, when one of your pages changes position in the search results or when a new link to your website is created.
New ideas for content. Publishing quality content on a regular basis is a sure bet to improve the positioning of a website. But, given that 3.5 billion searches are made every day on Google, analyzing all this information to detect opportunities is impossible without the help of SEO automation. Tools based on natural language processing can greatly facilitate this task.
Help for article planning. Although there are already artificial intelligence tools capable of writing a complete article, the truth is that their results still leave much to be desired. However, they can help you identify topics of interest and organize information. For example, WordLift has a tool that makes suggestions for the different sections of an article.
Create FAQ sections. Although AI tools are not yet very good at writing articles from scratch, they are very useful for identifying the answers to questions within the content of a website and automatically creating a FAQ section, similar to what Google's algorithm does with the results that appear in "position zero".
Generate meta descriptions. As we mentioned before, generating meta descriptions manually can be one of the most cumbersome parts of SEO. To simplify this task, you can use an automation tool that suggests the appropriate text based on the content of the article.
Writing titles. A good title for SEO should combine the use of keywords with the ability to encourage users to click. Automation tools can help personalized suggestions based on the best performing content on your website.
Structured data markup. This is one of the areas where the impact of automation on website traffic is most noticeable. Google is increasingly focusing on structured data to deliver rich search results, so optimizing this will multiply your visibility on search results pages.
Evolution and Trends in SEO Automation
SEO automation has evolved over time and it's possible to identify up to 3 different generations.

The first generation was based on data collection, aggregation and reporting. It is a fundamental basis for knowing what is happening with your website, so it is the first thing you should take care of if you are trying to automate your SEO. There are many tools on the market today that offer this type of function at a low cost or even for free.

In the second generation, the collected data is used to reach conclusions. By using machine learning and artificial intelligence, you can identify urgent problems and opportunities for improvement. Second-generation tools have functionalities such as automated alerts, on-page recommendations, change monitoring, and customized opportunity detection. Technical SEO auditing tools could fall into this second generation.
Finally, the third generation, which we are currently in, is based on execution at scale. The time from data collection to results is accelerated, and we have the ability to implement SEO automation in all aspects of data collection and conclusion drawing.

With state-of-the-art SEO automation, you can implement the conclusions you have drawn from the data in near real-time, on-demand, and at scale. In this way, the entire process is accelerated, as you don't have to wait weeks or months to incorporate updates and can work with a continuous improvement cycle in real time.
3 Must-Have SEO Automation Tools
SemRush has a full suite of SEO automation options, including many automation tools to make your life easier.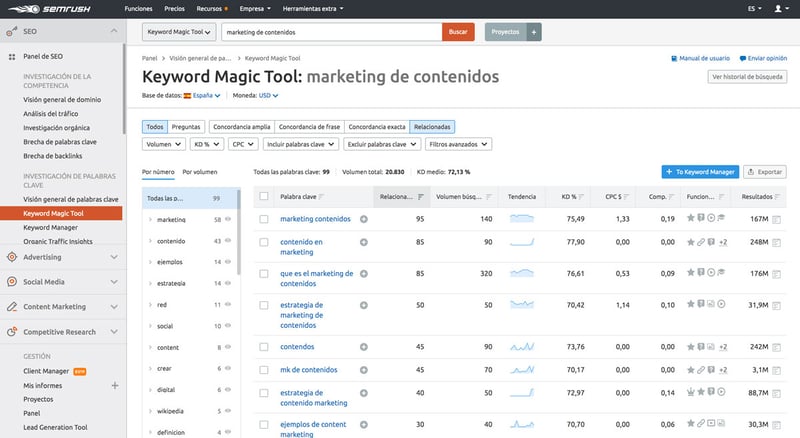 These are some of its most interesting features:
Website audit. This tool helps you keep up to date on all technical SEO aspects of your website and detect potential problems quickly.
Keyword position monitoring. Keeping track of your website's rankings by hand can become very complicated. Luckily, SemRush has a tool that automates this task and sends you ranking reports.
Monitoring mentions of your brand. This solution alerts you about new mentions of your brand online, so you can follow up and try to convert them into inbound links if necessary. It also has a specific inbound link audit tool.
Automatic report creation. Manual reporting is another one of those tasks that consumes a lot of time and resources, so it is very interesting to automate it. SemRush includes a good variety of automated reports to let you know everything that's going on with your SEO.
Little Warden is a tool focused on reviewing everything that is going on with your website and sending you automatic alerts to avoid unpleasant surprises. For example, it warns you if your domain or security certificate is about to expire, or if there have been changes in your meta descriptions or robots.txt file.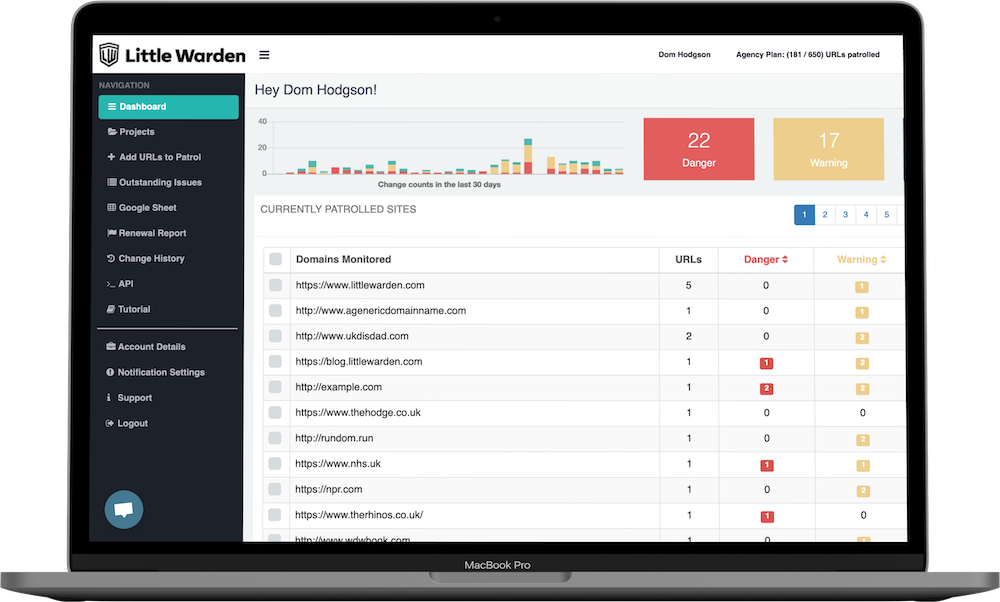 This tool is super useful for doing regular SEO audits of your website and quickly correcting many types of errors.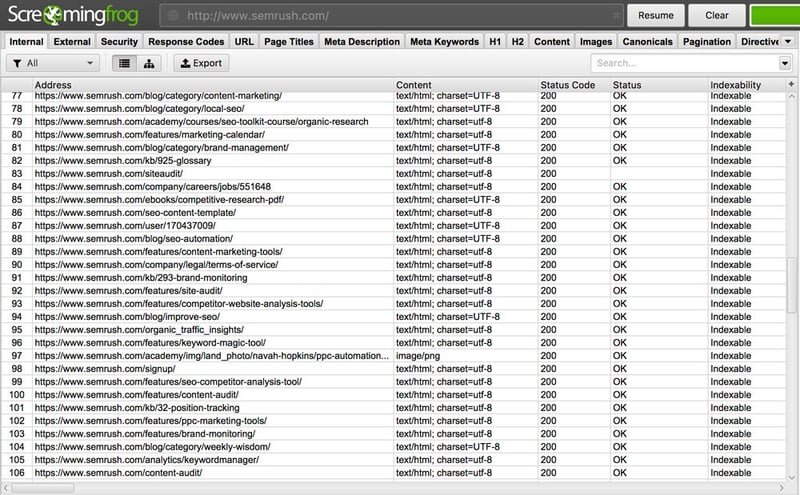 Here are several types of corrections and revisions that you can make with this tool.
Broken links or problems with internal links. 404 pages generate a bad user experience and can cause Google to penalize your website, so fix these problems as soon as possible.
Pages with duplicate content. Remember to mark the page you want Google to index with rel=canonical to avoid duplication problems.
Pages that do not have enough content. For a page to rank in search engines, it is important that it has a sufficient number of words.
Sitemap issues. Sitemaps allow Google to find and crawl your web content, so it is important that they are up to date.
Images without alternative texts. The ALT attribute is essential for Google to identify the images and to improve the accessibility of the site.