By Chantal India, on 20 October 2021
Measuring ROAS (return on ad spend) can be a highly valuable tool for tracking and quantifying the success of your advertising campaigns. It can help you establish how much revenue your ads are generating, if your ads are effectively driving traffic to your website, and whether or not they are worth the investment.
As a marketer, the ability to measure and analyze the success of a campaign is a vital skill. Most people are familiar with the concept of ROI (return on investment), but are you clear on what ROAS is and how tracking metrics such as this can improve your strategy and help you create more successful advertising campaigns? If not, then you've come to the right place!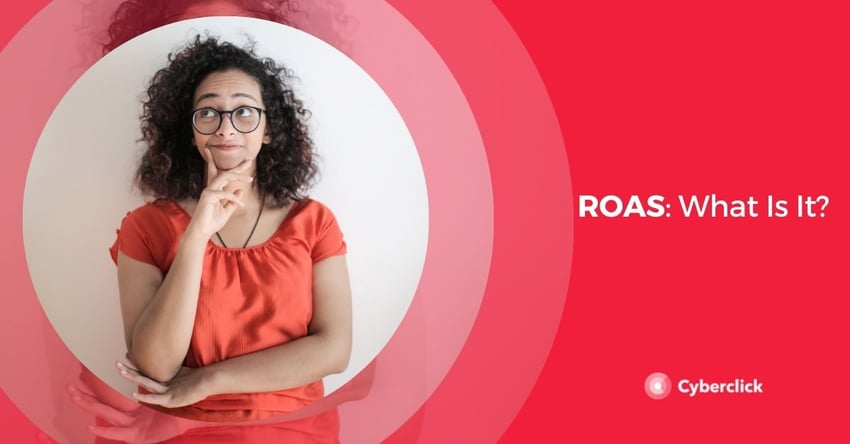 What Does ROAS Mean?
ROAS (return on ad spend) is a metric used by marketers to measure the revenue generated by an advertising campaign. Essentially, it is a method for quantitatively evaluating the performance of an ad campaign and establishing whether or not it is providing a satisfactory ROI.
But, whereas ROI measure the bigger picture in terms of the total return of an investment, return on ad spend focuses on specific ad campaign performance metrics.
The aim of ROAS is to help businesses establish which marketing techniques work best and which digital advertising campaigns make the biggest impact. It also helps marketing departments create more effective strategies and campaigns so that budgets can be set, and future campaigns are more efficient.
How to Calculate ROAS
This is the equation for calculating ROAS.
Revenue Generated by Ads / Cost of Ads.
For example, if you made $100 for every $10 spent on an ad, your ROAS would be 10:1.
Although this formula may seem simple, there are a couple of things you need to keep in mind. Firstly, calculating the cost of an ad can sometimes be complicated. You need to take into account the cost of the ad bid, the labor cost for the time it took to create the ad, vendor costs, and affiliate commissions.
You also need to accurately measure your conversions and sales metrics when you calculate the revenue generated by your ads. Important metrics include average cost per click, the total number of clicks, the average cost per thousand impressions, and the number of impressions actually purchased. It's important to make these figures as accurate as possible.
What Is a Good ROAS?
Strictly speaking, there is no such thing as a "good" ROAS. Whether or not it is acceptable will depend on your profit margins, rate of investments, advertising budgets, operating expenses, and the overall health of your business. If you are a start-up, you may have higher margins. If your business strategy is focused on growth, then you can probably afford higher advertising costs.
The ROAS that works for you will also depend on your business objectives. For example, if your main goal is raising brand awareness, then the success of your ads will be very difficult to quantify in financial terms. In this instance, a low ROAS doesn't necessarily equate to an ineffective ad campaign.
Having said that, most companies tend to aim for a ROAS of around 3:1. However, always keep in mind that what works for one company, may not be profitable for another. The key is working out what works best for your specific business goals and profit margins.
How to Improve ROAS
Once you have worked out your ROAS and your short and long-term marketing objectives, you need to build on this figure and improve the success of your advertising campaigns.
There are a number of techniques that can help you achieve this. Let's take a look at some of the most effective strategies for improving your ROAS.
Optimize Your Landing Pages
It's all good and well creating an effective advertising strategy, but if your website or landing page falls short then it is a waste of time directing traffic there. Take this opportunity to optimize your landing pages in order to improve the user experience and increase those all-important conversions.
Take an objective look at your site from the point of view of a visitor. Is it easy to read and navigate? Is your content informative and engaging? Is your messaging clear? Is it in line with the content used on your ads? For example, if you are advertising a specific discount or offer in your ad campaign, is it easy for a user to find relevant information on your landing page?
You might also consider doing some A/B testing to help you optimise your content and increase your conversion rates.
Refine Your Keyword Targeting
Another great strategy for improving your ROAS is taking a look at your use of keywords. This is especially helpful if you have not updated your site or landing pages in a while. Do your keywords correspond to your products or services? Are you using the right long-tail keywords to attract high-quality traffic that's more likely to convert? If you are using PLAs (product listing ads), are your product descriptions relevant and specific?
You might consider using keyword discovery tools to identify high-ranking keywords that may have been missed by your competitors. This will help you stand out from the crowd and get more clicks at a lower cost.
Use Conversion Rate Optimization (CRO) Strategies
The final strategy for improving ROAS that we will look at here is using conversion rate optimization (CRO) strategies. If you're not familiar with CRO strategies, essentially it means using specific strategies focused on optimizing the path of conversion.
For example, you might notice that 30% of visitors to your site abandon their shopping cart before checking out. Your job is to work out why they are not completing the buyer journey and making a purchase from you. Is your checkout process user friendly? Do you offer enough customer support?
This can have a huge impact on your ROAS as the more visitors you are able to convert into customers, the higher your ROAS will be and the more potential revenue you will capture, and this is the ultimate purpose of tracking and analyzing your ROAS.