By Jorge Vergara, on 8 July 2021
Google Data Studio is a very useful tool that can be especially helpful when it comes to your marketing strategy. It converts data into reports simply and quickly and can display it in a way that is very visual and easy to understand.
If you haven't heard of Google Data Studio or don't fully understand how it works, we'll explain everything you need to know, including how to create a report step by step.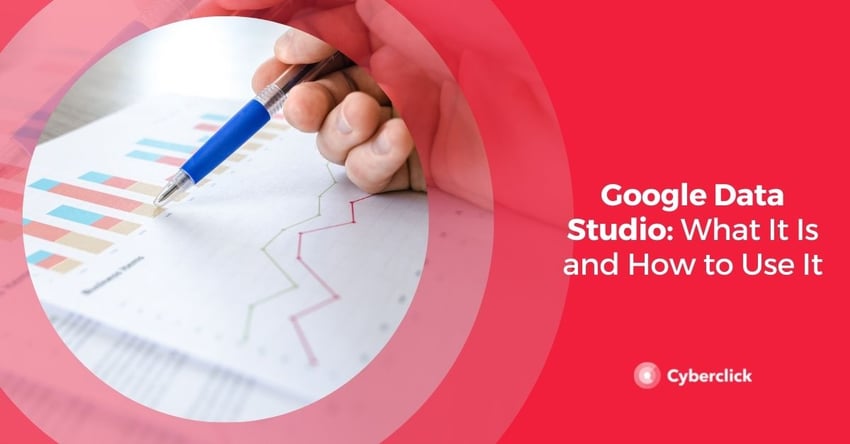 What Is Google Data Studio?
Google Data Studio is a free tool from Google that gathers data into reports. It automatically downloads all the data from Google's marketing tools, such as Google Analytics, and then creates a report. Comprehensive reports can be produced in just a few clicks and can then be shared with your team, your clients, or any other interested parties.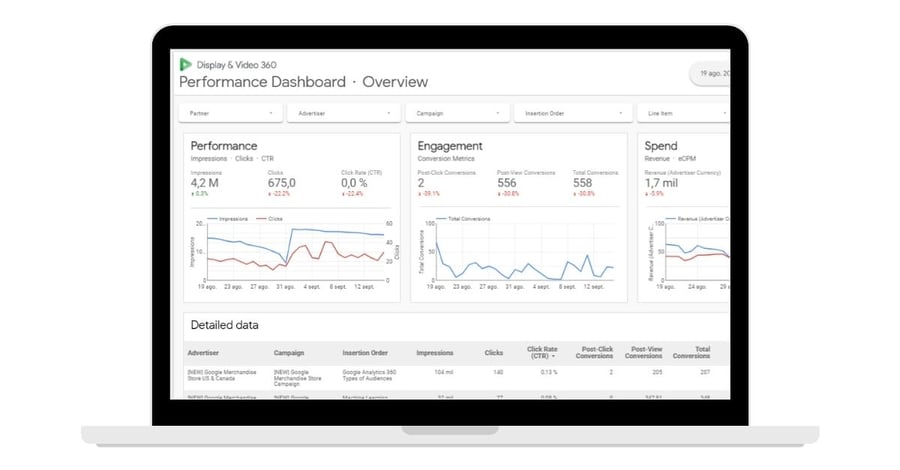 What Is Google Data Studio For?
Google Data Studio is very useful to anyone who uses Google Analytics or other data capture programs, such as AdWords or Search Console. Not only can it create reports, but also these reports are fully customizable and you can add various materials to them, like a company's logo.

Google Data Studio can connect with Google Marketing Platform tools, such as Google Ads and Analytics and Google consumer products, such as spreadsheets, YouTube and Search Console. It can also connect to databases, such as BigQuery, MySQL and PostgreSQL, as well as other sources like Facebook Ads, LinkedIn and Twitter Ads.

It's also worth noting that reports generated through Google Data Studio are stored in Google Drive, making them much easier to save and share.
Advantages and Disadvantages of Google Data Studio
Let's start with the positive points:
It is a totally free tool, so it is not necessary to make an economic investment to implement it as part of a marketing strategy.

All reports can be customized. Any type of resource can be added, such as graphs, tables, logos, images, fonts, etc. to make the report look attractive and to integrate it with your brand.

Unlimited data can be included, allowing for comprehensive reporting and analysis.

As mentioned earlier, data from different sources can be included and all your brand's channels/platforms can be included.

Notes and comments can be added to all reports.

The reports are saved in Google Drive.

It is a very intuitive and easy to use program.
That said, there are a few aspects that could be improved:
If you want to extract data from external sources, you'll need to use payment connectors.

When very complex custom fields are created, the tool may become unable to parse the data.

The option to send data periodically is not yet available.
Despite these issues, Google Data Studio is really worth incorporating into your marketing strategies.
How Does Data Studio Work?
In order to use Google Data Studio you need to register. Once this is done, you can create reports through its interface, which is very intuitive. You'll also need to connect this tool with the ones that will serve as data sources (Google Analytics, Google Ads, Search Console or Facebook Ads, etc.). Without this connection it is not possible to create reports, since Google Data Studio needs to extract the information from one place. Once this step is done, the only thing left to do is to create.
Gallery of Templates
The quickest and easiest way to begin using Google Data Studio is with the gallery of predefined templates. By using these templates, you can extract information immediately. To start, just click on the one you are interested in. Each of them will show data in different way, but can be customized to suit your we need.
Connect Your Data to Data Studio With More Than 800 Sources
Google Data Studio is able to extract data from more than 800 sources through connectors, which are free as long as they are created by Google (community connectors often come at a fee).To create reports, just select the sources of information to be used.
Explore New Ways to Visualize Your Data
One of the features of Data Studio is the option to combine data from different sources within a single chart, making it much easier to compare or combine data. You can even combine several charts and choose what to display and how to display it.

To access all aspects of this tool, just go to the home page. It is very visual and intuitive, so it is easy to use and access all the options.
Creating a Report Step by Step
Creating a report with Google Data Studio is very simple. Here's how you can do it in just 5 steps.
Log in to Google Data Studio. Before entering the platform, you will need to log in to your Google account to link it with Data Studio. You'll also need to accept the terms of use.

To create a custom report, you have two options. You can create it from a blank sheet or from a template. The latter option is the easiest and quickest, and allows you to make modifications.

Establish the data sources. In order to create a report, you need data so you will need to select the sources you want to extract the information from. Before the data is added, Google Data Studio will ask you for access to that application. You will also be able to choose between different display options like tables, graphs, bars, etc.

Configure the display. You can choose the qualitative values and metrics and add filters to highlight the information you want to work on or that you find useful or interesting.

Share the report. The reports you have created can be shared with your team, clients, or anyone really. They are saved in Google Drive so you just need to give access. You can also choose which reports each person or team can see, so you decide what data they have access to.
Google Data Studio is extremely useful in any marketing strategy. We encourage you to start using this tool if the process of creating reports has become increasingly cumbersome and complicated. It will save you and your team time that can then be dedicated to other important parts of your business and marketing strategies.