By Berta Ventura, on 24 September 2021
Have you used Pinterest Ads? Although it may not be the most talked about social network in digital marketing, the truth is that Pinterest offers very interesting possibilities and its ads can help you achieve your marketing objectives.
That said, let's examine 5 real-life success stories that show everything you can achieve with Pinterest.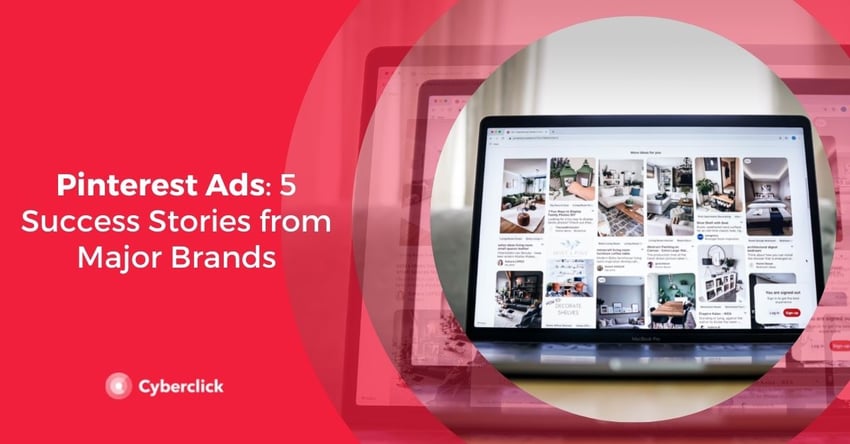 5 Pinterest Ads Success Stories
The Häagen-Dazs Spirits collection adds something new to the traditional ice cream concept, as the flavors are designed to be combined with alcoholic beverages. For the summer season, the brand wanted to introduce this new range of products to ice cream lovers.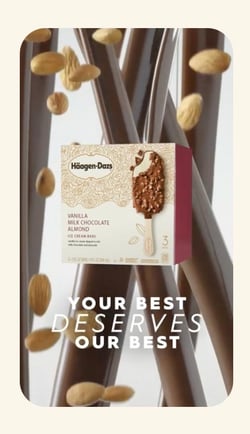 To increase brand awareness and drive sales, Häagen-Dazs used a combination of interest-based and keyword-based targeting. The former shows ads in users' home feeds based on their hobbies and tastes, while the latter shows them to people who have searched for specific terms and are ready to take action.

By combining these two types of targeting, Häagen-Dazs connected with an audience potentially interested in its products and already searching for ice cream-related content on Pinterest.

This Pinterest Ads campaign succeeded in increasing sales of Häagen-Dazs by 3% and doubling the advertising return. Following this success, the marketing team has updated the communication strategy for its upcoming product launches.
Samsung leveraged Pinterest Ads capabilities to launch its new washing machines with a strategic combination of video formats to increase awareness and drive sales.

The campaign was implemented in two phases. The first used full-screen video pins, which are four times larger than standard pins. This helped the brand reach a relevant audience, based on search topics such as interior decoration, thereby increasing product awareness.

The second phase focused on publishing four videos in standard format, each 10 seconds long, with the goal of driving qualified traffic to the site.

The videos allowed Samsung to add a more creative touch to their strategy, while targeting an audience with clear purchase intent. The results speak for themselves: the average play rate was 40%, there was a 25% increase in awareness, and a 23% increase in purchase intent.
La Mer is a well-known brand of skincare products inspired by marine ingredients. Their goal was to be the first UK brand to launch a segmented sample campaign on Pinterest Ads, in order to acquire new customers and increase the number of reviews on their website.

The campaign used full-screen videos to showcase the benefits of the 5 textures of their moisturizers and help customers understand which one was best suited to their needs. The videos were aligned with everyday and seasonal themes to be more relevant.

The campaign performed well at different stages of the conversion funnel. Reviews on the website doubled, demonstrating that the campaign helped improve awareness and sales. In addition, the campaign got 4 times more interactions than the Pinterest average.
Structube is a Canadian furniture brand that already had previous experience with Pinterest Ads, as they had set up a permanent keyword-targeted campaign. They then decided to include shopping ads to help incentivize conversions and drive more users to buy.
To save time and effort, Structube uploaded its product catalog to Pinterest. The platform transformed this catalog into ads with text and images, saving the brand the work of designing creative from scratch.

Structube also adapted its ads to match the behavior of Pinterest users. They knew that people are looking for inspiration to decorate their home room by room, so they configured the campaigns to match the keywords searched by users. In addition, their ads featured both individual products and entire rooms, so users could imagine how Structube furniture would look in their homes.

The campaign was a success, as the return on advertising spend was double the industry average in Canada.
Scotch & Soda is a fashion brand from Amsterdam whose collections for men, women, and children are characterized by their creativity.

Since fashion is a very relevant category of interest for Pinterest users, this platform was ideal for Scotch & Soda. Moreover, since this network focuses on discovery, it was a perfect fit with the brand's values of individuality and self-expression.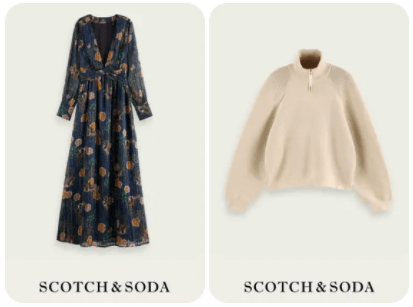 Scotch & Soda decided to launch a performance-focused Pinterest Ads campaign with the collaboration of Smartly.io (their creative and media automation partner) and Wavemaker Greenhouse (their performance agency). They wanted to find out if ads on Pinterest could generate revenue and if they had more effect at the top or bottom of the funnel.

The campaign relied primarily on shopping ads, as these allowed them to better tap into the "moment of purchase" and helped Scotch & Soda appear in related searches, which helped increase conversions.

The shopping ads were combined with image templates, which helped the pins stand out. The campaign was segmented across interests and similar audiences to reach fashion-conscious users.

The results were a success: 800,000 users were reached and the return on ad spend was 7 times higher than in previous campaigns.