By Cyberclick Team, on 22 November 2017
Black Friday and Cyber Monday bring with them a wave of consumerism.
For shoppers, it's an early christmas treat. The shopping craze days have grown as customers share their experiences on social media.
For marketers, these days pose digital marketing opportunities that you wouldn't want to miss. Black Friday and Cyber Monday are discount days brought to us by the United States, celebrated every last Friday of November. Really, it's the retail world waking you up for Christmas, making sure you don't forget to buy all their lovely products for your family, your friends, and probably even your friends of friends too.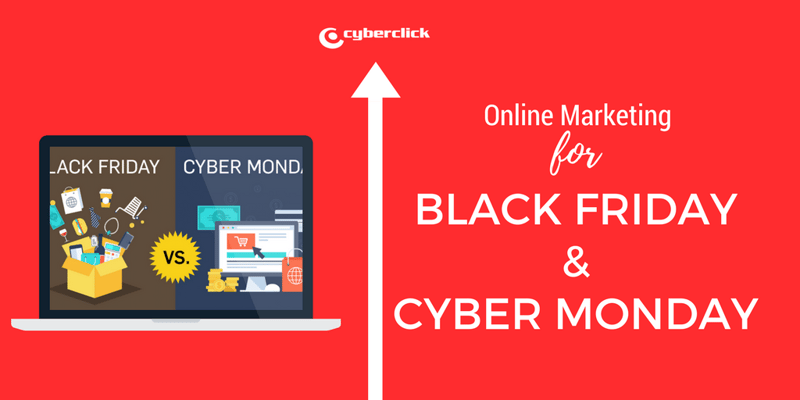 The behavioral science behind Black Friday and Cyber Monday
Consumers have become increasingly predictive and take advantage of days like Black Friday. It seems consumers are getting better at saving their appetite for the juicy discounts each year. They will already be getting geared up, preparing for the pre–Christmas buying frenzy as businesses slash prices for at least 24 hours. Since 2010 when the day's first came to the UK, all the big names have come on board and have already started marketing some eye–catching bargains.
Where do marketing and ad dollar investments go for Black Friday:
Email Marketing (92.3%)

Social networks – Paid Media (84.6%)

Mobile display (71.8%)

Display and links (69.2%)

Search Marketing (59%)

Mobile apps ( 20.5%)

Video Marketing (17.9%)
The mediums for which campaign investment is rising fastest include:
Social Networks – Paid Media (33,3%)

Email marketing (25,6%)

Display and links (23,1%)

Search marketing (20,5%)

Mobile Apps (17,9%)

Mobile Display (12,8%)

Video marketing (5,1%)
Cyber Monday was held for the first time in the UK in 2010 and brought to us by Amazon. Although at first the sales were not too scandalous, it has seen improving results years after year. Consumers previously fearing ecommerce, have cozied up to the idea of shopping online.
Digital shopping platforms and Ecommerces have improved their digital presence and payment methods. In addition, millennials and generation Z have standardized digital consumption. Just last year 70% of online stores offered sales played along making special offers, and it is expected that in 2017 the number of participating firms will rise again.

Digital Marketing for Black Friday and Cyber Monday
Here are a few ideas to get more out of your online marketing this Black Friday:
Launch those email marketing campaigns. Get your mailing list ready for the fantastic discounts awaiting them. To achieve maximum effectiveness, get the most important message across right from the start, personalize the message for different types of customer and make sure you schedule your email marketing for peak hours.
Don't remove your landing page after the Cyber Monday. If you create a permanent landing page for Black Friday, you'll accumulate SEO throughout the year and be in the top positions during the key dates. Do however make sure the content is relevant at all times.
Take advantage of the power of social networks. According to a study conducted in 2015, that year there were no less than 3.8 million of social publications mentioning Black Friday and Cyber Monday. So make sure your online marketing plan includes options for joining the social media conversation.
Make sure you've got a reviews/recommendations program in place. According to Nielsen, reviews and recommendations are the best form of digital advertising for generating user confidence. If you coordinate your recommendations programs so that they are more active during Black Friday and the Cyber Monday, you will give an extra boost to your promotions.
Add a countdown. Putting a well visible countdown on your product pages is a simple and highly efficient way to get more conversions. You can use a countdown to announce when the offer will begin and another to indicate when it will end.
Take advantage of cross-selling opportunities. Black Friday and Cyber Monday are bargain hunting days, so take advantage to create packs of related products at a reduced price.
Video Ads. Make use of small advertising videos in your campaigns. They create a better connection with your audience, and people are more likely watch the whole thing.Instagram is gaining a lot of power and will help you reach younger audience who consume more frequently. Try out instagram stories for example.
Organic. Not all marketing actions must be advertisements. Organic actions are essential through social networks, blog, communities and the brand network. It's important to disseminate our campaign contents making precise decisions for messages, keywords, quality images, as well as taking advantage of the apps and complementary tools offered by each platform. Most importantly, whatever you do, make it creative and keep it authentic. Always keeping in mind to create excellent content that will attract our followers on Black Friday and Cyber Monday.
Diversify your promotions. Apply different promotions for different products. You can even make discounts dependent on whether consumers are registered customers or not. Let's take clothing ecommerce as an example. You could give registered and returning customers up to 50% off selected garments and 30% off further garments. On the other hand you can give new and guest customers the same garments for only 20% off.
Know your Audience: your campaign audience is Black Friday and Cyber Monday specific
Discounts and coupons are applicable for all generations, but it is interesting to consider a few factors when developing our online marketing strategy.
A few stats provided by the Connected Consumer goods report (2016) created by SalesForce:
Given that prices are the same in the physical and online store: 63% of Baby Boomers (more than 55 years) prefer to shop at the physical store, Generation X is fifty-fifty and, and only 40% of millennials prefer in-store purchases.

78% of the Millennial generation (less than 35 years) use online reviews and comments as a preferred source of product information. In general, 69% of adult consumers have used online reviews as a reference point. Having positive brand feedback both in third party forums as well as on your own site is increasingly essential.

Millennials will make up 75% of the world's workforce in the year 2025, they are critical and demanding and 86% say that they would switch brands based on a bad customer experience. This implies- dedication to customer service: before, during and after the purchase if we want to build loyalty.
Black Friday and Cyber Monday Campaign Examples
Whether you need inspiration for your online marketing techniques or are interested in seeing different brands hyping up the buying frenzy, here a few selected examples:
MediaMarkt launched a campaign in both its physical and online stores, that included a landing page with an active count-down that has been on for more than a month.
Amazon is using the flash sales technique to promote Black Friday with "offers of the day" in a wide range of products.
And finally, PcComponentes has hit us all off guard with a full on "Black Week", with discounts on specific product types for each day of the week. But of course, they are saving the best deals for last and are getting customers ready for Black Friday.
With this article we leave you with the next steps for improving your own digital marketing campaigns just in the nick of time for Black Friday and Cyber Monday.