Social Ads have quickly become a highly effective method for making conversions. And in 2020, businesses have no excuse for not using social ads.
The benefits of social media marketing far outweigh any of the disadvantages. Social ads are highly targeted, linked to your company's profile, and can be used to satisfy a variety of different marketing goals, like generating brand recognition or increasing sales.
Perhaps you or your company are interested in advertising on these platforms or, perhaps, you still have doubts regarding whether or not you actually need to? Either way, keep on reading to learn about the benefits of social media marketing!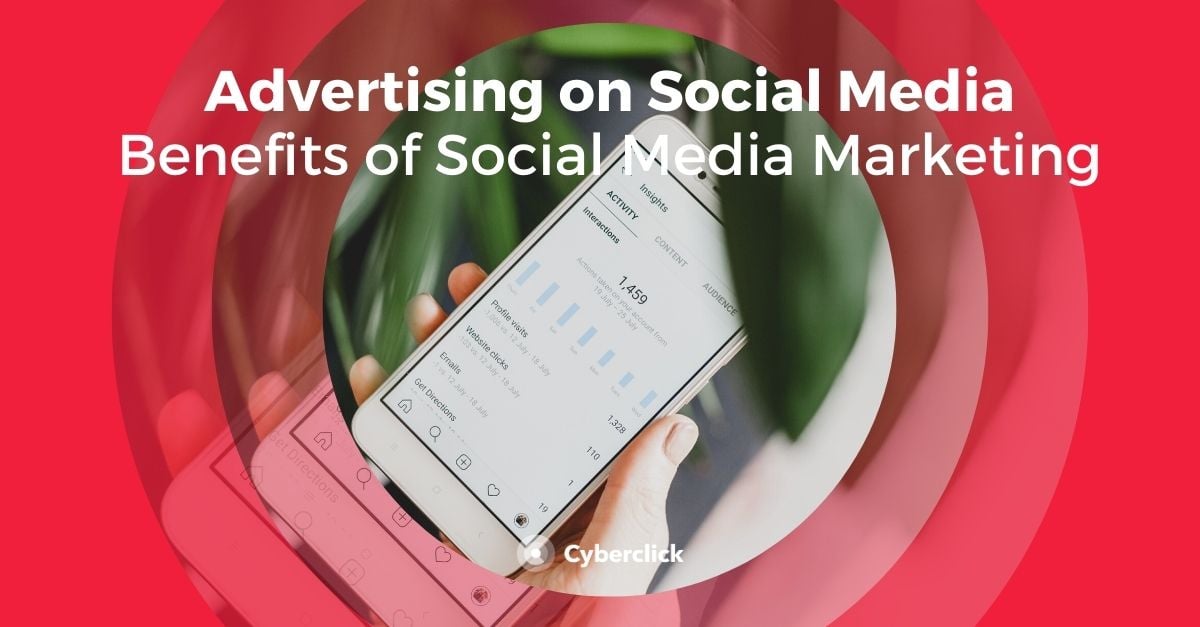 What are Social Ads?
A Social Ad is an advertisement that is found on a social media platform or network. Generally speaking, they contain a title, a description, and are accompanied by some sort of multimedia element (a picture, video, clickable product item, etc…). Effective social media ads contain also contain a "call to action" which grabs a user's attention and invites them to interact with the ad, business, product, or service.
Depending on the social media platform in which an ad is posted, a Social Ad can be published in many different formats. Even though there are many different ways to create an ad, social media advertising isn't too different than ads found on search engines, like Google Ads. The primary differences is that social media marketing can be much more targeted, is more visually dynamic, and can be done on a variety of different platforms with different methods and tactics for each.
9 Benefits of Social Media Advertising
The number of business and entrepreneurs who implement a social media marketing strategy rises every year. However, there are still some companies who resist. This is more than likely due to the fact that these business don't realize the advantages of Social Ads. Some of the most relevant reasons to invest in social marketing include:
Price.

The cost of social ads is relatively low in comparison to other advertising methods. You can also set your budget to be as low or high as you want. This means a portion of your budget could go towards social ads without blowing a hole in your wallet.

Reach.

Advertising on social medias allows you to reach a

lot

of people. This also means you can reach a large number of potential clients, thus increasing your conversion rate.

Segmentation.

Social Ads, in respect to other mediums, allows you access to highly targeted audiences. This means if you are selling a very specific product or service, you can advertise to specific users with predetermined characteristics, such as sex, age, socioeconomic situation, language, usage of a specific website, or interests and hobbies. These are just some of the variables which allow you to accurately identify your target audience. You can then combine these characteristics to get even more specific.

Brand Visibility. Let's be real, the entire world is on social media. If a business utilizes social media to advertise, their brand awareness and overall market visibility will increase considerably.
User experience and loyalty. Social media ads allow you connect with your followers and potential customers in a new medium. By creating new content or targeted discounts and offerings, you can create a positive customer experience on an entirely new platform.

Additionally, a company can create a dedicated customer service account, thus bettering the public's corporate image of the brand and making themselves more available to their customers and potential customers who have questions.

Brand Recognition

:

T

hanks to the large number of users on social media, social media advertising is a great way to get users familiar with your brand and offerings

. This can be especially useful for ecommerce, as they can use Product Catalog ads to display their products to social users.
Connectivity

:

T

his type of tool lets a company create a channel designated specifically for customer interaction, thus allowing clients to feel a sense of connection with a business. In this way, social ads can help a business strengthen the bond between clients, and/or establish new ties within the target company.

Increase sales, signups and/or leads: W

hether in the form of sales, website signups and/or leads,

Social Ads is another ideal method for getting conversions. If a user is given what they're looking for, and they choose the right call to action, it's quite the effective method!

Creation and knowledge of the target audience: A

nother advantage which Social Ads offers is in relation to understanding the current target audience and the creation of new target audiences. Social medias allow us to segment ads as much as possible so that they are explicitly seen by the desired (potential) clients. This same trait also allows us to establish new audience details not yet tested (which could end up being interesting segments for the company in the future).
Most Popular Social Media Marketing Platforms
Even if you already are familiar with paid ads on social media, the way in which an ad is publicized greatly depends on the social network you select for a campaign. We will now delve into the most popular social media marketing platforms:
Facebook:

advertising on Facebook allows you to reach a large community of online users. Right now, there are approximately 1.5

billion

active Facebook profiles. Although the basic requirements are just a title and the ad itself, the possibilities are endless. You can post to your webpage or Facebook page. You can post on Facebook, Instagram, Facebook Messenger or in third party apps/websites. There are various types of ads which exist depending on the objectives your company has. It can also establish different metrics for measuring the efficiency of campaigns (i.e. clicks, interactions, conversions, sales, etc.)

Instagram:

Instagram ads are actually quite simple, since it is owned by Facebook. Ads on Facebook can be easily adapted and shared to Instagram, all from the same advertising platform. Each ad is clearly labeled as an "Sponsored" in order to tell users that a given post is part of paid advertising. At the same time, the option of clicking on "Learn More" is plainly visible as well. By tapping on this call to action, you can directly access the advertiser's website. A company that advertises on Instagram can also make ads visible to certain audiences based on the accounts they follow on social medias, in relation to a device's search history, or based on "likes" given to a Facebook page. At the moment, there are around 600 million Instagram users.

TikTok: TikTok is the new kid on the block in the social media world, but its a forced to be reckoned with, especially if your target audience is Gen Z. With over 500 million active users each month, TikTok is a great social ads option. Because advertising on the platform is still relatively new, the only self-service style ads are biddable ads. However, if you have the budget, you can work with a TikTok Account Manager to do other advertisements, including Brand Takeovers, official Hashtag Challenges, Branded Lenses, and more.
LinkedIn:

LinkedIn offers the ability to publish ads (either text or multimedia) and/or to disseminate promotional content/news. In order to reach the target audience that you

want

your ad to reach, naturally, a solid title is crucial here as well. Additionally, you can also indicate if you want users to visit your business's website or even your business's LinkedIn profile.

Twitter:

Businesses take advantage of advertising on Twitter in order to help extend the reach of a their tweets and to get better 'tweet interaction'. Companies which use Twitter pay using a system called "cost per interaction" (CPI). This means that you are only billed if/when a user effectively interacts with a tweet; e.g. a share, a RT, a favorite, etc. Within this social network exists many different types of campaigns according to the objectives a business wishes to accomplish.
Differences between Search Engine Ads and Social Ads
Micro-segmentations

: social media users connect with any given number of people, posts and businesses each day. Those specific connections create micro-segmentations which can allow you to launch advertising campaigns based on these concrete actions. This is done in order to achieve a more effective reach.

Organic diffusion: Social Ads

are more likely to allow more actions than conventional online advertising platforms. In fact, not only can you click on something, you can also "like" or "share" something with your own personal network. These "likes" and "shares" can mean the organic diffusion of an ad without costing the advertiser anything.

Familiarity:

the format of Social Ads, for example, allows a user to be told that one of their contacts has liked their post. With this method, click rates increase and readers will consider an ad to be less intrusive.
Now that you have acquired a theoretical baseline, we encourage you to take the plunge and create your own social ads campaign! And if you've already done so, make sure to put into practice the above advise so that you can increase your conversion rate as well!