By Laia Cardona, on 25 April 2023
Back in 2020, BeReal burst onto the scene with a mission to restore the naturalness and authenticity that social networks seemed to have lost. But, as expected, when competition arises, the leader takes action. In the case of Instagram, they rolled out Candid Stories, their own take on BeReal, to inject more spontaneity and fun into the platform. In this article, we'll dive into what Candid Stories is all about and how it can benefit your content creation strategy.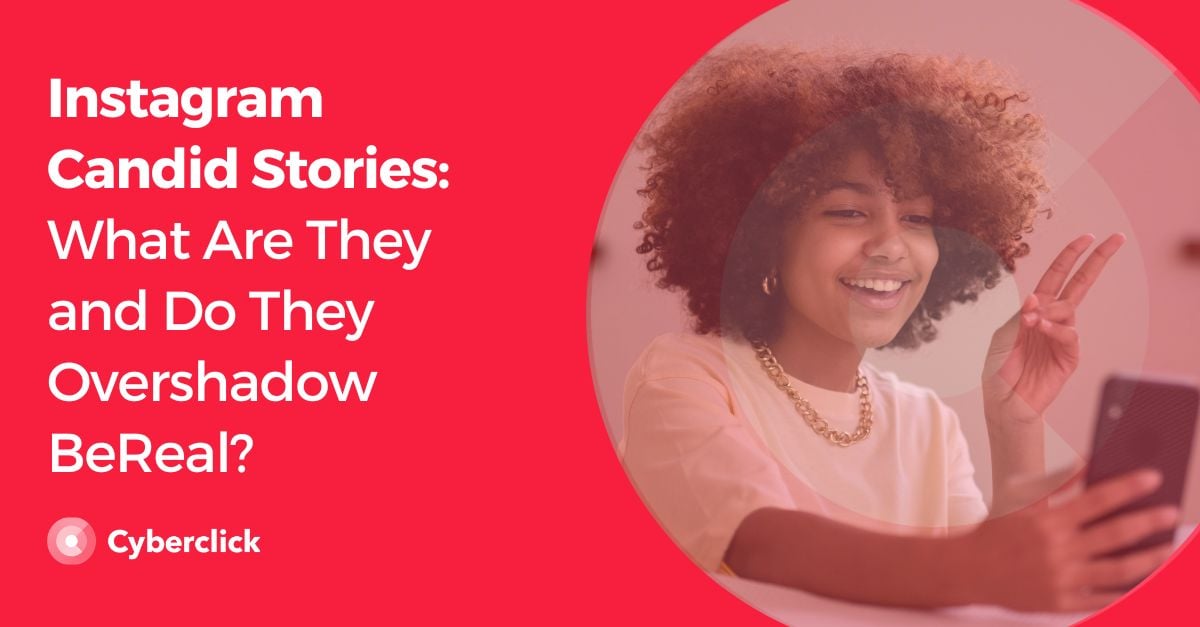 What Is BeReal?
BeReal is a unique social network that promotes truthfulness and authenticity in content creation. Unlike other platforms, BeReal prohibits any type of photo editing, aiming to keep content as genuine as possible. The platform has its own distinct dynamics: it alerts users when they can upload photos during the day, and users are required to take the photos in the moment using the platform itself, without the option to upload from saved files. This ensures that the content uploaded is truly representative of reality. Additionally, there is a specific time window for uploading content, after which users will have to wait for the next opportunity.
One of the original features of BeReal is that it allows users to combine images captured simultaneously from both the front and rear cameras, resulting in a more comprehensive composition. This adds a unique element to the content creation process on BeReal, setting it apart from other social networks.
What Is Candid Stories?
Candid Stories on Instagram is very similar to what we just explained about BeReal. It allows users to spontaneously publish photos with the same characteristics, just like on BeReal. Similarly, if you ignore the notification to upload content, you won't be able to view other people's publications.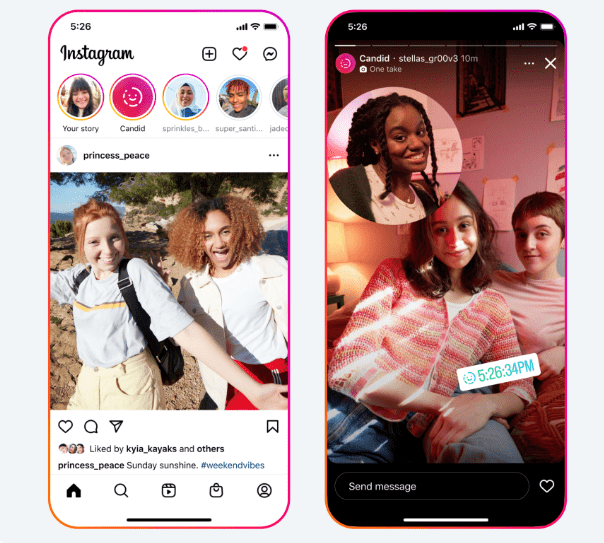 Candid Stories can be found in the Stories section of Instagram, although it is currently only active in certain locations and not yet available to all users. However, Instagram is actively working towards making it gradually accessible to everyone.
Furthermore, Instagram provides an option for users to deactivate this feature from the "Settings" section, allowing them to continue using the social network with the same features as before. This way, they won't receive notifications to upload Candid Stories on their device.
How to Use Candid Stories as a Brand or Content Creator
Due to its inherent nature, Candid Stories offers an intriguing option to connect with your followers and showcase your authentic, human side. While there's nothing inherently wrong with using retouching and editing in moderation, many users are growing weary of the artificial dynamics that some companies and creators exhibit on social media. Candid Stories serves as the perfect tool to add a touch of reality to your content.
How can you use Candid Stories effectively? You can share images that capture the day-to-day moments of your company, featuring team members in their respective roles. You can also offer a behind-the-scenes glimpse of a photo shoot, for example.
Candid Stories is not about creating promotional content, but rather genuine content that fosters engagement with your account. It's an opportunity to connect with your audience on a more personal level and cultivate a more authentic relationship.
Instagram's 3 Other New Features for 2023
Notes
Instagram has introduced a new functionality called Notes, which resembles Twitter's style. With Notes, users can publish content of up to 60 characters that includes only text and emojis. This content appears at the top of the inbox for 24 hours, similar to Stories, and can be accessed and replied to via direct messages (DMs) by followers or friends who have been granted access.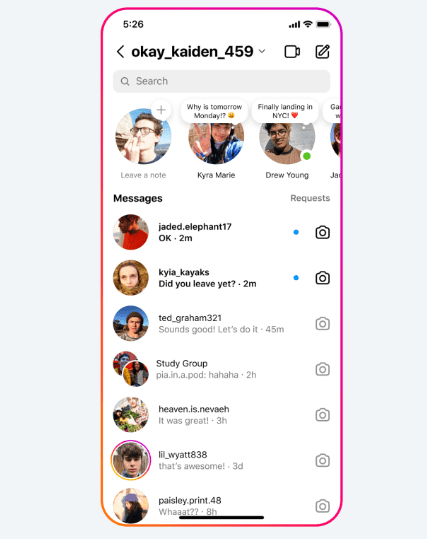 Meta, the parent company of Instagram, has stated that the Notes functionality is intended to foster more spontaneous and informal connections among users. It provides a way for people to connect and share brief, expressive messages in a more immediate and authentic manner on the platform.
Group Features
Group Chats, which is similar to WhatsApp groups, allows different profiles to communicate with each other via direct messages (DMs) and share information. Building on this concept, Instagram has also created "group profiles", resembling Facebook groups, where users can share posts and stories exclusively with members who have joined these profiles. This means that when users share content through group profiles, it will be visible only to the members of the group and not to the user's followers, thus appearing on the group's profile rather than the user's individual profile.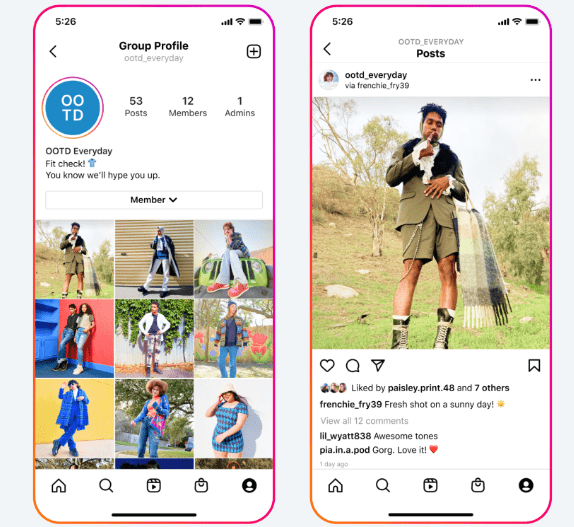 In addition to group profiles, Instagram is also working on another feature called Collaborative Collections. This functionality enables users to save posts and organize them in a collaborative folder, allowing them to share their interests with others. This feature aims to facilitate collective curation and sharing of content among users with similar interests or tastes, enhancing collaboration and engagement within the Instagram community.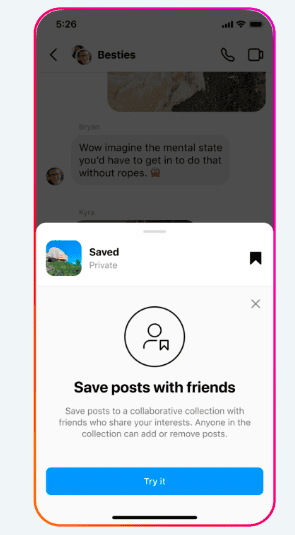 Add Yours Update
Instagram has also added a new feature to the "Add Yours" tool, which allows users to create a thread of related stories based on an initial image. It may be more familiar to you if I call it the "Now you" or "Your turn" sticker. This new feature would allow users to invite friends to participate in the thread, encouraging more content creation and sharing of day-to-day experiences. Similar to Candid Stories and the other new features mentioned earlier, these updates will gradually roll out to users worldwide, so if it hasn't reached your device yet, it's just a matter of time.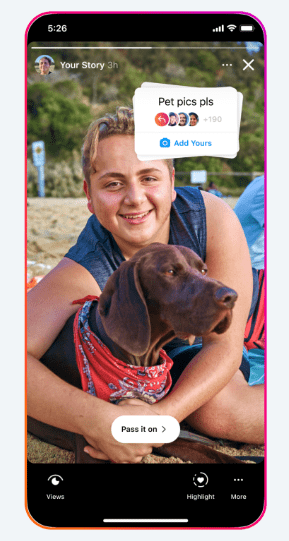 As Meta has stated, the goal behind these new features is to help users feel closer to each other. Whether they will succeed remains to be seen, but it's clear that Instagram is continuously working on improving the platform and providing new ways for users to connect, engage, and share their stories with each other.