By Laia Cardona, on 1 August 2023
If you work in virtually any company, you know that switching between different applications and software is common when working on a project. This can be time-consuming and lead to errors on different platforms. That's why we want to discuss how integrations, specifically in HubSpot, can help you streamline these processes to avoid mistakes and boost your marketing and sales efforts.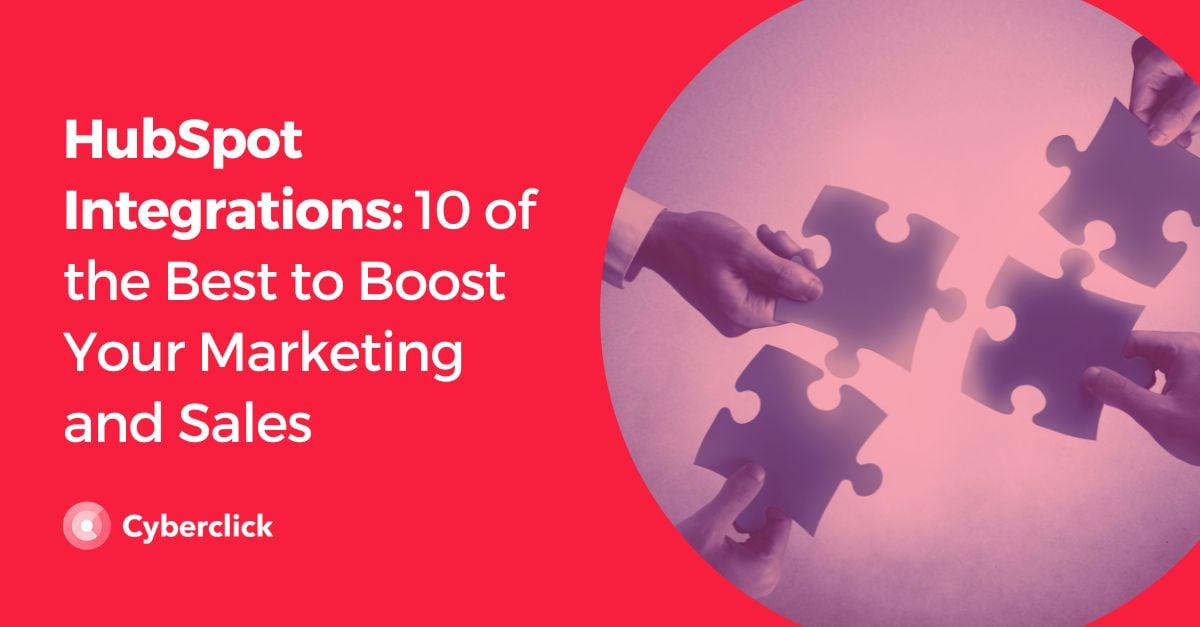 What Are Integrations?
Integrations are features that can be found in platforms such as HubSpot and serve to connect the software with other external applications. This makes it possible to share information in real time so that you can pass information from one application to another in a single click.
Integrations eliminate the need to move between different applications by concentrating all the necessary information in a single tool.
Why Are Integrations Useful?
Being equipped with CRM software that has integration functions will allow the system to grow along with your company and adapt to your new needs.
Integrations allow you to automate processes, improving team efficiency and workflow by making it easier for everyone to access the information they need.
Improved data accuracy by storing all your data in a single place.
Improved customer experience by making it easier for your to provide personalized service.
Does Your Business Need Integrations?
Even if you already know about integrations and their benefits, you may wonder if your business needs to implement integrations because of its size or the industry you work in. Integrations are very useful for all types of companies. They have different purposes so they can offer all kinds of advantages. For more information on how they can be of use to your brand, get in touch with a marketing agency or digital consultancy and find out how integrations can best serve you.
How to Implement HubSpot Integrations
HubSpot CRM has different service packages you can choose according to your business needs. If you are interested in integrations, Operations Hub is very useful. It comes in different packages so that you can find the one that best suits you.
Starter version: from $49 per month.
Pro version: from $199 per month.
Enterprise version: for $599 per month.
With this, you can access the HubSpot integrations marketplace, where you can explore all the integrations the system allows, learn about its features, and install the features that interest you the most.
Top 10 HubSpot Integrations for Your Business
HubSpot offers a wide range of integrations with other popular tools and applications. These can help you streamline your processes, improve efficiency, and get more out of your HubSpot software.
1. WordPress
WordPress falls under lead generation integrations, which help convert early-stage prospects into satisfied customers. All the information about your leads will be automatically synchronized with HubSpot so you can access it, regardless of the stage the customer is in.
If you have WordPress, this integration will help you align your website with your contacts' data and your HubSpot goals.
2. Shopify
In ecommerce, one of the most demanded integrations is with Shopify. This type of integration will help you understand how your customers and visitors navigate through your ecommerce. For example, by activating HubSpot integrations you will know when your customers abandon their shopping carts. Based on this information you can create a powerful strategy to win them back.
The integration with Shopify allows you to connect all your ecommerce data within HubSpot and automatically synchronize information.
3. Zapier
Let's look at connector integrations that allow you to connect and sync HubSpot with a wide range of apps and customize your integrations. Zapier, which is available within HubSpot integrations, allows you to connect more than 1,000 apps.
4. Slack
Slack is one of the most widely used internal communication tools, creating an easy, intuitive, and affordable workspace for any company. Remote organizations widely use it to allow teams to coordinate and collaborate from anywhere in the world and connect with their customers (if they are B2B companies).
HubSpot allows you to integrate it so that communication can be more fluid and simplified.
5. Salesforce
Another type of integration that HubSpot offers is sales integration. These are designed to unify your sales applications so that all support, marketing, and sales details are centralized and can be easily accessed by all team members.
If your company uses Salesforce, HubSpot allows you to integrate it so that all your data is automatically synchronized and fed into the platform's database. By doing this, you will be able to get valuable information about sales opportunities as well as revenue reports.
6. Facebook Ads
You can also implement advertising integrations to better reach your target audience and boost your campaigns. All the data you get from your ads or leads is automatically added to the HubSpot CRM. This will help you get more data about the people who interact with your campaigns to make it easier for you to convert them into customers.
Facebook Ads is one of the most widely used advertising tools, and now you can integrate it into HubSpot and review how your ads affect your results in real-time.
You can also integrate Facebook, since understanding your followers is part of creating a successful marketing strategy. You can schedule posts in advance from the CRM, so it's a great ally in network management.
7. Gmail
Marketing teams spend a lot of their time checking their emails and communicating with colleagues and customers. Integrating Gmail into HubSpot will allow you to log all messages, access productivity tools (including sequences and templates), and view CRM contact details without leaving your inbox.
In addition to Gmail, you can integrate Outlook, and Microsoft email.
8. Zendesk
Zendesk is a sales and customer service tool. Integrating gives you the opportunity to gather valuable customer information to help you plan future sales. In addition, you can synchronize both platforms and stay updated on the needs of your customers and prospects.
9. Eventbrite
This is one of the world's largest sales and event management tools. It allows you to create and manage events, sell tickets, and track attendees. HubSpot's integration with Eventbrite will enable you to synchronize your Eventbrite data with HubSpot.
10. MailChimp
Last but not least on our list of the top 10 best HubSpot integrations for your business is MailChimp. Suppose you want to synchronize your data between platforms, create email campaigns from HubSpot, and see any possible synchronization errors (with the smart handling feature, you will continue to attract contacts). In that case, the HubSpot-MailChimp union is a must for your business.
You can automatically include HubSpot contacts to your MailChimp email list, and vice versa, leaving behind any kind of manual integration.
Integrations with platforms like MailChimp are great for tracking lead interactions with sales reps, personalizing emails for your contacts (even if they are automated), and measuring the performance of your email campaigns.
We hope this resolved any questions you may have had about HubSpot and its integrations! Remember that no matter what your company is like, integrations improve your processes in multiple ways.