By David Tomas, on 29 October 2021
Brand trust is one of the factors that drives the public to buy a certain product or service from one company instead of another. Any marketing strategy related to the values of your brand can help you build trust.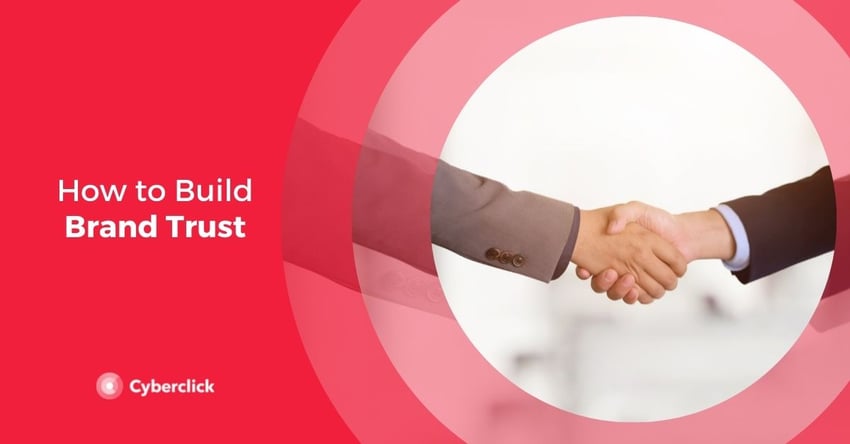 What Is Brand Trust?
Brand trust consists of communicating the certainty that the product or service that a customer purchases will meet his or her expectations from the very first moment.

To generate this trust it is necessary to do a good job of branding or brand building. It's necessary for your brand to be true to itself, true to its values, principles and image. You must also be open to all kinds of opinions, be honest, transparent, inclusive and respectful. In addition, it is important that the customer feels accompanied and listened to before, during, and after the purchase process.
Types of Brand Trust
There are different types of brand trust, though they are all compatible and can be combined. In fact, ideally, there should be a balance between all of them.
Functional Trust
This type of trust is generated by transmitting reliability and quality to the consumer through the product or service offered. The brand makes a promise and the customer sees it fulfilled through the product or service they have purchased.
Relational Trust
Relational trust is achieved through interactions. When there is a conversation between customer and company, the company must know how to communicate correctly and respectfully, respond to questions, and offer solutions. It must also be able to receive both positive and negative feedback and respond to both equally.
Trust for Value Contribution
More and more customers are concerned about the welfare of a company's employees and its impact on society. This is where you can build trust by providing value and offering more than just a good product or good customer service, and to be faithful to your social principles and values.
Why You Should Pay Attention to Brand Trust
Brand trust is one of the most important elements in branding, since it is what makes customers buy from you instead of from the competition. Through trust, a positive brand value is achieved, which is one of the main objectives of any marketing strategy.

To achieve a good brand trust, the following is important.
Take Care of Your Reputation Online
Nowadays, opinions can be published on different websites, forums, social networks, etc. As much as possible, you should always listen to the opinions that circulate online and respond, whether it is criticism or positive feedback. Respond in a respectful way and offer a solution if possible.
Ensure a Good Customer Experience
The Internet has made it so easy to get feedback from other customers that it is now more important than ever to make sure you provide a good experience in order to build a good reputation.
Achieve Recurring Purchases and Loyalty
When a customer trusts your brand, the probability that he or she will decide to buy from you again increases. In addition to the quality of the product or service purchased, there are other factors that influence that trust. This is why it is so important to take care of your online reputation and ensure that the customer experience is positive in every way.
Key Aspects of Brand Trust
In order to establish a solid relationship of trust with customers, it is very important to take into account the following key aspects.
Transparency
You have to be very honest with the audience and tell the truth both about the products or services you are offering and about the the company's values. Then the audience can feel free to choose whether or not what your company is offering fits them.

If you are not completely transparent, this can make the customer feel disappointed and generate negative opinions about your brand, which creates distrust. The aim is to achieve recurring purchases and loyalty, so a negative first impression can break the trust that you wanted to build and cause sales to plummet.
Honesty in Recognizing Failures
Every brand will have both positive and negative feedback, as it is practically impossible to make everything perfect for everyone. However, you shouldn't necessarily hide negative feedback. Respond to it politely, owning up to the mistake and providing a solution to the problem.
Defined Brand Values
In order to generate trust, the brand value must be very well defined. The company must always be true to its values and principles or it could convey an image of instability, insecurity, and inconsistency. In addition, the values must be conveyed across all communication channels.
How to Create Trust in Your Brand
One of the most frequent questions brands have is how to start establishing this relationship of trust with the public. These are the steps to follow.
Put the Customer at the Center of Your Strategy
It is necessary to offer products or services that can satisfy the needs of the public. It is very important that customers feel understood by the company and identify with it, as this is the best way to gain their trust.

This is closely related to transparency, since the best way to get to know the brand's target audience is to be transparent and define its clearly values.
Meet Expectations
Brands promise through their products or services an experience that will satisfy one or more customer needs. This means that the public will have expectations that must be met or exceeded.

In addition to offering a product or service that fulfills what was promised, there are other factors that can make or break a customer's expectations. These can include the brand being available to deal with any problem or incident, or providing personalized attention and treatment.
Create the Best Experience for Your Customer
A customer's experience with the brand must be good from the very first moment. This means that from the moment the user gets to know the brand through social networks, an advertisement, or any other channel, until they become a customer.

The easier everything is made for the user, the more satisfying the experience will be. On the other hand, when problems and complications arise, the user tends to break the relationship with the brand quickly. The best option in this case is to offer a solution that does not involve any additional complications for the user.
Communication With the Client Is Crucial
Any message that is directed at the target audience or to a particular customer must be carefully thought through regardless of the channel being used. Always think about what you want to say and how.

Always address your audience in a respectful manner, even when responding to negative criticism and always be consistent with your messages.
The Power of Social Validation Tools
Reviews, rankings and other types of tools can be very useful for the public to find out more about your brand and its products or services. They can give you a more realistic image of what the company is and what it offers.

When customers have questions about a product or service, they usually look for the answer in other customers' experiences. This means that consumer reviews are crucial when it comes to getting the word out about your brand and building trust
Conduct Customer Surveys
Customer feedback is very useful to know not just what a person's experience with a brand has been like, but also if they would trust it again. This is where surveys come in. Of course, the questions must be chosen very well and it is very important that the survey is not too long or the customer could decide not to fill it out.

In conclusion, although all these points can help improve brand trust, the best way to gain the public's trust is to be sincere and honest with them and to be true to your brand.