By Laia Cardona, on 11 March 2022
The popularity of Instagram stories has led Google to create its own version: Google Web Stories. Considering that a high percentage of users mostly watch stories on social networks, it is worth including them in content strategies to increase web traffic and SEO positioning. But what are web stories and how exactly do they work?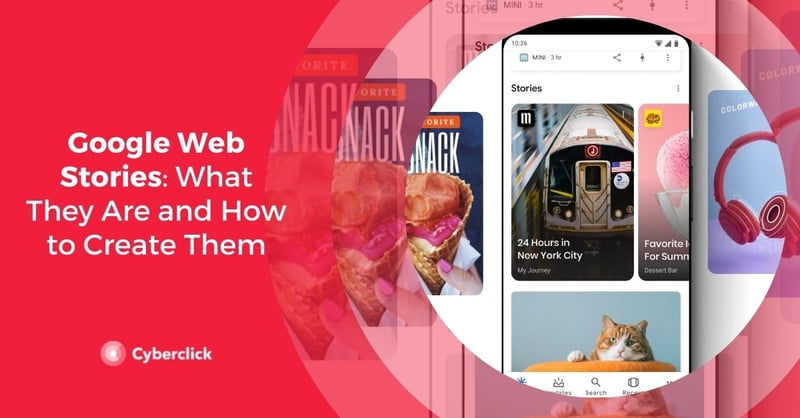 Google Web Stories: What Are They and What Are Their Advantages?
Google web stories are displayed in full screen on mobile devices and in the form of carousels. That is, you can slide your finger horizontally in one direction or another depending on whether you want to go forward to see the next story or backward to see the previous one.
To view Google stories, you need to have the Google application installed and open the Discover tab, which is where this type of content is displayed.
It is estimated that 500 billion users watch stories on Instagram because it is a format that can be consumed quickly, making it even more interesting and appealing. So, if you design a good content strategy in this format, you will be able to reach a larger audience and generate a higher volume of web traffic.
However, it is still important to pay attention to SEO in web stories, since it will allow you to appear in both Discover and the search engine.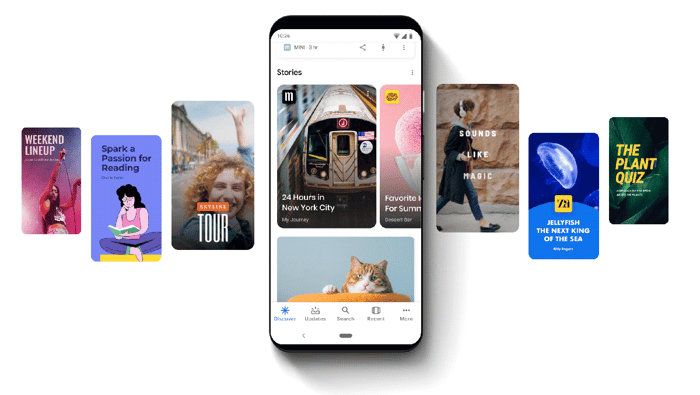 Web Stories vs. Social Stories: How Do They Differ?
Although web stories have a similar format to social stories, they are not exactly the same. We've outlined some of their key differences below.
Social stories are for a brand's followers and can be made private, while web stories are public.
Web stories have a URL and domain, which allows Google to crawl and index them. This is a feature that is unique to web stories, as social stories don't have this option. In addition, web stories can be embedded through an embed or an iframe.
Instagram stories and other social media stories expire in 24 hours, but Google stories do not.
Web stories can be edited once published, which isn't possible with social stories.
Social stories allow interaction with the user, whereas web stories do not.
We could say, then, that with web stories the main objective is to capture the user's attention and generate web traffic, while with social stories the goal is to generate engagement.
How Google Stories Affect SEO
All SEO best practices that apply to other types of content should be applied to web stories as well since this is how Google finds and displays them for users.
This means that keywords must be used, which can be chosen with tools like Google Trends or Search Console. Stories should also have alt text, a title, and a personalized permalink with the keyword of interest. The content should also be of quality and at least 1 URL should be included in the story.
Web stories are a new type of content and are not yet available in all countries, so you have to wait a bit to understand the true impact they will have.
How to Create Google Web Stories
To create a web story you need WordPress and the Google web stories plugin. Simply install and activate the plugin to create stories with photos, video or text.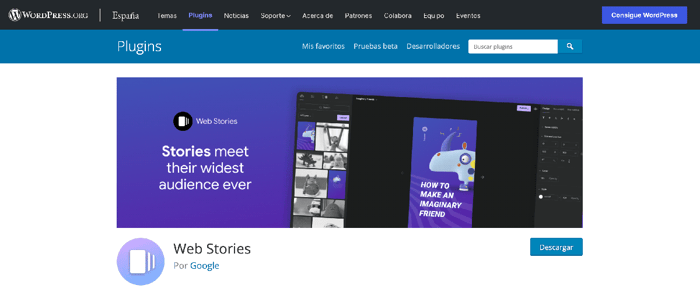 There are other WordPress standalone tools that can also be used to create web stories, like MakeStories. Both the WordPress plugin and MakeStories are very intuitive and easy to use.
Regardless of which tool you use to create a Google story, it should have a title and alt text. Another tip is to use videos and photos in portrait or portrait mode, as this is how they will look the best and make any text easy to read. In addition, subtitles can be added to videos, so use this opportunity to use keywords that will help your positioning.
Given that web stories do not expire after 24 hours, use them to your advantage so that they help your brand position well on Google!