By Chantal India, on 16 February 2022
The web has changed the way we tell stories. Having access to all kinds of information on the Internet means that people are constantly reading and learning new things. However, there is so much content being generated every day that users get inundated and their attention fades. That in turn means that brands now have to make a greater effort to reach, attract and keep customers, turning marketing strategies into a battle of wits. Creativity is very often the way to stand out, and Scrollytelling may be your ticket to connecting with the people on the Internet.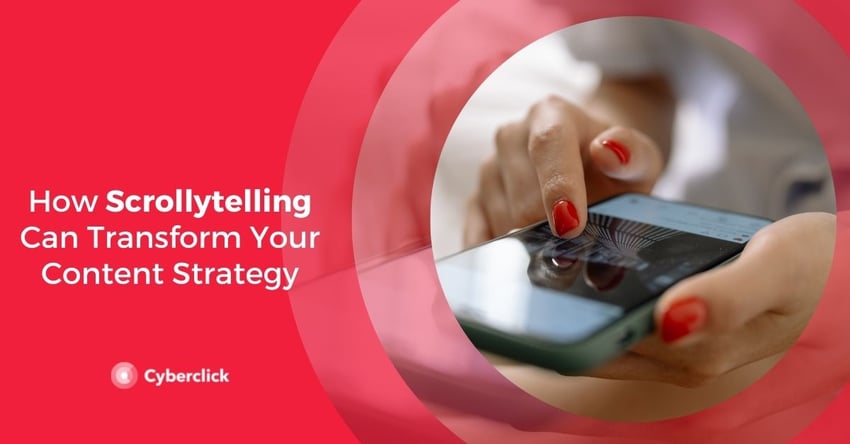 What Is Scrollytelling?
Scrollytelling is a dynamic way to tell a story and engage an audience. This approach to storytelling uses appealing digital media such as videos or graphics to display information by scrolling in a logical sequence. The users can interact with the visual content, which usually jumps around the screen or pops up. The idea is to diversify the information into small chunks that are easy to digest, engaging the audience, avoiding overstimulation, and conveying a message at the same time.
In order to highlight the information and keep the user engaged, Scrollytelling makes use of complementary color schemes, different font sizes and typefaces, animations or visuals on a horizontal or vertical layout.
If you want to use Scrollytelling to sell, it can be a good idea to showcase the features of the product or of your brand while displaying written information about it.
The graphic aspect and general shape of the Scrollytelling will vary based on what you want to spot light and who do you want to address. For example, if you want to appeal to academic or scientific audiences, you should focus more on clearly displaying accurate information rather than on having eye catching visuals.
Scrollytelling vs. Storytelling
You may wonder what the difference between these two is. To an extent, they are the same thing. After all, both in seek to engage an audience with a compelling narrative and serve marketing purposes most of the time. Scrollytelling is storytelling, but in its own special way. Scrollytelling lets you scroll up and down and interact with the information at any time, meaning you can go forward or back if you missed something. Scrolling gives the user full control of the storytelling process, adapting to their pace and thus making it it personalized. This gives the user a sense of being able to explore, a feature that regular storytelling does not necessarily have.
When to Use Scrollytelling
Unlike in other formats (video storytelling, for example), Scrollytelling relies more on actual text that appears on screen and that can explain something, pointing out elements or further information, have an interactive element, etc. Successful Scrollytelling will be able to engage the audience regardless of the topic as long as the content is compelling enough.
The scope for Scrollytelling can be very wide, so let's review some of its uses.
Brands or Products
Scrollytelling can be a great way to advertise an already existing product or a new one. Very often, big-name brands prefer making more artistic campaigns than straightforward ads to sell their products. Let us take a look at Gucci and Savoir Flair's partnership in 2020, "Gucci Epilogue Collection".
In this campaign, we follow Lulu and Wathek through their rather fantastical day in highly artistic photos and clips. However, the premise for the collection is "What you see is not what you get", so when the user scrolls down, a twist will reveal funny or thought-provoking situations for the two characters. This form of customer/brand interaction by scrolling down to unveil what is next makes the user feel like they are part of the brand while also showing off the products and aesthetic of the company.
Gucci, knowing their customer base, decided to go the artistic route and focus on great photography rather than simply advertising their products. By scrolling down, however, the user is able to get the spirit of the company and their product with very little written information.
Education and Learning
Though Scrollytelling is mostly used for marketing purposes, it can also be a marvelous teaching tool. Many governments and public institutions make use of Scrollytelling like Madrid's Museo del Prado and their "Bosch. A story in pictures".
This resource takes the user on a journey through the life and work of Bosch using some of his paintings as background scenery. While navigating, the main explanations about the paintings will come up naturally, but there are also extra facts in case the user wants to know more. That level of personalization results in a clean, simplified layout. The smooth transitions and snippets of information make it ideal for both grownups and young people who would like to know more about Bosch.
Portfolios and Websites
Another example of successful Scrollytelling is the case of UX designer Louie Sellers and his portfolio "Recap after use".
Louie has clearly learned something from this article and has made an attractive, engaging website. The use of big fonts and appealing colors highlight the content, while the sharp design and the straightforward information keeps visitors engaged until the very end. As the saying goes, work smarter not harder.
Telling Stories
As it turns out, Scrollytelling is also a great way to display chronological sequences, and Historiography proves this very well. This website shows a timeline full of dots, where each one represents a historical event. The information for each of them is retrieved from Wikipedia articles, which can be accessed from the timeline.
The best part? The user can narrow their search for topics and also reduce or maximize the scope of years shown. Sure, it only goes up until 2015 (and doesn't work on phones), but it compiles and displays historical events and facts and is a wonderful example of smart Scrollytelling.
Overall, Scrollytelling can be a great tool for sharing digital content, keeping an audience engaged and making them into active participants. It also proves that a picture is worth a thousand words.