By Laia Cardona, on 13 September 2021
Have you ever thought about how you manage your digital assets? As you implement your marketing plan, you accumulate more and more pieces of data, content in different formats, licenses, accounts on different platforms, etc. This can become chaotic and end up hurting you. However, you can avoid this by having a good asset management system (DAM).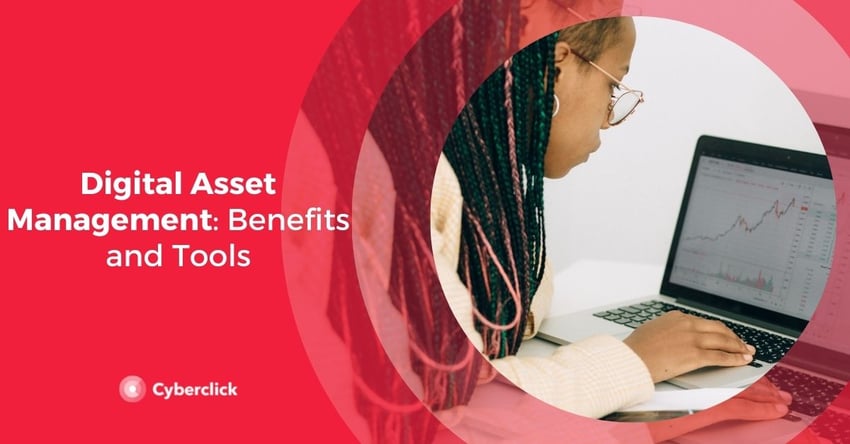 What Is Digital Asset Management (DAM)?
All organizations create digital files in different formats which can include spreadsheets, documents, various presentations, videos, audio, images, etc. All this content is of great value and is considered an asset.

Usually, there are several people involved in the creation and distribution of these assets, perhaps even in different geographical locations. Files may also be stored in different places, such as an internal server, a cloud solution, email or individual employee devices.

Digital asset management, or DAM, is a software that centralizes, standardizes, and distributes digital files so that everyone involved in the file creation and distribution processes has a central repository of up-to-date files.

The main functions of digital asset management software are:
Centralize digital assets in a single location, so that file consistency and integrity is maintained and all file changes can be viewed in a unified history.

Standardize different aspects of digital assets, such as dimensions, formats, names, and categories, so that they are easy to access and edit.

Distribute digital assets among the company's employees and suppliers who need to use them.
You should be aware that there are different types of digital asset management systems, so you'll need to choose the one that best meets your needs. Some of the choices are:
Branded DAM: focused on marketing and sales materials, such as product images, logos, etc.

Production DAMs: focused on storing, organizing and controlling frequently changing files.

Library DAMs: focused on storing and retrieving large numbers of infrequently changing files.

Digital supply chain services: focused on distributing content to digital retailers.
What Can Digital Asset Management Bring to Your Company?
According to a study by WIDEN, companies that use DAM software manage to increase operational efficiency by 65%, improve brand management among employees and external sources by 46%, and increase marketing ROI by 45%. Implementing this type of program can have the following advantages:
DAM ensures that files are properly stored and organized, eliminating problems such as duplication or loss of files. This makes it easier to find the digital asset you need at any given moment.

Since these programs generally run in the cloud and also eliminate duplicate versions, they save space on company servers and devices. In addition, because they are scalable systems, they are not limited by the amount of data.

DAM makes it possible to work with files in very different formats, since it manages them automatically without the need for specialized programs. In turn, this translates into savings in software licenses for the company.

DAM helps to control copyright management. A very common problem in companies is that digital assets whose rights have expired are mistakenly used or distributed through unauthorized channels. DAM programs automatically check the copyright situation and even hide files whose license has expired, preventing such errors.

DAM programs integrate with other systems, such as content management systems (CMS) or product information management systems (PIM), and with multiple content distribution channels (websites, social networks, ecommerce, etc.), enabling consistent digital asset management across the organization.

These programs make it much easier to locate files, as they have metadata-based search functions.
5 of the Best Digital Asset Management Tools
1. Brandfolder
Brandfolder is the DAM of choice for brands such as Slack and Under Armour. Among its functions are the following:
Upload, store, organize and share unlimited files.

Make backup copies.

Multiple levels of security to protect access to files.

AI image recognition and automatic labeling.
Cost: customized (you must request a quote directly on their website).
2. Bynder
This DAM software is used by brands such as Spotify, Canon, Puma, and other world-class companies. Here are some of its most outstanding features:
Automate workflows with versioning, annotation, and test paths.

Branding templates to create new digital assets directly in the program.

Integration with third party applications such as Magento, Google Analytics, etc.

Application for Android y iOS.
Cost: customized (you must request a quote directly on their website).
3. Asset Bank
This comprehensive DAM software offers many useful features such as:
Mass upload tools

Multiple lightboxes to organize and manage digital assets.

Advanced download function that allows you to choose the format, size, and quality of the file to download.

Customized content management system.
Cost: between 390 pounds per month (Essential plan) and 1,430 pounds per month (Enterprise plan).
4. Cloudinary
This cloud-based DAM solution is notable for having a free version and is used by brands such as Vogue, Buzzfeed, and Virgin. Here are some of its most outstanding features:
Use of AI to automatically tag assets.

Role-based access to collaborate with different internal and external users.

Digital asset tracking, analysis and performance reporting.
Cost: there is a free version and 2 paid versions ($99 per month for the Plus version and $249 per month for the Advanced version), plus the option to create a customized solution with flexible pricing.
5. Libris DAM
This digital asset management software is particularly useful for storing and managing photos and videos. These are its main functions:
Allows you to change resolution, color, format and other features directly in the software.

Compatible with multiple different formats.

It allows you to exchange videos without downloading files.
Cost: customized (you must request a quote directly on their website).