By Marina Avilés, on 19 April 2023
Today, there are more than 200 million content creators around the world. These are people who, through different platforms and social networks share photographs, videos, and text on a wide variety of topics and, in some cases, even making a living from it.
Companies have a very important role in the creator economy, because through collaborations and marketing actions they can build mutually beneficial professional relationships. If you as a company are interested in working with content creators, we'll tell you all about the creator economy so you'll know how it can help you achieve your goals.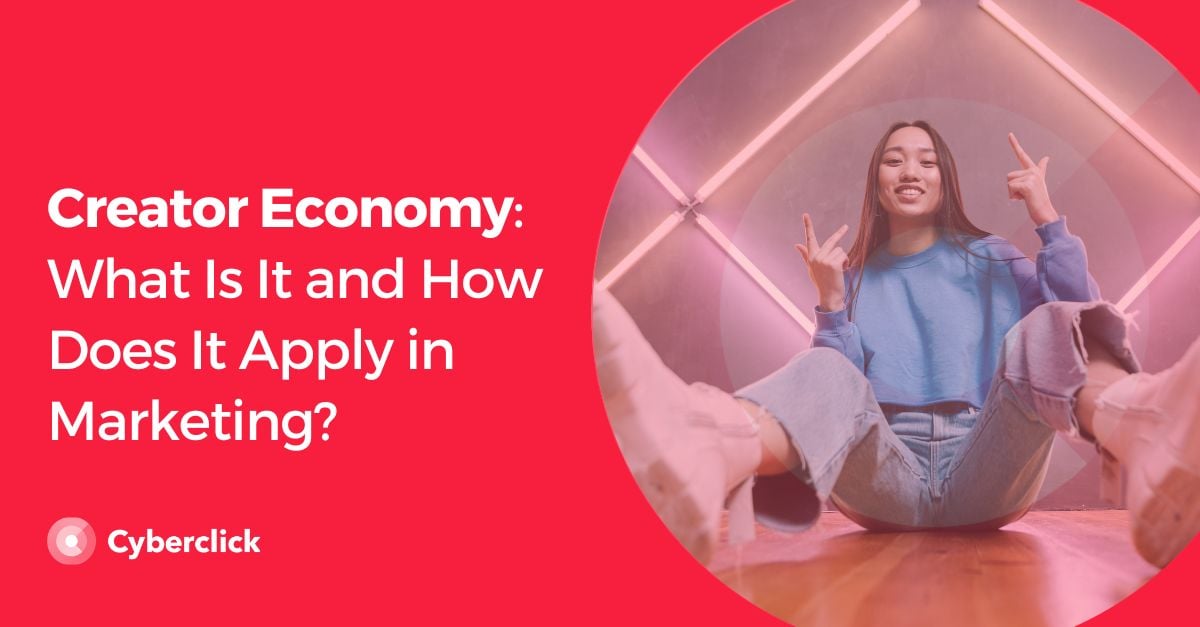 What Is the Creator Economy?
When we talk about creator economy, we refer to the income that a content creator gets thanks to the content they upload to the Internet, and to other types of activities related to their roles as creators. Monetization can come from different sources:
From the platform where the creator posts content

From collaborations with brands

Directly from followers
How Did the Creator Economy Come About?
The existence of a creator economy is due to the evolution of technology, specifically cell phones, cameras, computers, and internet connectivity. However, what really increasing the income possibilities of content creators were social networks. They were the ones that boosted the visibility of creators and made it possible for them to make a living.
Which Platforms Are the Most Used?
Instagram is the social network that leads the creator economy, as there are more than 30 million creators on the platform and 500,000 of them work full time in this area. YouTube is in second place with more than 12 million creators, followed by Twitch with 2 million. In addition to these, there are also other platforms with many creators, such as TikTok, Only Fans, and Patreon, among others.
How Content Creators Monetize Their Work (And How Companies Can)
Advertising Revenue Shares
This monetization model is the one that takes place on YouTube. Content creators upload videos to the platform and ads appear in different parts of the videos. The amount of advertising shown in them influences their remuneration on the platform. Companies can take advantage of this to advertise and carry out their own marketing strategy.
Sponsored Content
This is very common on social networks that do not offer monetization to for the content that gets uploaded, as is the case of Instagram. Unlike the previous case, where the platform is an intermediary between the creator and the company being advertised, here companies agree to sponsor the content directly with the creator. This form of payment is widely used by companies that implement influencer marketing. Normally, the content creator uploads their content as usual, but spends some time talking about the sponsoring brand.
Product Placement
This is similar to sponsored content, but in this case the content creator does not dedicate time to talk about the brand. Instead, the product in question is part of the video, photograph, or text so that the audience can see it throughout the time they spend enjoying the content. It is common to see it in the Twitch live broadcasts of big streamers.
Tipping
Tipping is a way of monetizing content on various social networks including TikTok. In this case, viewers can directly send payments to the creator through the platform on a completely voluntary basis. It is more oriented towards the public than towards companies. However, a company can also do this, and could even enter into a payment agreement with a creator to offer X tips periodically.
Paid Subscriptions
Both YouTube and Instagram have included them in their monetization possibilities for creators. Like tips, paid subscriptions are more geared towards users rather than companies. With the subscription (usually monthly), subscribers can access exclusive content from the creator.
Digital Content Sales
Content creators also often offer digital content for sale, such as ebooks, presets (filters for photographs) or masterclasses, among others. These can make the creator economy more varied. Brands can participate by sponsoring such content in exchange for their name appearing on it.
Merchandise
Content creators with a powerful image or brand of their own usually release customized products with their branding for their followers to buy and thus generate another source of income.
Live and Virtual Events
This form of monetization is mainly done by content creators who are highly specialized in a specific niche. In virtual or live events, creators share their knowledge and experiences with attendees in a more intimate way. There are two ways to monetize these events: through tickets and sponsors.
How Many Creators Are There?
If we mean professional content creators with more than 10,000 followers who are dedicated full time to content creation, we find that worldwide there are about:
1 million creators on YouTube.

500,000 on Instagram.

300,000 on Twitch.

And the other 200,000 are spread across other platforms.
The Future of the Creator Economy, Blockchain, and NFTs
Thanks to the development of the web3.0 or semantic web, new forms of monetization have been born for content creators that are decentralized. These allow even more creators to avoid relying on platforms to generate revenue. For example, this is true of NFTs, digital assets that are managed by blockchain and can have lower cost and censorship, as well as greater security.