By David Tomas, on 16 June 2020
In recent years marketers have started to pay more attention to marketing automation, but as an industry, we've only discovered the tip of the iceberg. Marketing automation goes far beyond constructing automatic emails: it can help you improve the success of discounts and promotions, better manage inventory, detect fake orders, and more.
In this article, we'll explain the 10 best marketing automation strategies that will improve your marketing workflow.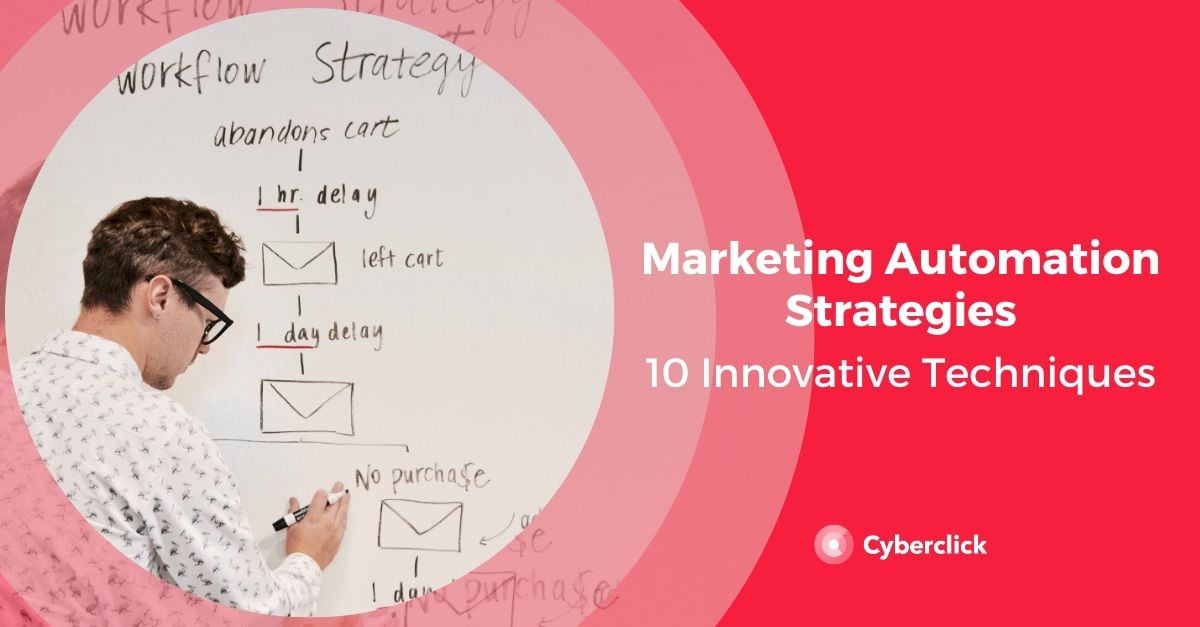 Top 10 Marketing Automation Strategies
1) Analyze The Competition
Before starting any marketing strategy, it's always a good idea to understand what your competition is doing.
So as a first step, I recommend that you study your direct competitor's websites and even register in their databases. This will allow you to see how they are implementing marketing automation and what kind of tactics they use. You will most likely detect techniques that haven't even occurred to you, and you will be able to learn from their mistakes.
2) Give Your Customers The Welcome They Deserve
First impressions are very important. Therefore, when a user first registers on your website, they should receive a strong welcome email from your brand. This sets the tone of the relationship and allows them to understand how you will use this avenue of communication.
Welcome emails confirm that your subscription has been successful, direct the prospect back onto the website, and inform them of offers and products that may interest them. Remember, you may want to create a welcome series with several emails, especially if your product catalog is very extensive.
3) Recover Abandoned Carts
Attempting to recover abandoned carts is one of the top priorities for online stores. And for good reason, especially when you consider that an estimated 69% of online purchases are abandoned half-way.
Marking automation can help solve this problem by sending reminder emails to customers, through remarketing. To make your abandoned cart emails successful, you must first correctly identify the reason they may have left the purchase. According to a Baymark Institute survey last year, there are 3 big reasons:
The extra costs (shipping, taxes, fees...) are too high (mentioned by 53% of users).
The site forced shoppers to create an account (31%).
The payment process was too long or complicated (23%).
Understanding this information allows you to create customized emails that can help convince your prospective customers to follow through with the purchase.
4) Segment Your Audience
One of the keys to any digital marketing strategy is to understand your audience, using a buyer persona and consumer behavior. Only from that knowledge will you be able to identify different groups of users and send them messages according to their needs.
Marketing automation can be used to segment users based on their behaviors and actions, like the products they like, their previous purchase history, brand interactions and more. With all this information, you can create communication streams tailored to each segment that sends them relevant promotions and emails for maximum effectiveness.
Video: How to Segment Your Audience Using HubSpot Workflows
5) Customize To The Fullest
Segmentation is the key to creating strong customized emails using marketing automation, but don't just divide your audience into generic groups. Include blocks of dynamic content in your emails, for example a product gallery that displays options similar to those they have already visited. The ultimate goal is to deliver a unique experience for each user, not just a unique experience for each group.
6) Automate Discounts And Promotions
Seasonal offers and discounts are crucial for online stores. Users love it, and for brands they provide a great avenue to increase interactions and sales.
According to an April 2018 RetailMeNot survey, 67% of consumers have made a purchase that they did not originally plan because of a coupon or discount, and 69% of millennials say they cannot complete a purchase without first seeking a coupon or offer.
Integrate marketing automation into your discount and promotion strategy to provide individual offers for each product and each consumer. This strategy will help you achieve the best possible fit between your business strategy and your needs.
7) Manage Your Inventory
Managing inventory is a task that takes up a lot of time and resources for online stores, but much of this work can be automated. Marketing automation can be easily be applied to Inventory Management, such as:
Automatically label products to classify them into groups.
Send alerts when there is little inventory left for a product, display a notification on the product page on the web, and place the new order automatically.
Automatically publish new products.
Schedule price changes and seasonal discounts.
8) Detects Suspicious Orders
Online stores sometimes receive fraudulent orders that, if not detected in time, can be a huge waste of time and money. But luckily, it's easy to fight this problem with marketing automation.
Simply set up a series of alerts that identify possible false orders (exorbitant quantities, suspicious IPs, pre-issues, etc.) and have them sent to a member of your team to verify the order manually before sending it.
9) Reactivate Your Customers
Typically, the first emails sent to a customer have the highest opening rate, but interest decreases over time. If you don't get ahead of this problem you can end up losing the prospect.
The solution? Set up a reminder to detect when a subscriber's activity is down and encourage them to interact again by sending them especially attractive content or discounts.
10) Reward The Most Loyal Customers
Identifying your most engaged and active customers is always a good investment, as the lifetime value of these consumers can become very high.
My latest recommendation is that you use marketing automation to detect your most loyal customers and send them offers that make them feel special. This will motivate them to not only make another purchase, but also to spread the word about your brand.