By Nerea Boada, on 19 April 2022
We have all received marketing calls from companies at one time or another. Although digital marketing is largely the norm, telemarketing is still an effective and widely used technique in public service, insurance, credit cards, and NGO sectors.
In this article, we will dive into telemarketing–its problems, advantages, use cases, and how you could make it work for your business. Let's get started!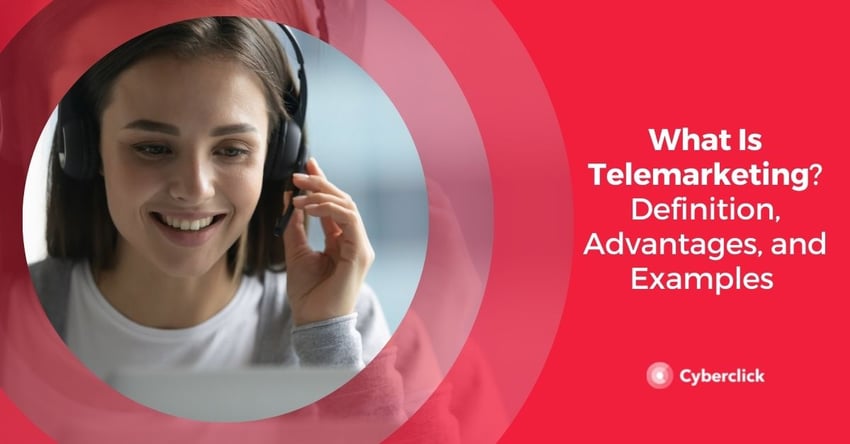 What Is Telemarketing?
Telemarketing is an advertising technique used by companies to contact potential customers and talk to them about their products and services. Traditionally, it is done by phone–but nowadays companies also use videoconferencing, especially in more advanced stages of the purchasing process.

The best-known example of telemarketing is cold-calling, where a company contacts a person for the first time with the intention of selling its products or services. However, this technique has many other applications, including generating leads, confirming attendance at events, post-sales follow-up, or evaluating customer satisfaction.
Advantages and Disadvantages of Telemarketing
Advantages of Telemarketing
More personal communication: Compared with email marketing, telemarketing is a more personal approach that can facilitate the connection between the seller and the prospect.
Get in touch with a large number of customers in a short time: Quickly understand who is interested in the brand and who isn't.
Low cost: Communicate with customers anywhere in the world easily and cheaply.
Help clean databases: Check if the user still has the same telephone number and if he/she is interested in your products and services.
Offer a large amount of information about the product or service: Adapt your product or service exactly to the potential customer's needs.
Create a good impression and experience for the customer
Disadvantages of Telemarketing
It is intrusive: You are interrupting the potential customer to offer him/her information not requested. This can be perceived as intrusive and negatively affect the company's reputation.
Restrictions and exclusion lists (telephone numbers that cannot be used for telemarketing)
Investment to train agents: Ensure that the customer service reps are following the company's script and best practices.
Conversion rate is low: It is difficult to find the right person and the right time to offer your services, especially if you do not have a good database.
How to Improve Your Company's Telemarketing Results
Here are some best practices to make your telemarketing more effective.
Invest in Training
For a consistent customer experience and better results, it is necessary to stick to a script and a set of guidelines for each call.
Training your call center professionals helps them better follow the script and adapt to different situations that may arise on a call, ensuring that they represent your brand in the best possible way. It is also recommended to invest in a call tracking system to monitor how well agents follow the script and detect possible problems.
Do Internal Marketing
Once again, the success of a telemarketing strategy depends heavily on people. If call handlers do not feel motivated and valued, it will be very difficult for them to be good representatives of the brand.
The best telemarketing comes from happy companies, where employees feel valued and the organizational culture is positive. This not only improves employee performance but also lowers turnover and thus personnel costs.
Use an Inbound Methodology
The inbound marketing methodology seeks to get the user to approach the brand and not the other way around. This is achieved by offering your users valuable content adapted to their interests.
Inbound marketing works by following a funnel or conversion funnel, which traces the different stages that a user goes through from the first time he/she hears about your brand until becoming a loyal customer. Call the customer only when you know they are ready to convert.
Offer More Methods of Contact
Nowadays, it is essential to have an omnichannel marketing strategy, since users have different habits and preferences when it comes to contacting companies.
Therefore, instead of limiting yourself to telemarketing, we recommend creating a contact center that offers different possibilities to customers when they want to get in touch with your brand: email, chat, messaging, social networks, and, of course, telephone.
Establishes Objectives and Monitor Compliance
The last recommendation for more effective telemarketing is to have a strategy to improve wherever necessary.
To do this, you must start by setting a series of telemarketing objectives and indicators, such as the average time of each call, the percentage of conversions, or the customer satisfaction rate.
Then, establish a series of periodic controls to monitor whether these indicators are being met and modify the strategy accordingly.
7 Examples of Telemarketing
Product sales. An agent calls a user's phone to try to get them to buy the company's products. These calls can be addressed to potential customers who are not yet familiar with the brand or to regular customers.

Sale of services. In this case, cold calls can be made to customers who have previously bought a service from a company.

B2B telemarketing. In B2B telemarketing, calls are directed to other companies and not to the end consumer.

Requesting information. This is an example of inbound telemarketing in which it is the potential customer who calls the brand and not the other way around. It occurs when a person is interested in a company's products or services and wants to know more about them before making a purchase decision.

Technical support. Another example of a customer contacting the brand, in this case, to request help with a problem related to the product or service.

Satisfaction surveys. A company calls existing customers and asks them a series of questions to assess their level of satisfaction with the brand.

Political telemarketing. During election periods, political parties and candidates can make calls to voters to inform them about their campaigns and gather valuable opinions.