By Chantal India, on 4 August 2023
Although there are studies that say that the use of cell phones should be limited to two hours a day, it is estimated that the average is almost five hours and that about half of that time is spent on social media. This has led Instagram to have a new feature, Quiet Mode. What is Quiet Mode on Instagram? Read on to find out!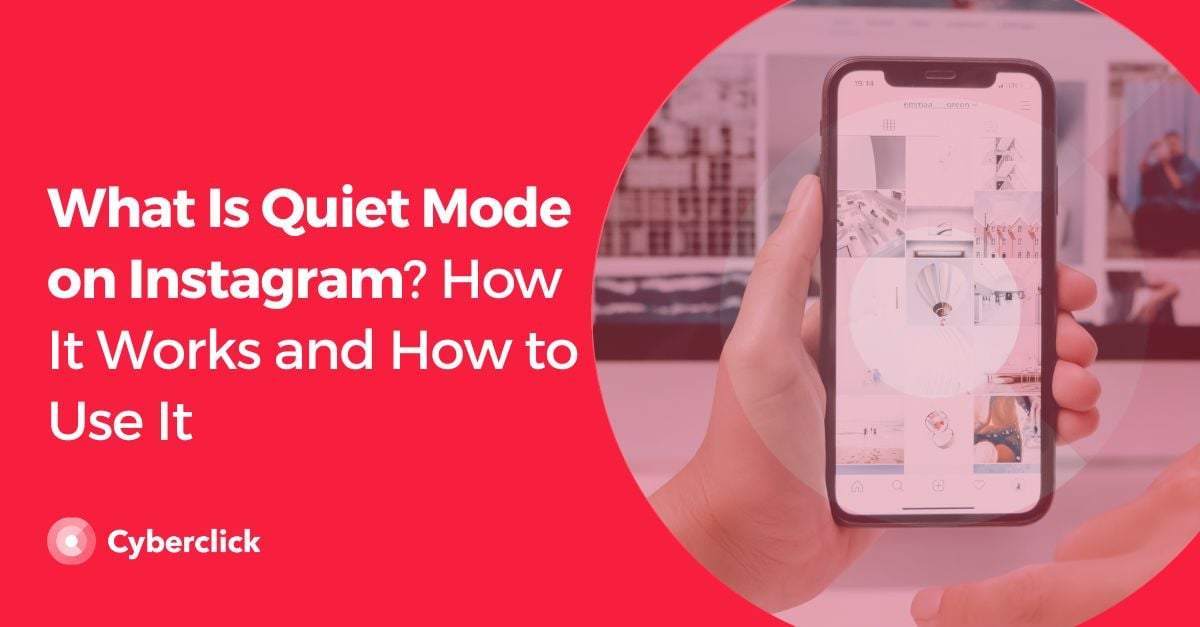 What Is Quiet Mode on Instagram?
Instagram's Quiet Mode is a feature that pauses notifications and sends an automatic response warning of inactivity to users who send you a private message. In other words, it updates the status from active to inactive.
This is one of Instagram's most striking new features to date. Unlike what it's done so far, which has been incorporating features that serve to retain users, this one aims to do the opposite. It helps people concentrate and disconnect from the social network.
Quiet Mode is available in a few countries, such as the United States, United Kingdom, Ireland, Canada, Australia, and New Zealand. Still, Instagram has plans to roll it out to more countries soon.
What Does Quiet Mode on Instagram Do?
Quiet Mode aims to increase concentration, improve rest, and limit the use of Instagram, since the average time spent by users on this platform has been increasing and becoming a distraction that harms performance. In other words, the main objective is for Instagram to become a less toxic and invasive social network and to serve as entertainment within healthy time limits.
To achieve this, when Quiet Mode is activated, your status will change to "In Quiet Mode," and you will not receive any notifications. If someone sends you a private message, they will receive an automatic response that says you are in Quiet Mode and cannot respond until you turn it off.
Quiet Mode is similar to the " Do Not Disturb" feature on iOS and Android but only affects Instagram. This means you can still receive notifications from other apps, such as text messages and emails.
How to Activate Quiet Mode Step by Step
Enabling Quiet Mode is very simple! You just need to follow the steps below:
Open the Instagram app.

Tap on your profile picture in the bottom right corner.

Tap on the three lines in the top right corner.

Go to the Settings tab and click on Notifications.

Under Notifications, you should see the Quiet Mode option. If it does not appear, it may be because this functionality is not yet active in your country or your Instagram is not updated.

Toggle the switch to ON.
You can also choose to have Quiet Mode turn on automatically at a certain time. To do this, tap on the From and To fields and select the times you want Quiet Mode to be active. Once these steps have been taken, Quiet Mode will be activated. You will not receive any notifications from Instagram during the number of hours indicated.
Other New Features on Instagram
In addition to Quiet Mode, Instagram has announced other new features that are also quite striking, such as Hidden Words.
This is a feature that will allow users to hide recommendations, posts, and comments containing specific words. The most characteristic feature of Hidden Words is that each user will be able to choose these terms in Settings > Privacy > Interactions. Right there you should see this option and be able to choose the words or phrases you want to block.
The aim of Hidden Words is for the user to receive content more in line with their interests and values, thus avoiding offensive, harmful, or uninteresting messages.
The other new feature, "I'm not interested," allows you to hide posts that are not interesting or that do not provide valuable information.
This new feature is located in Explore, and you just have to click on a post and then click on I'm not interested in the pop-up window that will appear at the bottom. When you indicate that certain content is irrelevant or interesting to you, Instagram's algorithm will try not to show it to you.
Analyzing the new features that Instagram has rolled out, we can conclude that the social network is working towards improving the user experience by ensuring that people are shown relevant, interesting, and quality content. However, we will have to wait until these features are available in all countries and we can all enjoy them.