By Laia Cardona, on 8 December 2021
Google Marketing Platform is an online advertising and analytics platform that serves as an effective cross-channel marketing solution. It offers a fusion of Google's tools and features to help marketing teams collaborate more effectively, create smarter campaigns, and obtain better results.
Although you may already be familiar with some of Google's products and what they have to offer, you may not be aware of the benefits of using Google's full range of advertising tools. In fact, this single platform solution allows you to integrate all your analytics and marketing data so you can take a planned, measured approach to all your campaigns. However, you need to be aware of how the platform works so that you can make the most of all its features.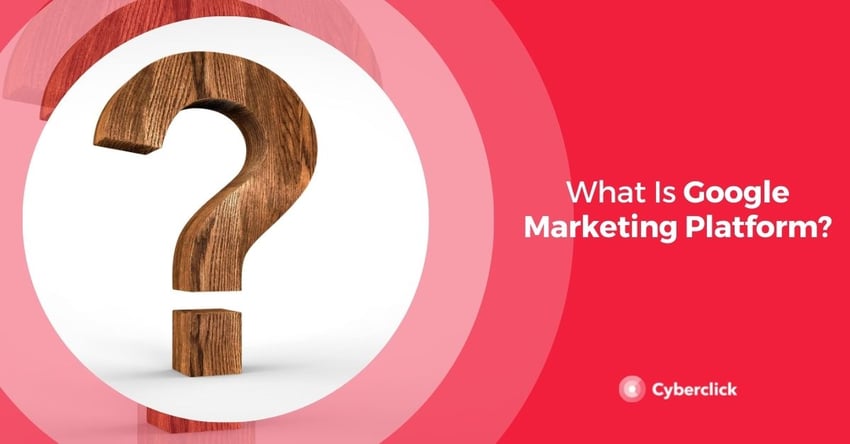 In this post, we will help you with that. We will break down what Google Marketing Platform is and how it works. We will look at some of the benefits of using the platform and highlight how it differs from Google Ads to help you decide which tool would work best for your company.
What Is Google Marketing Platform?
Google Marketing Platform merges Google's key analytics and media products, including Analytics 360 Suite and DoubleClick. The aim of this rebrand was to provide a renewed focus on greater unity and deliver a better experience to marketing professionals. The platform offers an integrated and consistent marketing experience with cross-product data integrations that help to maximize results.
The platform features seven main elements:
Analytics
Data Studio
Optimize
Surveys
Display & Video 360
Search Ads 360
The platform also offers free marketing tools, as well as paid premium products. All these features help you obtain valuable insights so that you can better understand your audience. The platform also makes it easier for you to share data with all your teams, improving collaboration and internal communication.
How Does Google Marketing Platform Work?
The variety of products on offer ultimately help you plan, buy, measure, and optimize your digital media and customer experiences in one place. You can use the platform to build on existing integrations between DoubleClick and the Google Analytics 360 Suite and deliver faster, smarter marketing campaigns to your audience. This is done through the use of tools for both advertising and analytics.
In terms of advertising, you have the following:
Campaign Manager 360: where you can run your ad campaigns and measure their performance
Display & Video 360: where you can manage your display and video campaigns, bids, creatives, and audiences
Search Ads 360: where you can manage your search campaigns across Google Ads, Bing, Yahoo, Baidu, etc.
In terms of analytics, you have:
Analytics 360: helps you understand how users engage with your business
Optimize 360: enables you to run experiments and personalize content
Surveys 360: where you can pose questions to online users
Tag Manager 360: for managing web and app tags from a single interface
Data Studio: for creating data visualizations
And all this provides you with:
Marketing Platform Home: a handy dashboard where you can access all your products and administration features.
Integration Center: where you can manage data-sharing integrations between products.
Administration: where you can manage individual products and analytics, as well as settings for users, permissions, and billing.
If you're still not convinced, you can find out more about Google Marketing Platform here.
Benefits of Google Marketing Platform
The main benefits of Google Marketing Platform include its integration and cross-device capabilities, its user-friendly interface, and the quality of insights you can obtain from the platform.
Let's take a look at some of these benefits in a bit more detail.
It Integrates Google Analytics 360 and DoubleClick
The most obvious benefit is that Google Marketing Platform unifies two valuable marketing tools: Google Analytics 360 Suite, which contains a premium version of Google Analytics along with five other products, and DoubleClick, which helps you plan, buy, and measure your search campaigns. By using these products in collaboration with each other and integrating all your analytics and advertising tools you can create more effective and successful marketing campaigns that yield much better results.
Supports Over 100 Integrations
Google Marketing Platform supports over 100 integrations, including in-house solutions. This enables you to interact with your data in whatever way works best for you, from a handy single interface. Plus, you control all the data you collect through the platform, so you can choose what you buy, how you buy it, and what tools you use to measure your data.
Cross-Device Capabilities
Google Marketing Platform's cross-device feature enables you to monitor the user journey across multiple devices. This enables you to track where users are in the conversion funnel, and which sequence your target audience follows. This is all valuable data that can help you adjust and personalize your content, optimize your campaigns, and increase those all-important conversions.
Google Ads vs Google Marketing Platform
So which solution is best: Google Ads or Google Marketing Platform?
The truth is that there is no right answer. It very much depends on the size of your company and the nature of your business and marketing campaigns.
For instance, if you are a large organization that relies on a diverse range of marketing techniques then Google's unified platform might be a better choice. In contrast, if you are a small company with basic marketing needs then Google Ads might be enough to cater to those needs.
Here are a few final thoughts to help you decide which platform would be the right choice for you.
Google Ads
Best for smaller advertisers that don't require enhanced control or flexibility. Easy to set up and very user-friendly. However, features are limited as it is not a marketing platform.
Only provides limited API functionality. No options for using multiple ad networks, DMPs, and DSPs.
Tracking data can be restricted, plus you need to manually upload third-party tags which slows down the process and may limit your access to valuable reporting data.
Google Marketing Platform
Best for larger advertisers as it includes advanced custom reporting features and in-depth analysis.
The platform serves as a hub where you can oversee all your paid search, social, and display campaigns.
Enables you to import data from multiple sources, including CRM systems, email tools, ad platforms, and offline data sources.
Offers multiple integrations.
When combined with a CMP, Google Marketing Platform helps enable dynamic creative optimization (DCO).