By Berta Campos, on 24 August 2023
User generated content (UGC) is a great way for a brand to interact with its audience. While many companies focus exclusively on creating their own content, overlooking content created by users can be a missed opportunity. UGC adds credibility and expands your reach without significant investments while also allowing you to glean valuable insights from your audience.
But, what exactly is UGC and why is it important in content marketing?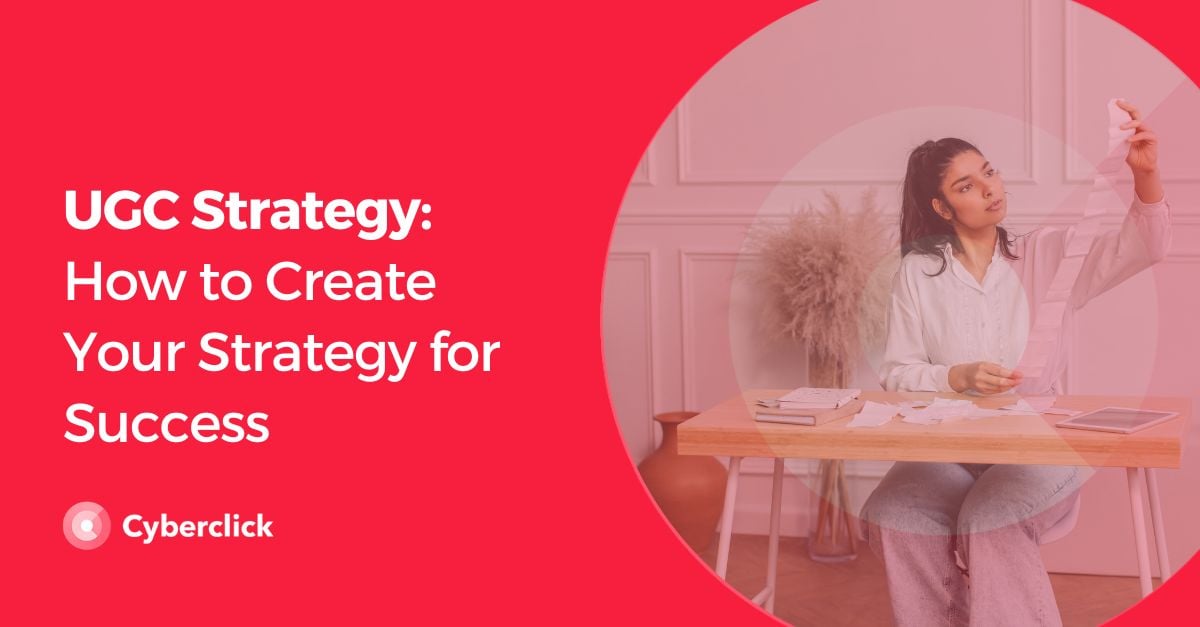 What Is a UGC Strategy?
User generated content refers to all content created by people who are not professionally affiliated with a company. This type of content includes text, images, videos, comments, reviews, and social media posts. In other words, all unpaid and unsponsored content created by people outside of the brand is considered UGC.
UGC has become a very important part of digital marketing, as it's often more effective than traditional advertising. It generates greater credibility and trust among the public because it comes from people who are not linked to the brand. It also allows the company to get ideas and knowledge that will allow them to improve.
Creating a UGC Strategy
A user generated content strategy involves encouraging user participation and taking advantage of the content created by your followers in order to benefit your brand. This would include, for example, creating specific platforms or channels where users can comment and share their own content. You can also ask them to share opinions and reviews, or you can launch contests and challenges where you encourage people to create content related to your brand or to a specific product/service. All this increases exposure, strengthens relationships with customers, and builds brand awareness and trust among target consumers.
Channels for Implementing Your UGC Strategy
Numerous channels can be used to implement a UGC strategy effectively. Social networks, including Facebook, Instagram, Twitter, LinkedIn, YouTube, and TikTok, will allow users to create and share content related to your brand. This content could include, for example, photos, videos, reviews, and hashtags.
Other common channels are blogs, websites, mobile applications, user review platforms, and even face-to-face events.
Collecting user reviews and comments becomes more manageable with the help of applications like Trustpilot, TripAdvisor, or Google Reviews. These platforms are invaluable when aiming to curate content that resonates with your target audience since it is based on authentic experiences.
In addition, email can serve as a highly effective medium where brands can directly request photographs, videos, or other content related to their products or services from users. This content can then be shared on social networks or other relevant channels.
Lastly, face-to-face events present another excellent opportunity to encourage UGC by prompting attendees to share photographs, videos, and other content on social networks or other platforms using specific brand-related hashtags.
Creating Your UGC Strategy Step by Step
Given the impact user generated content can have on your target audience, it is crucial to consider the following steps when creating your UGC strategy:
Choose the Right Channel: Identify the main communication channel between your company and its customers, where the audience comes from, and where potential brand advocates have more influence.
Establish Specific Objectives: Determine your goals with UGC, such as greater interaction with your brand, higher conversion rates, building more trust, or reducing costs when creating content.
Guide User Content: Depending on your objectives, the next step is to tell the audience what type of content to create and share. This can be achieved by encouraging the use of hashtags, directly asking for a comment or review, encouraging people to share photos or videos using your product or service, or through contests and challenges.
Foster a Two-Way Relationship: Responding to comments, thanking users for their participation, and any action that makes the the user feel listened to strengthens a relationship. This consequently makes your brand's image more positive and increases the participation rate.
Analyze Results: Any strategy should be analyzed on a regular basis to assess the benefits obtained and to detect weaknesses. If the desired objectives have not been achieved, another channel may have to be chosen, or the audience may have to be addressed in a different way.
By following these steps, you can begin to build your UGC strategy. One thing to remember is that content can take a while to arrive. However, this should not be a reason to worry since the important thing is that the content talks about the brand and its products or services in a positive way. In other words, the most important thing is not the quantity but the quality of the content you get.
Key Aspects to Succeed Using a UGC Strategy
1. Seek Permission
This means that before republishing content not created by your team, it is necessary to contact the creator to ask for permission. This can be done through an email, a comment, or a private message through social networks or another communication channel. Avoid appropriating content you do not own as this might put some users off. It is also important to mention the person who created the content when you publish it.
2. Be Clear About Content Preferences
Users often want their content to be shared. Therefore, it is essential for the brand to be explicit about the type of content they are looking for. You can do this by providing guidelines that are clear and concise and outline what the brand seeks from its user's contributions.
3. Encourage Participation
You can also launch campaigns that invite participation and sharing. An example of this is Coca-Cola, which launched a popular campaign where it added names to its labels. Consumers shared cans and bottles of Coca-Cola that featured their names or those of family and friends on social media, making this one of the most successful UGC strategies out there.