By Chantal India, on 19 July 2022
TikTok has become one of the favorite social media platforms for marketers. However, between TikTok and Instagram Reels, many are wondering which platform is better. TikTok has the upper hand when it comes to short vertical videos, but Reels has the advantage of being part of a well-established social network with many more features.
In this article, we're discussing TikTok vs. Instagram Reels and the advantages of each platform.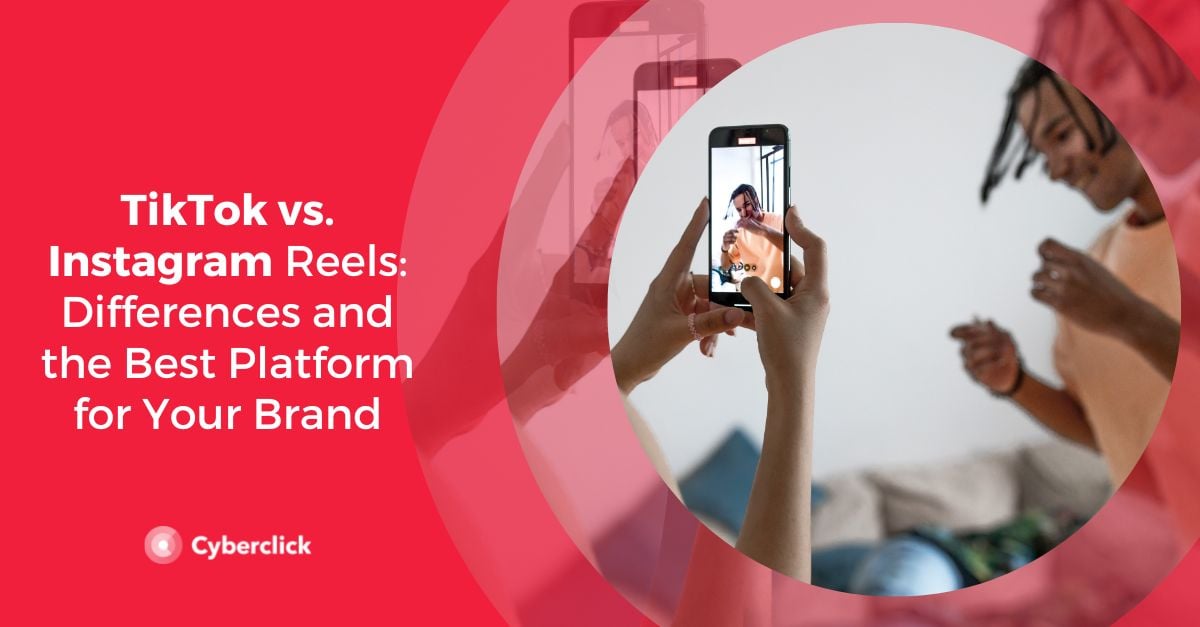 TikTok vs. Instagram Reels: Users and Usage Habits
To start, let's look at some key differences between the number of user profiles and usage habits of TikTok and Instagram Reels.
Monthly Users on Instagram and TikTok
According to the latest data, Instagram has 1.4 million active monthly users. It is one of the few social media platforms that has surpassed 1 billion users, along with Facebook, YouTube, and TikTok. One of the most striking facts about TikTok is that it reached 1 billion users in less than 3 years, while it took Instagram 6 years and Facebook more than 4 years to do so. TikTok has also surpassed Pinterest, Twitter, and Snapchat in terms of users.
Globally, Instagram is the fourth most used social media platform and TikTok is the sixth.
It is worth noting that this data doesn't include the Chinese version of the app, Douyin, which has 600 million daily active users.
TikTok is the App With the Most Downloads Worldwide
As of May 2022, TikTok is the app that is most downloaded globally. However, if you look by device type, Instagram is the most installed app on Android and TikTok is the most installed app on iPhones.
All in all, both social networks have a huge impact. TikTok wins in terms of total downloads, but Instagram currently has the most active users.
TikTok Has a Higher Percentage of Female Users
Demographics are important when choosing the most suitable social media platforms for your brand. Here are some important differences between TikTok and Instagram.
Instagram has a very gender-balanced profile, with 50.8% female and 49.2% male. However, TikTok's audience is predominantly women. In the United States, there are two female TikTok users for every one male user.
TikTok Has Younger Users
Both TikTok and Instagram are more popular among users under the age of 35, but there are some interesting differences. According to 2019 data, 71% of Instagram's monthly active users were under 35. The most popular age bracket is 25 to 34, followed by 18 to 24.
In contrast, TikTok is even more focused on younger audiences, with many creators targeting audiences under 18. According to 2020 data, 62% of TikTok's audience was under 30.
Users Spend More Time on TikTok Than on Instagram
The more time users spend on a social media platform, the more likely they are to be exposed to your content, so this figure is very important to get an idea of your brand's potential impact.
As of 2020, Instagram users spent an average of 29 minutes on the platform. In contrast, the average user spent 52 minutes on TikTok, both watching other users' videos and uploading their own.
Although Instagram's overall user numbers are higher, TikTok is the clear winner in terms of time users spent on the app.
TikTok vs Instagram Reels: Content and Features
Video Length
TikTok and Instagram Reels both focus on short videos, but the maximum length allowed is different on each network. With TikTok, you can record a video of up to 60 seconds directly in the app or upload an already created video of up to 10 minutes. With Instagram Reels, the duration is limited to 60 seconds in both cases, but Instagram also offers other video formats.
Variety of Content
TikTok is focused solely on short videos, although this is changing. The impact of this particular type of content is very large. Instagram Reels, on the other hand, is framed within Instagram, which has other formats and functionalities. If you want to include short videos in your content mix without giving them much prominence, Instagram Reels may be your best option.
Ecommerce Functionalities
Until relatively recently, Instagram was clearly ahead in this aspect, as it has many specific social commerce functionalities such as in-app purchases or Instagram Stories. It also has an advertising platform with many formats and audience targeting options that it shares with Facebook.
However, TikTok is quickly catching up. Last year it held the first TikTok World Business Showcase to present its new tools for businesses.
Thanks to its partnership with Shopify, TikTok allows you to create a "Shopping" tab in TikTok Business accounts, although this functionality is not yet available in all countries. It also features product links in videos, live commerce, and different ad formats and targets.
Captions
Captions are an important element of Instagram Reels. Many users take full advantage of them to provide context and additional information for their audience.
On TikTok, on the other hand, captions are smaller and appear on the bottom left of the screen. They are also limited to 150 characters.
Sharing Options
Both Instagram Reels and TikTok offer a variety of options to easily share your videos, via direct message, text, or on other social media platforms.
However, there is one important limitation that you should keep in mind, and that is that TikTok adds a watermark on videos posted on the app. If you download the video later to share it on another site, it will appear with this watermark. In contrast, Instagram Reels don't include watermarks on its videos.
However, this doesn't have to be a differentiating factor, since there is a fairly simple way to be able to share TikTok videos without a watermark. Just create the video directly on your phone and share that version instead of downloading it from TikTok.
The Bottom Line
Both Instagram Reels and Tiktok have a great reach and are great platforms to share your videos. We can't say that one is better than the other; the choice depends on your brand's specific situation.
Instagram has a larger and more diverse audience, with a very established culture of influencer marketing and posts with buyable links. It is an ideal platform for sectors such as travel, health and wellness, cosmetics, and fashion.
TikTok, on the other hand, has the most success among younger audiences and is rapidly growing, so it offers many creative options for brands. As a relatively new network, it's less saturated with marketing content, which is also an advantage. However, its users don't respond well to the typical influencer posts that typically work well on Instagram.
If you still can't decide, think about experimenting for a while with both and monitoring which platform works better. Whichever one you choose, remember that the most important thing is to design a plan that is aligned with your digital marketing goals.