By Shanon Roberts, on 26 July 2023
TikTok clarified that one of its main goals is to make collaboration between brands and creators a breeze. They're doing it with the introduction of the TikTok Talent Manager Portal within the Creator Marketplace. Find out about this portal and about its implications in marketing!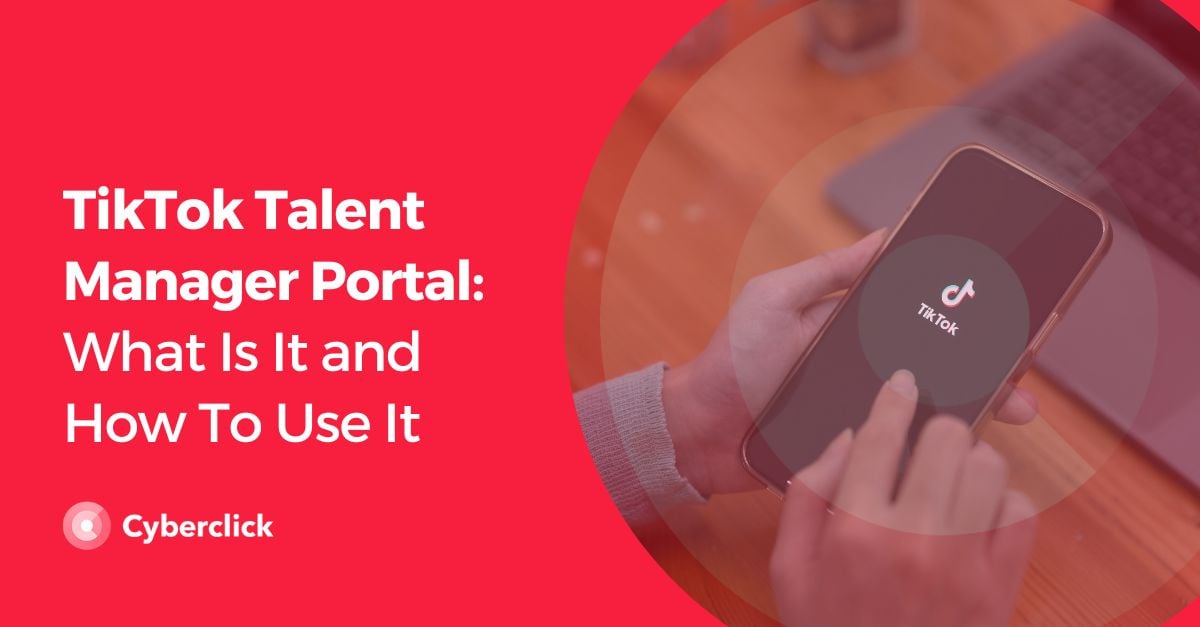 What Is TikTok's Talent Manager Portal?
TikTok's Talent Manager Portal is an update to the Creator Marketplace launched in early 2023. The Creator Marketplace serves as a tool that connects brands with creators on TikTok, allowing creators to showcase their profiles and companies to find new influencers for their marketing campaigns on TikTok.
The Talent Manager Portal allows influencer representatives to manage relationships with the brands their clients collaborate with. They can track campaigns, negotiate proposals and collaborate on contracts, provide creative feedback, monitor deals, and perform other essential tasks on behalf of the content creator.
In this way, negotiating, receiving feedback, and monitoring campaigns on the platform is greatly simplified. You could say that it is an influencer marketing platform within the social network itself.
How to Access TikTok's Talent Manager Portal
To access the Creator Marketplace and the TikTok Talent Manager Portal, creators must meet a series of requirements and request participation or receive an invitation, depending on their location.
If you are already a member, your agent will be able to access the portal as long as they have your authorization.
Benefits of TikTok's Talent Manager Portal for Content Creators
Guaranteed Security
Content creators can enjoy increased security and privacy with TikTok's Talent Manager Portal. Previously, talent managers had access to creators' social media accounts, which could pose a security risk. However, with the new portal, managers can only control and manage collaborations and relationships with brands through the Creator Marketplace. This means they cannot access creators' personal information or content. Therefore, as a TikTok content creator, you will not have to worry about security and privacy breaches.
Save Time
TikTok's Talent Manager Portal offers significant time-saving benefits for independent content creators who manage their relationships with brands. The portal allows you to manage your collaborations in a simple, agile, and convenient way so that you can focus on what adds value to your profile: content creation. You will no longer have to move between different platforms daily to manage your agreements, monitor projects, or answer messages.
Benefits of Using TikTok's Talent Manager Portal for Agents
Convenience
TikTok's Talent Manager Portal eliminates the need to juggle multiple platforms and tools when managing collaborations for represented brands on TikTok. This convenient feature centralizes all portal collaboration management, saving agents time and effort. From contract negotiation to providing feedback and managing campaigns, agents can handle these essential tasks seamlessly within the portal. By having all the necessary tools in one place, agents can improve efficiency and maintain smoother interaction with brands. TikTok's Talent Manager Portal ultimately enhances convenience and productivity.
Access to Metrics and Data
The portal provides you with access to a wide range of metrics and data related to the influencers you manage, their audience, and their campaigns. These metrics can be used to track the performance of your influencer marketing campaigns and help you make informed decisions about future campaigns by giving you information on the following:
Audience size
Influencer rates
Visitor count
Influencer engagement
Demographics of the creator's audience
Growth rate
Interactions
Number of actions
Campaign status
The data and metrics in the portal can also be used to help you negotiate contracts and rates with influencers. By providing brands with objective data about the performance of your influencers, you can help them to see the value of working with you. They can even help you get an idea of where the influencer needs to improve and work together to achieve it.
Ability to Manage Multiple Creators
Suppose you are an agent and you manage the accounts of different influencers. In that case, getting to everything can be a major challenge, as you have to work on different platforms and profiles. This portal will also make it much easier for you to manage your TikTok social network profiles, allowing you to handle them all from one place. Once you are in, you simply have to select the profile you want to manage, and you will have access to all the information about the related campaigns, metrics, statistics, and collaborations.
In addition, if the relationship with one of your representatives comes to an end, it's easy to delete their profile from the portal so there is no confusion.
Keys to Successfully Negotiating TikTok Campaigns
Whether you are a company, an agent, or a content creator who independently manages your relationship with brands on Tiktok, these tips will be useful for growing brand.
1. Be Clear About Your Objectives
You need be clear about your objectives in order to negotiate successfully and convey the message clearly. For example, if your objective as a brand is to increase your followers on TikTok, communicate it. Communicating your intentions will greatly help the influencer and their team, as they will be able to create content in line with that goal.
If, as a creator, you have certain boundaries or expectations, make sure to communicate those as well. You may end up rejecting or accepting offers for fear of communicating your preferences and receiving negative feedback. Although it varies, brands are often open to listening to their collaborators' ideas.
2. Understand Your Audience
What does the content creator you are considering collaborating with publish? From another perspective, what kind of audience buys the product or service of the brand you will potentially collaborate with? It is important to ask these questions from both sides. No matter how much you like the style of a content creator, if the audience that follows them does not match your target audience, the campaign will not have good results. And if, as an influencer, you frequently promote products or services that don't interest your audience, you will end up losing them, which will have a negative impact on your numbers.
3. Be Flexible
TikTok is one of the most creative platforms available today. It's constantly innovating and evolving, often faster than other social networks. Therefore, when negotiating a campaign or collaboration on this platform, we recommend that you be flexible and open to new ideas and new approaches. In addition, the audience of this social network tends to be younger and therefore more receptive to new formats.
4. Clearly Convey Your Expectations
Clear communication is key to successful negotiations. Ensure that timelines and deadlines are clearly communicated as early as possible. This is critical from both sides. A brand's campaign times are important since your results depend on them. But as a creator, you also have the right to establish your timeline and put your cards on the table. Remember that this should be mutually beneficial and that you all have a say. Additionally, as a brand, clearly communicating the desired outcomes of the collaboration sets the campaign on the right course.
5. Be Transparent
Transparency is fundamental in negotiations with brands and influencers. Hiding information may yield short-term gains but can harm long-term relationships. If there are things you can't or don't want to do, state them openly.