By Shanon Roberts, on 11 April 2023
Viral marketing can work like magic for marketers. It's an organic, insanely rapid way to spread awareness about a brand, product, or service. However, the chances of creating viral content are very slim.
Sometimes you need a little bit of inspiration to get your creativity flowing. In this article, we've gathered some of our favorite viral marketing examples and we're going to take a look at what made them successful and the key lessons that be taken from their success.
8 Examples of Viral Marketing Campaigns
1. Oreo: Dunk in the Dark
The Super Bowl is a notoriously competitive time for marketers, with 30-second spots costing upwards of 5 million dollars. However, in 2013, Oreo completely bypassed the expensive spots with one simple tweet.
When the Mercedes Superdome experienced a power outage that lasted over 30 minutes, Oreo was quick on its feet and tweeted this: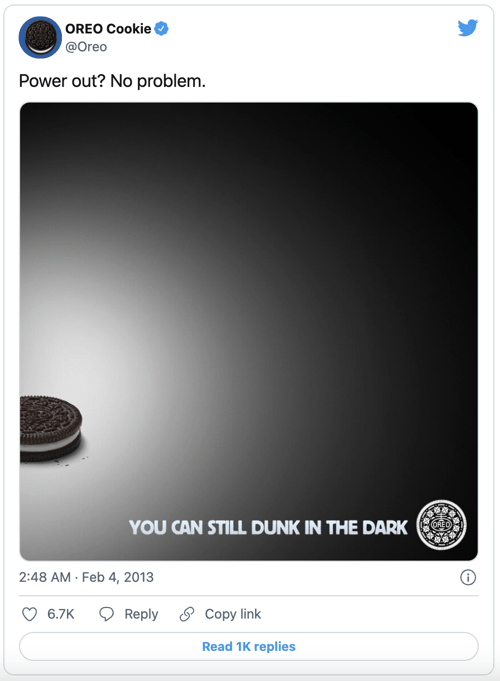 What ensued next will live on as one of the top viral marketing examples of all time. Oreo's quick thinking and wit allowed them to momentarily steal the attention from the game and focus it on their brand.
This viral tweet had a huge impact on the marketing world and effectively changed how many marketers viewed the function of social media.
Key Lesson: Marketers need to always be ready to take advantage of timing and brands need to make it easy for decisions to be made quickly.
2. e.l.f.: #eyeslipsface on TikTok
TikTok is one of the biggest platforms for marketers these days, especially if they're trying to target Gen Z. Budget makeup company, e.l.f. (which stands for eyes, lips, face) has basically written the book on effective viral TikTok marketing.
They created a song specifically for the campaign (produced by the same record label that Taylor Swift and Ariana Grande work with) and created a hashtag that encouraged users to post videos of their eyes, lips, and face to the song. The viral campaign became hugely successful on TikTok, with over 2.8 million videos created by users.
Key Lesson: This serves as a great example of viral marketing because it shows the importance of understanding your audience. By studying what kind of content Gen Z enjoys and shares, e.l.f. was able to capitalize on that knowledge and present themselves as one of the few brands that truly understood TikTok.
3. Dollar Shave Club: Our Blades Are F*cking Great
While Oreo and e.l.f. are great viral marketing examples, you may be thinking that their strategies seem a bit out of reach for smaller, lesser-known brands. Well, let me introduce you to our third example: Dollar Shave Club.
In 2012, the razor subscription service was looking for a simple way to explain what made their product so special. They ended up creating this hilarious, simple video to explain exactly that.
After the release of the video, the previously unknown brand's website crashed multiple times and ended up receiving over 12,000 new subscribers in 48 hours. The video currently has over 28 million views on YouTube.
Key Lesson: This is a gem of a viral marketing example because it shows that you do not have to have a huge budget (the video cost $4,500) or brand following to create an effective viral video. Also, using humor and taking a chance can be incredibly effective techniques.
4. Wendy's: Chicken Nugget Retweet Challenge
It all started with a simple tweet in 2017. Carter Wilkerson tweeted at Wendy's, the fast-food chain, asking how many retweets he would need to earn to get a free year of chicken nuggets. The chain took the bait and quickly shot off their answer: "18 million."
Carter pleaded for help to reach his goal, and the internet delivered. While his tweet didn't quite reach 18 million tweets, it did become the most retweeted tweet of all time (at the time) and Wendy's decided to reward his efforts.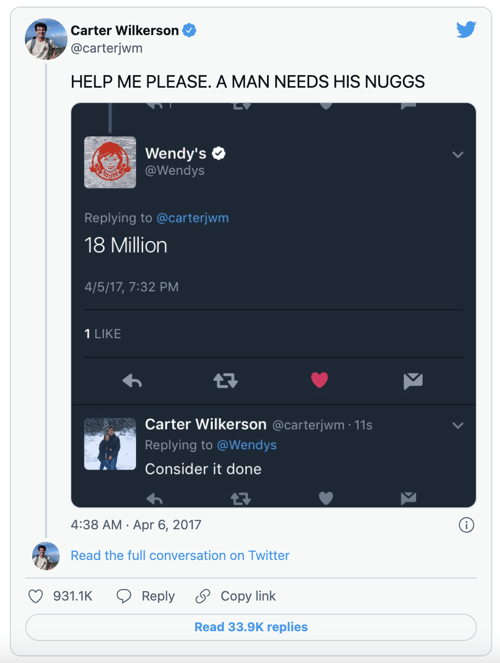 Wendy's likely didn't expect this tweet to go anywhere, but when it started to go viral they encouraged other users to help Carter reach his goal.
Key Lesson: This viral social media example shows what to do when your brand receives positive attention from an unlikely source. Wendy's never could have planned the life this tweet took on, but they embraced their time in the limelight and made the most out of the momentum.
5. Popeye's: Chicken Sandwich Insanity
Viral marketing can seem like a once-in-a-lifetime opportunity for brands, but Popeye's proved that it is possible to make lightning strike twice.
In August of 2019 Popeye's, a fast-food chicken restaurant, introduced their new chicken sandwich and effectively broke the internet.
Many people couldn't help but compare it to Chick-fil-A's popular sandwich, including Chick-fil-A itself. They posted a tongue-in-cheek tweet, positioning themselves as the original inventors of the chicken sandwich, which Popeye's retweeted with a sassy response.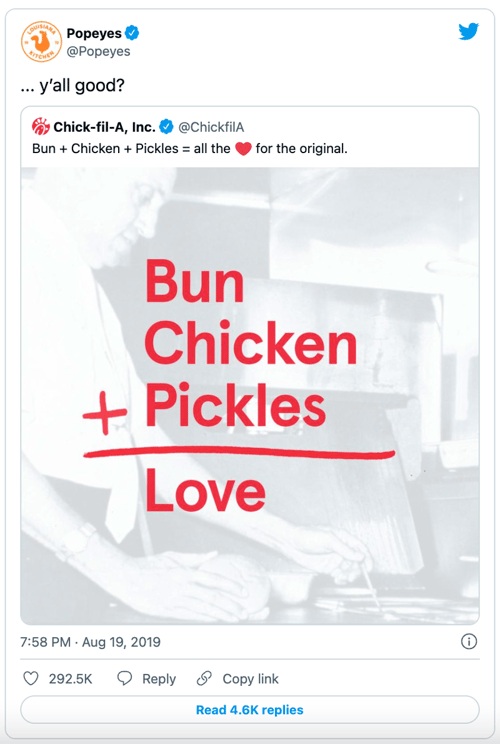 After that, it was officially on.
Thousands of people went to Popeyes to try the sandwich themselves, and share their reactions. Eventually, the craziness led to the sandwich being out of stock for over 2 months. But, Popeye's took what could have been a disaster and made it even better, when they announced their relaunch for the first Sunday of November. (It's worth noting that Chick-fil-A is closed on Sundays.)
Their announcement proved that excitement wasn't yet dead for the sandwich and they were able to generate as much conversation about the relaunch as during the original launch, as shown by this graph from Bloomberg Business.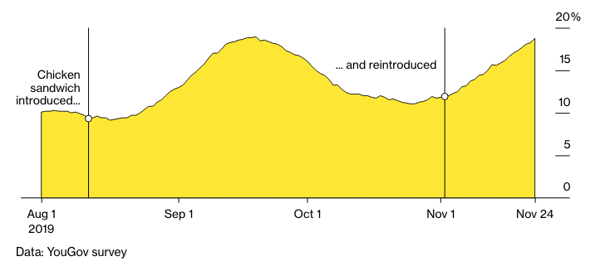 Key Lesson: It is possible to re-generate excitement about the same product. Viral campaigns are a great way to announce product launches and Popeye's is a great example of how to do it.
6. Dove: Real Beauty Sketches
Not all viral campaigns have to be funny or shocking. Dove proved this with its powerful Real Beauty Sketches viral video from 2013.
The video is incredibly moving and reveals the internal struggles that many women face every day. Not only does the video spread the brand's message and belief in confidence, but it also serves as a great guide for viral marketers.
The video went on to receive over 163 million views globally and generate 4.6 billion media impressions.
Key Lesson: Viral video marketing is best when you are trying to connect with consumers' emotions. In general, viral marketing thrives on emotions like joy, shock, or humor, but this video had the unique ability to make its audience feel seen.
7. Aviation Gin's Play on Peloton
In 2019, Peloton released an ad for its exercise bikes that went viral for all the wrong reasons. The commercial showed a husband who got a Peloton bike as a Christmas present for his wife and it was criticized for being sexist and promoting body shaming. Some people also thought that the wife character looked dazed and trapped in her workout routine. This led to a 10% drop in the company's stock.
However, it also inspired Aviation Gin to make a commercial for their product. They hired the actress from the Peloton ad and showed her drinking Aviation Gin with her friends but looking shell shocked and like she was clearly still recovering from her ordeal with the exercise bike.
This ad got 9.4 million views on Twitter in just a few days and went viral itself. Nevertheless, all was not lost for Peloton. Although their ad received a lot of criticism, their sales increased by 172% during the Coronavirus pandemic as more people looked for ways to stay fit at home.
Key Lesson: Content can go viral for both positive and negative reasons but you can still capitalize on it. This example also goes to show that if you have a good product, you can recover from bad press.
8. Volvo Trucks: The Epic Split
In 2013, Volvo released a creative and eye-catching ad that quickly went viral. The commercial featured action star Jean-Claude Van Damme doing the splits across two Volvo trucks while they were in motion. The ad was shared and viewed millions of times and even became a meme!
Since then, the advertisement has garnered 116 million views just on YouTube and is widely considered to be one of the most compelling ads ever made.
Volvo actually released this ad on the internet before they ran it on television. They understood that they were more likely to go viral by promoting their brand online first rather than prioritizing a TV spot.
Key Lesson: Consider all the channels at your disposal to see which one is likely to have the most impact with your audience and be most cost-effective. Keep in mind that using a combination of channels may be the ideal option to get your message across.
More Viral Marketing Examples on Social Media Platforms
If you enjoyed these examples, our free ebook, Secrets of Viral Marketing, covers even more and includes two in-depth case studies. This ebook examines top viral marketing campaigns, the ingredients found in all viral campaigns, and the secrets to viral social media campaigns, viral video campaigns, and trend jacking.