By Laia Cardona, on 19 August 2016
Snapchat is here and here to stay. More and more marketers are launching
advertising strategies for Snapchat
. If your brand is primarily targeted at a young audience, you most likely have quite a lot to gain by joining them, but this app is so different from the other social

networks we already know and love that you may not even know where to start. So, to give you a helping hand for you to make the most of this new channel's full potential, I would like to share with you this
complete guide to advertising on Snapchat and its tricks.
Articles that may interest you: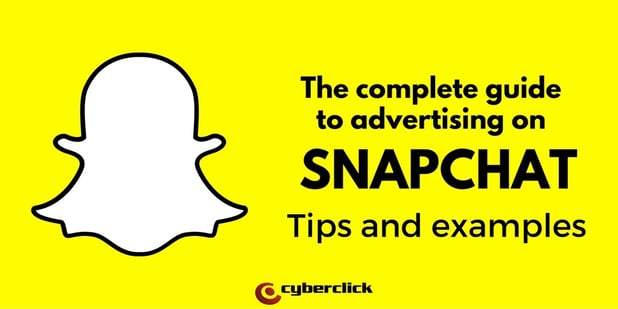 Why advertise on Snapchat
Before checking out what kinds of ads there are on Snapchat, you need to think about why you would like to advertise there. The first reason, is that there statistics are very, very good:
Even though it is a relatively new network, Snapchat is more popular and known in the US than Pinterest or LinkedIn.

For years you have probably been sure that the most important social networks are Facebook and Twitter… but Snapchat has already taken b¡over the latter in term of number of users. Actually, according to a study by Edison Research, Instagram and Pinterest have also overtaken Twitter.

Snapchat has 100 million daily active users who view over 10 billion videos a day.

76% of Snapchat users shop online, making it a fantastic network for ecommerce-related campaigns.

Snapchat users spend an average of 30 minutes a day in the app.
As convincing as these number may be, they are not the only reason. Here are some other equally important reasons to learn Snapchat Ads' tricks:
There is less competition.

Nowadays, it seems that all brands who are, will be or ever have been are on Facebook, Twitter and Instagram. If it is already difficult to connect with users on these kinds of platforms, standing out from in between the competition makes it that much harder. On the other hand, while Snapchat's popularity seems to be booming among advertisers, there is still a lot less competition that on other networks.
You can reach out to a new audience.

It can be quite hard to connect with these fast-moving millennials on more traditional networks, but on Snapchat it becomes a lot easy to get into their day to day lives and talk with them about the things they care about most.
It's different.

Is it a social network, a messaging app, a mixture of the two or something completely new? Basically, Snapchat is like no other app and that can be an amazing advantage: you will have the opportunity to connect with new audiences in completely different ways.
It's authentic.

Compared to the almost "fakeness" of other social networks, Snapchat is there for the here and now. The filters, effects and tricks are there to make pictures more fun, not necessarily better or higher quality. And as all content is destroyed, there is no need to worry about the long run.
Types of Ads on Snapchat
So let's get down to business: how exactly do you advertise on Snapchat? At the moment, brands who want to advertise their products have three choices: Snap Ads, Sponsored Geofilters and Sponsored Lenses.


Snap Ads
Snap Ads are currently one of the most interesting mobile formats arounds. This kind of ad always starts off with a vertical, fullscreen, 10 second or less video shown in context together with other Snaps. The user can slide up to see more, as in other places in the app. Like this, they can then see extra content, like a longer video, an article, an invitation to download an app or mobile website. The click through rate is 5 times higher than on other similar platforms.
To take maximum advantage of these ads, you will have to go the extra mile and manage to catch your user's attention in just 10 seconds.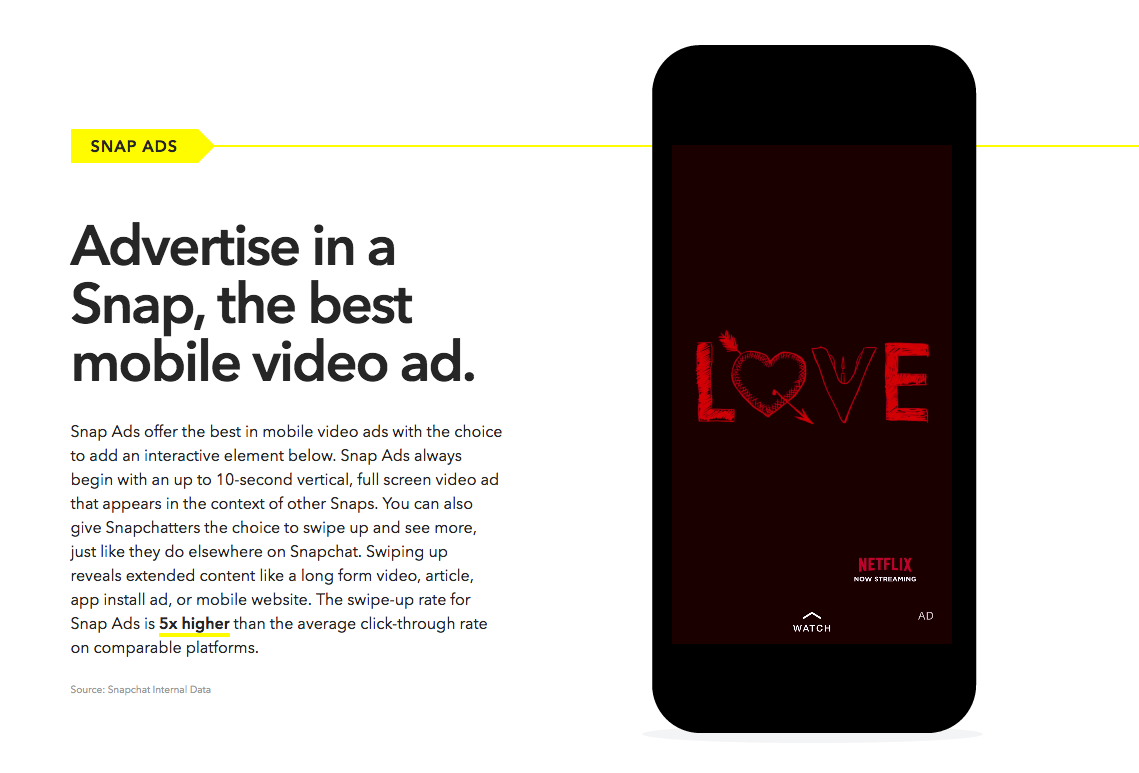 Sponsored Geofilters
Sponsored Geofilters are small drawing that can be overlaid on users' images. When someone sends a snap in the location you have chosen for your campaign, they will be able to use a Geofilter to explain where they are, when and why they took that photo or video. In the United States, a Sponsored Geofilter promoted nationally reaches out to between 40 to 60% of daily users.
A trick to make the most of Geofilters: be creative! You don't have to stick to specific cities or countries, you can relate to the location where an event is taking place, or a specific "Type of place", like cinemas for example.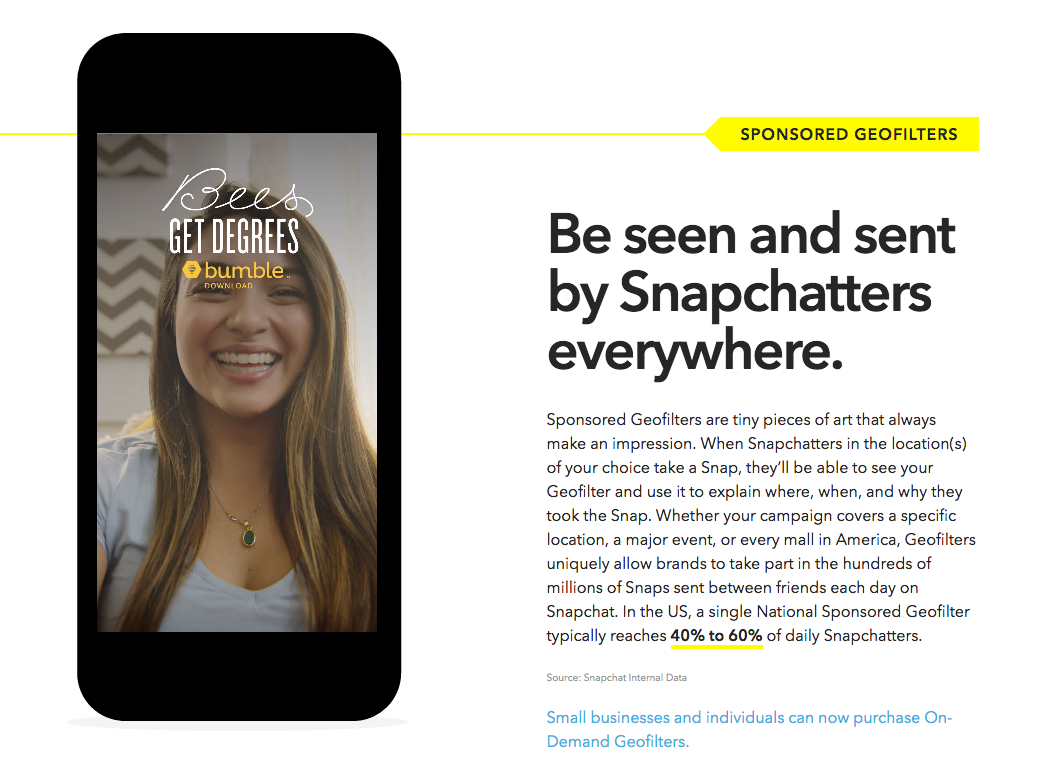 Sponsored Lenses
The perfect option to invite users to play with your brand. Sponsored Lenses are interactive elements that add to users' videos, with effects as crazy as turning their faces into Tacos or watering them with Gatorade. When they are done playing, they can publish the result or share it with a friend. On average, Snapchatters user Sponsored Lenses for about 20 seconds.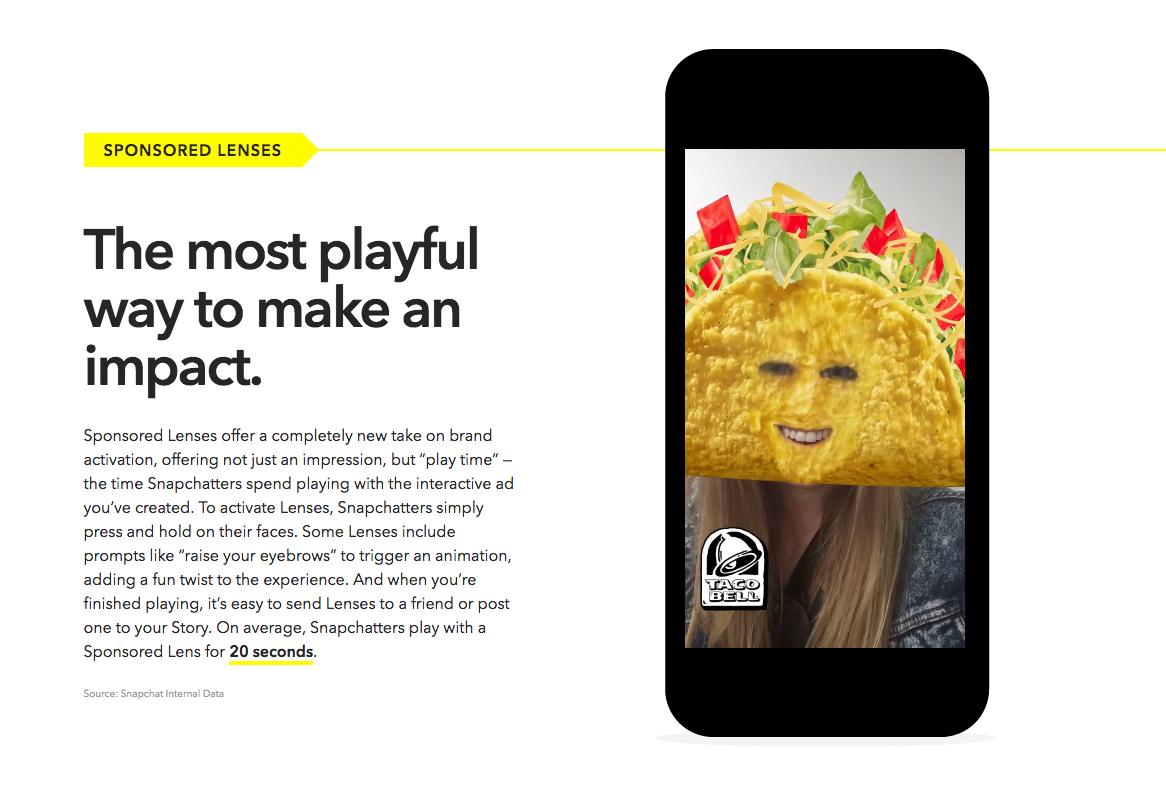 How to advertise better on Snapchat: tricks and recommendations
As well as developing your strategy and choosing the type of ad that best adapts to your brand's needs, I recommend using following these tips to get the best results out of your Snapchat campaigns:
Create a sense of urgency.

As any good digital marketer will know, the sense of urgency is a brilliant tactic to move your users to take action. Thanks to its nature where content "evaporates" after mere seconds, Snapchat is the perfect place to use this trick.
Test your content

through private messages. Running tests before a launch is always a good idea, and especially when using such a new and different platform like Snapchat. For that reason, my trick is to test your Snaps and ideas with some of your users by send them to them privately. Dealing with a smaller group will make it easier to measure engagement and compare results.
Adapt your content to the platform.

Snapchat is much more informal and natural than other networks like Pinterest and Instagram. These users are used to seeing pictures that were taken quickly with a phone camera, with fun filters and add-ons. Concentrate more on showing your brand's personality and less on making your pictures absolutely perfect.
Tell a story.

One of the oldest tricks in the marketing book goes for Snapchat also. Although you have quite a short time limit for each picture or video, you can combine several to tell an interesting story. Remember that if there are several Snaps to be seen, they will play automatically, one after the other.
Success stories of advertising on Snapchat
These brands have been able to give their advertising on Snapchat that needed boost! May their stories inspire you and get you excited to start your own Snapchat Ads campaign!


Gatorade
The american sports world a tradition quite peculiar to outsiders, of celebrating victories by showering themselves and team members in Gatorade. So, to celebrate the Super Bowl, the brand decided to recreate this experience through Snapchat.
Through a Sponsored Lense campaign available in all of the United States and some parts or Latin America, Gatorade made it possible for Snapchatters to virtually live the experience of showering themselves in Gatorade. Their objective was to reach out to this network's audience in mass with a unique experience entirely related to the brand.
The result? 60 million playbacks, 165 million views and an 8 point increase in purchase intent.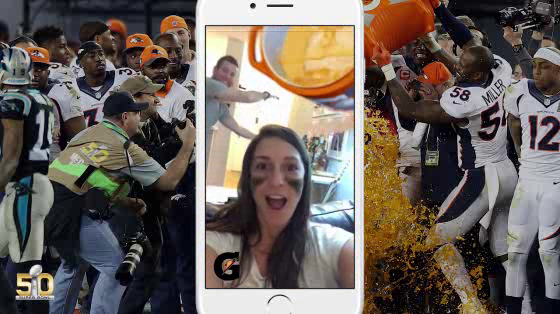 Spotify
To celebrate the New Year, Spotify joined with Snapchat to pay tribute to the music of 2015. Snapchat launched a Discovery channel which highlighted a different music genre every day. A perfect complement to Spotify's "Year in Music" campaign, in which each user could listen to the band of their year.
A few days later, Spotify completed their campaign with Snap Ads promoting their most festive playlists.
As a result, the campaign achieved a 24-point increase in ad recall and 8 points in brand preference, and even a 30% increase in intention to subscribe.


Kraft
This American brand has paved their way to fame thanks to their Mac'n'Cheese packs. Kaft wanted to announce that they had eliminated all artificial flavorings, conservatives and colorings from their famous recipe all over Snapchat.
To do so, the brand launched a Sponsored Lense campaign. By unlocking it, a game was activated in which users had to catch flying macaronis with their mouths to win points. This wild success generated 40 million playbacks at an average of 20 seconds each and a 13% increase in purchase intent.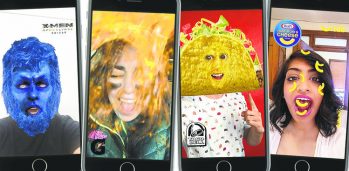 Laia Cardona