By Laia Cardona, on 19 August 2015
Snapchat differs from other messaging applications on the concept of self-destruction of all the messages, photographs and videos sent and shared through this social tool. It is, therefore, short-lived messages of very short duration (between 1 and 10 seconds depending on the length of time established by the user). Once the recipient receives the message and goes pass the time duration set, the message self-destructs on the mobile phone.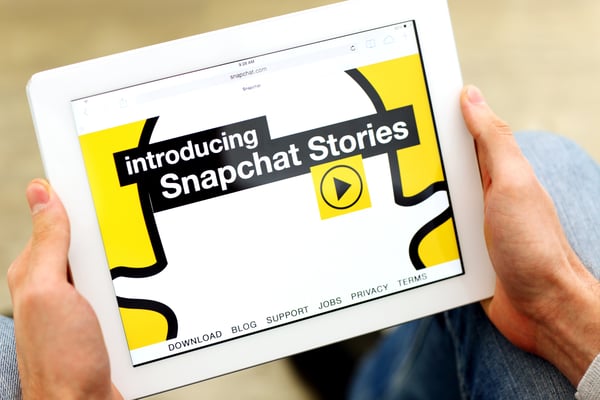 How can Snapchat be used in a Marketing Strategy?
Offering unique and exclusive content: A good marketing strategy in Snapchat to keep the attention of users on your brand is to offer extra content. For example, show them pictures or videos of new products that we will bring to the market, providing insider information on new products of the company, etc.
Offers and limited time coupons: Another good marketing strategy in Snapchat is to reward your loyal fans with discount coupons, codes or other unique and time sensitive deals. This way, you get your fans to stay tuned to everything you post on Snapchat.
Report flash sales or special events of your brand: Your followers will appreciate being the first to receive exclusive information about flash sales, promotions during a short period of time and other special events where they can participate; such as sweepstakes, contests, tasting of new products, etc.
How is it done ... ?, What's behind ... ?: This type of content shows the followers of a brand different videos or images on any aspect that we normally don't see from the brand. For example, a video about how a product is manufactured or designed.
Customize as much as possible to the brand: Snapchat also allows you to show the human side or the brand staff. To achieve this, the brand can, through videos and pictures, show the daily routine of different workers in the company, present them to the followers, let them speak and report on their work in the company, etc.
Real cases of successful marketing campaigns through Snapchat
GrubHub: The takeout chain GrubHub has taken advantage of the business opportunities presented by Snapchat application. One of his most acclaimed and remembered was when the company used Snapchat to find and hire an employee during the summer months. Candidates had to impress the brand with custom drawings shared through the application.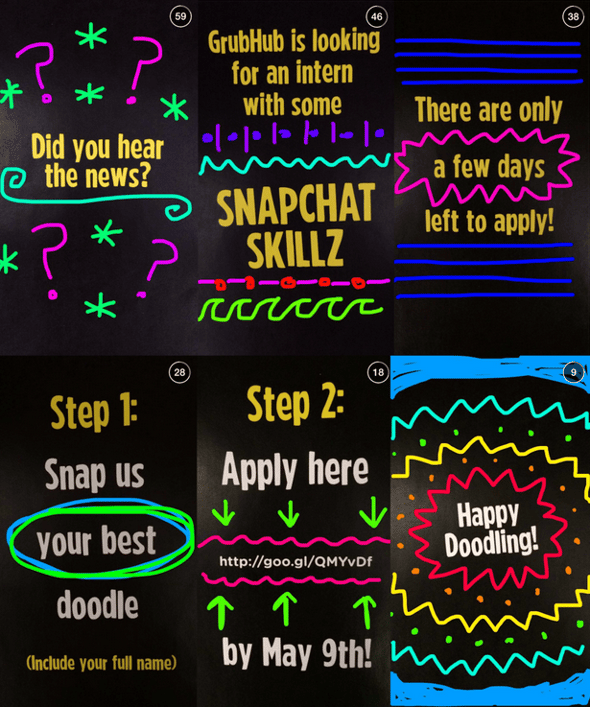 Partners Audi: The Audi brand took advantage of the pull of the SuperBowl XLVIII with extraordinary and applauded Snapchat marketing strategy. During the game, the brand didn't stop using its Snapchat account to share all kinds of viral and humorous images that joked about the behavior of humans and their pets. The result? A legion of new fans and a multitude of displays.